Film. Monty Python, The Life Of Brian. The long term prisoner chained up on the wall looks down and welcomes the new cell mate Brian with, "You lucky lucky bastard!"
We, the UK voters, are just as lucky, aren't we? We're not yet up on the wall. We still have a chance.
The Sex Pistols 'sang'…
And there is no future
In England's dreaming.
Body piercing makes me go 'yuk', let alone a safety pin through a fashionable punk nostril, but the God Save The Queen lyric seems sadly prophetic. It does look bleak. At the next UK general election these two clown world continuum muppet-puppets look to be the choice: Ratty Sanook or Blockhead Kueer Starmer. Both are on record as being confused when asked to define a woman and Kueer, the former Director of Public Prosecutions, even stated that some women do have a penis. I assume both know what a woman is, but they are more concerned about appearing transgender-politically correct than acknowledging the truth or citing the existence of the hermaphrodite human. Which ever of these creatures it might be, Ratty or Blockhead, they represent, not me, not you, not the general populous us, but the WEF, the UN, the Trilateral Commission and the global uniparty.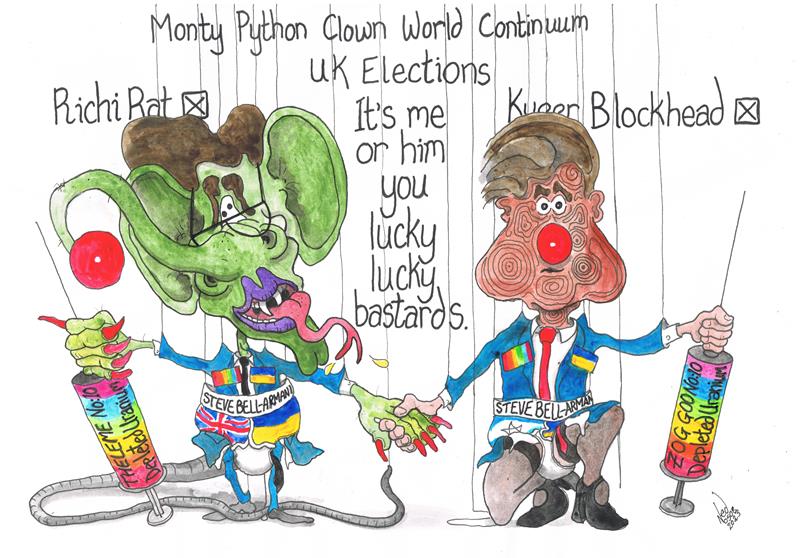 Rosa Koire, www.rosakoire-bgm.com, described the UN Agenda 21, later renamed Agenda 2030, which includes the term 'sustainable development'.
"It is the inventory and control plan of all land, all water, all minerals, all plants, all animals, all construction, all means of production, all food, all energy, all information and all human beings in the world.
This plan was agreed to by 179 nations in 1992; a UN plan called the Agenda for the 21st century. So many think sustainable development sounds so great; isn't it about recycling and creative reuse and creating energy and food resources for everyone? The answer is no.
It's about moving populations into concentrated city centres and clearing them out of the rural areas.
It's constructed of non-governmental organisations, corporations and government in order to dictate and regulate what it is that happens around the world.
Regionalisation is the stepping stone to globalisation and globalisation is the standardisation of all systems; all systems have to be brought into harmony in order to control them all.
The goal of Agenda 21 is one world government and total control from a central unit. The principles are public private partnerships which is fascism and this is how it's implemented on the ground, through this joining together of corporations, NGOs and governments in order to cut out the actual individual voter; to take that to a level where we cannot penetrate.
This is a corporatocracy, a totalitarian state to be developed right now all over the world. Wile we are moving towards the end game, we are not there and this is the opportunity that all of us have now to stand up, to speak out. We are free and we need to continue to be free and I do believe that we will win, but we have to become aware that there is a fight."
Rosa can be heard saying this here:
🌐 What is the REAL AGENDA behind the "Sustainable Development Goals" of the UN?

Rosa Koire, author of "Behind the Green Mask: Agenda 21" explains: pic.twitter.com/tuCwWopGIo

— Robin Monotti (@robinmonotti) August 5, 2023

Our WEF ambassadors Ratty or Kueer will promise to steer the good ship UK in an ever successful and prosperous direction just as all their predecessors promised before. Alex Christoforou mentioned at about 22 minutes during this walk & talk video from St. Petersburg, that Russia has become the 5th largest economy in the world:

We must support Ukraine in fighting to the last Ukrainian! The sanctions punishment on Russia by the collective West has really worked, hasn't it?!
Russia has become the fifth largest economy in the world and the largest in Europe in terms of purchasing power parity:

1. 🇨🇳 China: $30.3 trillion
2. 🇺🇸 USA: $25.4 trillion
3. 🇮🇳 India: $11.8 trillion
4. 🇯🇵 Japan: $5.7 trillion
5. 🇷🇺 Russia: $5.32 trillion
6. 🇩🇪 Germany: $5.3…

— World of Statistics (@stats_feed) August 4, 2023

Are the statistics he references up to date and accurate? I did find this from 2015:
RUSSIA BECOMES WORLD'S 5TH LARGEST ECONOMY BEFORE GERMANY
https://www.awaragroup.com/blog/russia-becomes-worlds-fifth-largest-economy/
It would appear the Russian economy is stable to growing, while the UK sits 10th in the league. Alex's videos of Moscow and St. Petersburg present cities looking clean, smart, civilised and inviting. Video footage of London, Paris, New York and L.A. do not.
Ned Substack for full post:
https://nedpamphilon.substack.com/p/you-lucky-lucky-bastards
I portray both cretins with lude, rude and crude depiction because they will demonstrate net zero respect or courtesy for our freedom and liberty should either gain the opportunity to implement their intended impositions upon us, the mere chattel. Be in no doubt, they will treat us like the proverbial 's' before 'hit' hits the fan, should we acquiesce.
As we are thrust further into dystopian jail I wonder if there is already a prisoner up there, chained to the wall to look down upon and remind us that we are lucky, lucky bastards…

Previous:
https://tapnewswire.com/2023/08/bbc-bunny-spring-earns-her-ears/