There's no climate emergency either, though the BBC insist there is. The BBC may also be considering the earth is flat, since a Belarusian ambassador espouses it to be round.
Indeed, perhaps the politically correct crowd of 'woke' Wimbledon centre court may also contemplate flat earth theory since they boo Belarusian tennis players and now Belarusian Ambassador Dmitry Mironchik has declared:
"There are no corners on the globe…"
If Russia or Belarus say it is a globe, NATO, the US, UK, €U and collective West are likely to insist it is otherwise. Cluster bombs against the US funded ISIS in Syria bad, Biden cluster bombs in Ukraine good. Cluster bombs are bad full stop, but war is war; even if it be a proxy war that NATO and the US fund and supply, yet insist they are not directly involved in. There are no NATO, UK nor US boots on the ground in Ukraine, are there? The Duran continues to offer up news and analysis based upon the clarity of facts as they find them. As a life long listener to the BBC, wouldn't it be lovely if they followed suit. Instead they have evolved into BBC Pravda and appear to insist white is black and little boys can be little girls if they choose to be.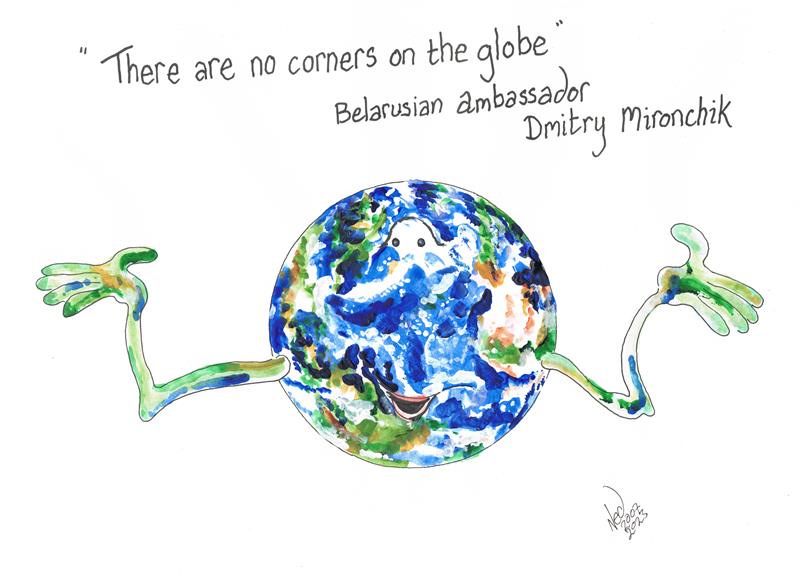 The US, €U and NATO have tried to trap Russia and its perceived ally Belarus into a corner. It is failing dramatically. Since the sanctions imposed upon Russia and Belarus, their economies, rather than decline, appear to be stable and even thriving. At about 44mins into this YouTube video, 'Belarus in great power politics with Ambassador Dmitry Mironchik, Alexander Mercouris and Glenn Diesen', Belarusian Ambassador Dmitry Mironchik comments on global earth realities:
Further interesting comment at 1 hour 18 mins in…
"Belarus is best where it is…. the shortest route to Moscow comes through Minsk. This is a geographic fact. Geography is something you have to live with… that is why Belarus is good where it is and doing what it is doing. Moscow is safe from the West so long as Belarus is there doing what it is doing."
The collective West try to sanction and limit access to international markets for Russia and Belarus. They attempt to corner nations, but there are no corners on the globe. As sanctions have come, so too has BRICS. This is an insightful discussion, the likes of which we are rarely offered by the BBC or collective West legacy media.
The lies and obfuscation are astounding. NATO and the collective West's approach is, Ukraine can join NATO if it defeats Russia. The only chance of Ukraine defeating Russia is with NATO's increased and direct help, and even then it is unlikely. Russia and Putin won this conflict from day one.
QED.
Now, the aim is to limit the political damage.
I've heard Biden being described as a bad tempered bully. President Sleepy Joe appears so inept, how he bullies anyone or makes decisions on anything perplexes me. Limiting the political damage would appear beyond the capability of Sleepy Joe and the collective West, end of. But, still to this day, while any indiscretion by Trump, whether true or false, is used to bring legal charge, President Pants and his family can apparently survive the release of video footage of crack pipes, girls of questionable age in lingerie in the company of a naked adult family member and it's crickets from BBC Pravda & co. That's imagined corners and flat earth magic for you.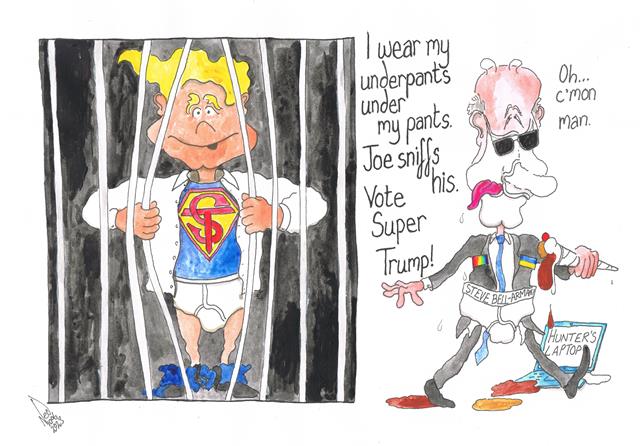 The ambassador also mentions the success of electric car production, which you'd think the BBC and collective West media would warmly welcome. I question the 'carbon footprint', whatever that really is, of electric car production, but business is business and it seems if China likes buying EVs, then Belarus can provide them.
The US and €U have been so obsessed with sanctioning and 'punishing' other nations, they are in effect self-isolating themselves from the rest of the world. This is on top of 'printing' digital money to finance the covid1984 lockdowns and now they embark upon self-harming carbon zero policy when there is no climate emergency.
The world has no corners, but clown world continuum believes it can invent corners or whatever the clown officials decide to conjure up.
Ned Substack:
https://nedpamphilon.substack.com/p/there-are-no-corners-on-the-globe
Previous:
https://tapnewswire.com/2023/07/nato-eats-biden-naps/