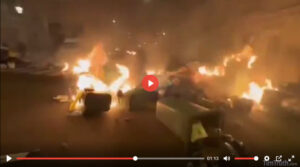 Ciaran McGrath21:42, Fri, Jun 30, 2023
Vehicles burning during Paris protests over death of young driver
France has boosted the number of police on its streets to 45,000 this evening as it braced for more rioting – with one commentator claiming the country was sliding into full-blown "civil war".
French President Emmanuel Macron also urged parents Friday to keep teenagers at home and blamed social media for fuelling unrest which has spread dramatically across the country since the fatal police shooting of a 17-year-old driver earlier this week.
With hundreds already arrested, Macron resisted calls to declare a state of emergency, an option which was used in similar circumstances in 2005.
Instead, the government increased by another 5,000 officers the number deployed on Friday night, raising the figure to 45,000 overall, interior minister Gerald Darmanin said.
With dramatic footage of widespread disorder circulating on Twitter, right-wing Dutch commentator Eva Vlaardingerbroek tweeted: "It seems like France might have actually entered into the first stages of a civil war as a result of mass migration.
France is the scene of widespread rioting (Image: GETTY)
Mr Darmanin said police made 917 arrests on Thursday alone and noted their young age – 17 on average. He said more than 300 police officers and firefighters have been injured.
He also ordered a nationwide night time shutdown of all public buses and trams, which were among the targets of three consecutive nights of urban unrest.
And he said that in a meeting with social networks, he had delivered a warning that they can't allow themselves to be used as channels for calls to violence "They were very cooperative. We'll see tonight if they really are."
The Government would give the platoforms "as much information as possible" so that, in return, French authorities could obtain the identities of people who incite violence, the minister explained.
Burning vehicles including a bus (Image: NC)
He warned: "We will pursue every person who uses these social networks to commit violent acts.
"And we will take all necessary measures if we become aware that social networks, whoever they are, don't respect the law."
Macron also pointed the finger at social media platforms which have relayed dramatic images of cars and buildings being torched and other acts of violence.
Singling out Snapchat and TikTok by name, he said the platforms were being used to organise unrest and serving as conduits for copycat violence.
France deployed another 5,000 officers today (Image: Getty)
Macron said his government would work with technology companies to establish procedures for "the removal of the most sensitive content."
Without specifying which content he had in mind he added: "I expect a spirit of responsibility from these platforms".
Snapchat spokesperson Rachel Racusen said the company has increased its moderation since Tuesday to detect and act on content related to the rioting in France.
She added: "Violence has devastating consequences, and we have zero tolerance for content that promotes or incites hatred or violent behavior on any part of Snapchat."
Police clash with protesters in Paris's Place de la Concorde today (Image: GETTY)
The police shooting of the 17-year-old, who has only been identified by his first name, Nahel, was captured on video.
Since his death, rioters have erected barricades, lit fires and shot fireworks at police, who responded with tear gas, water cannons and stun grenades.
The shooting, in the Parisian suburb of Nanterre, has shocked France and stirred up ltensions between police and young people in housing projects and disadvantaged neighbourhoods.
Macron said a third of the individuals arrested Thursday night were "young people, sometimes very young," declaring that "it's the parents' responsibility" to keep their children at home.
He continued: "We sometimes have the feeling that some of them are living out, in the streets, the video games that have intoxicated them."
 Mr Macron is scheduled to travel to Germany for a state visit from Sunday to Tuesday.
Speaking today German government spokesman Steffen Hebestreit admitted: "Of course we view what is happening in France at the moment with some concern.
However, he stressed there was no indication so far that Mr Macron intended to cancel his trip.