The Rockefeller Council On Foreign Relations send out a regular newsletter. The articles promoted in the latest issue suggest their present focus is on escalating the conflict in Ukraine and maintaining US hegemony rather than negotiating a peaceful compromise.
Looking back at David Rockefeller's key role in building the imperial US 'deep state'
https://www.foreignaffairs.com/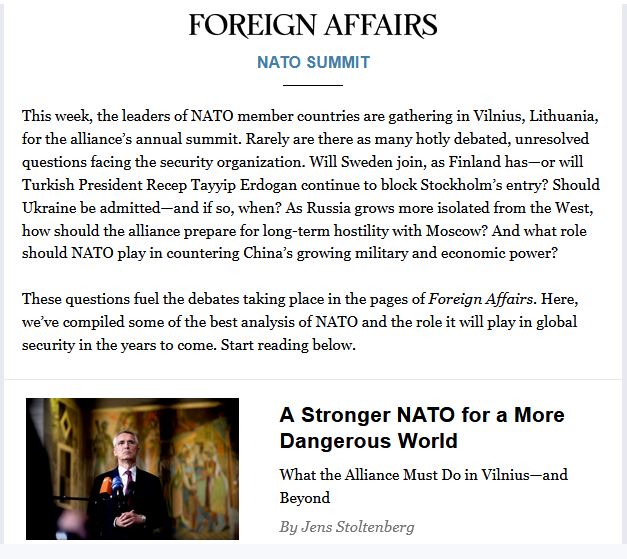 Image
A Stronger NATO for a More Dangerous World
What the Alliance Must Do in Vilnius—and Beyond
By Jens Stoltenberg
Image
NATO's Worst-of-Both-Worlds Approach to Ukraine
Why the German Model Won't Solve a Problem of the Alliance's Own Making
By M. E. Sarotte
Image
Don't Let Ukraine Join NATO
The Costs of Expanding the Alliance Outweigh the Benefits
By Justin Logan and Joshua Shifrinson
Image
No Country Is Better at Stopping Russia
By Andriy Zagorodnyuk
Image
Europe's Real Test Is Yet to Come
Will the Continent Ever Get Serious About Its Own Security?
By Radek Sikorski
Image
The Case for a Security Guarantee for Ukraine
How to Protect the Country—Without NATO Membership
By Lise Morjé Howard and Michael O'Hanlon
Image
Why NATO Must Admit Ukraine
Kyiv Needs the Alliance and the Alliance Needs Kyiv
By Dmytro Kuleba
Image
How the West Can Secure Ukraine's Future
Kyiv Needs a Binding Commitment Before NATO Membership
By Eric Ciaramella
Image
Western Europe Is Still Falling Short in NATO's East
Deterring Russia Requires More Than Just Promises
By A. Wess Mitchell
Subscribe to Foreign Affairs