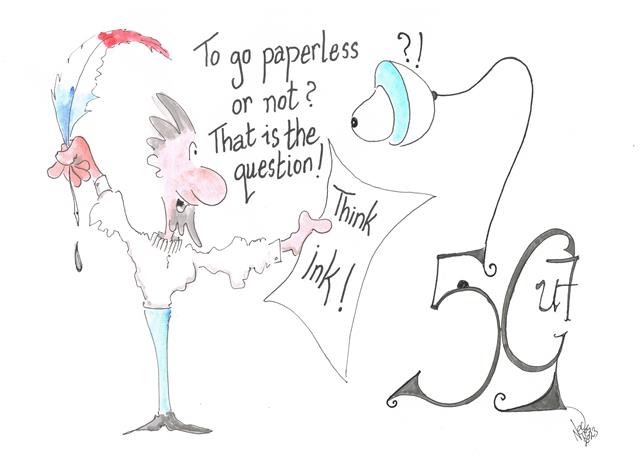 Bill composed lyrical content. He had always kept his accounts up to date and submitted his tax returns without delay. In recent years, the Inland Revenue had repeatedly invited him to submit his accounts online, but Bill liked hard copy paper and felt there was a physical substance to paper copy over digital online accounts which could disappear at the stroke of a power cut.
Bill had received a letter from HM Revenue & Customs, including:
Please fill your return online. By law, you must file a return even if you've already paid all the tax you owe, or you don't think you owe any tax.
If you normally receive a paper return, you won't receive one this year, or in future, as you can file online instead.
Bill had already replied to an earlier letter:
Today I received the enclosed (copy) letter regarding online tax returns. I want to continue with paper returns. If you wish to ask me anything, you can call me on (redacted number). I called you on (redacted number) only to be met with the proverbial extended answer message and persistent nudging to go paperless to the point of what felt a tad like bullying. It is bad enough trying to reach human beings to communicate with for so many products and services today; I do not want my tax details going to a total robotic digital machine-style system too. I welcome the internet as having the Library of Alexandria at my fingertips, but I do not want go cashless with total digital ID which will risk ushering in a fascist, totally centralised control state system.
I'd like to reiterate I do not want my life's private details online any more than I can help it. I want hard copy of my returns. Please continue to provide me with the appropriate hard copy forms next year in order I can submit my 2022-2023 tax year returns with hand written answers on official hard copy Inland Revenue forms. I have not requested nor consent to be part of a paperless, virtual, online world.
The other week I received an unsolicited call. The caller knew my name and apparently the last four digits of my account/card. I replied that if there was an issue with my bank account, my bank would inform me. The caller then hung up. I was later notified by and spoke with my bank My credit card has been compromised and I was instructed to destroy my existing card. I have not lost any money and no unauthorised payments were made, but an attempt was apparently made to access my account. My details must have been gained online. I have since been issued with a new credit card by my bank.
At 14.41hr 19.04.2023 I received a call from (number redacted) allegedly 'from HM Inland Revenue' informing me a legal paper was being served. It was an automated recording. I hung up.
Was this a legitimate call? Either way, it was intimating. These 'cold calls' demonstrate why I do not want yet even further personal details online. This is why I will not be submitting my personal finances online.
The likes of MP Matt Hancock led the bullying campaign to coerce constituents to take the 'pandemic' jab. Today the UK has excess death figures. Likewise, you appear to be bulling and coercing me into digital, electronic tax returns. I will not be engaging the International Monetary Fund's Unicoin or the Bank For International Settlements' CBDC; Central Bank Digital Currency. You mention the 'law' in your letter just as the NHS and government referred to the 'law' with the 'pandemic' regulations. They were and are not lawful. I was born free and remain free. I have long agreed to submit tax returns, but have never entered a contract to do so online.
I do not carry a 'smart' internet phone. My mobile is call and text only. I like hard copy of my financial details; I do not want everything in digital form, relying on being plugged into the 'power grid'.
I do note you quote that 'Almost 97% of customers already file their Self Assessment tax returns online'. It must mean managing the 3% of paper returns is simple and easily manageable.
Letter End
Bill stuck to his guns and to his pleasant surprise received a follow up letter:
In your letter you requested a paper return for 2022 to 2023.
We will send the paper copy in the next 2-3 weeks.
Indeed, a paper tax return form was received.
In summary, the Inland Revenue stated there would be no issuance of a paper from, yet on request, a paper form was received and must have been designed for printing some time ago. It felt reminiscent of the pressure to wear face masks and submit to PCR tests and jabs, none of which Bill had done. He did, again, feel there had been an attempt to bully and coerce. He also noted the figure 97%, the same figure quoted by anthropogenic climate change advocates who insist 97% of all scientists say we have a carbon induced climate change emergency. What is the obsession with 97%?
Paper or digital? Digital or analogue? Is it inevitable we will all be forced to engage a digital system? Perhaps not. Ultimately, it would appear to depend upon how many acquiesce or not.
What do you think?
Previous:
https://tapnewswire.com/2023/05/david-bubyne-av-smart-cities-surviving-the-containment-barrier/