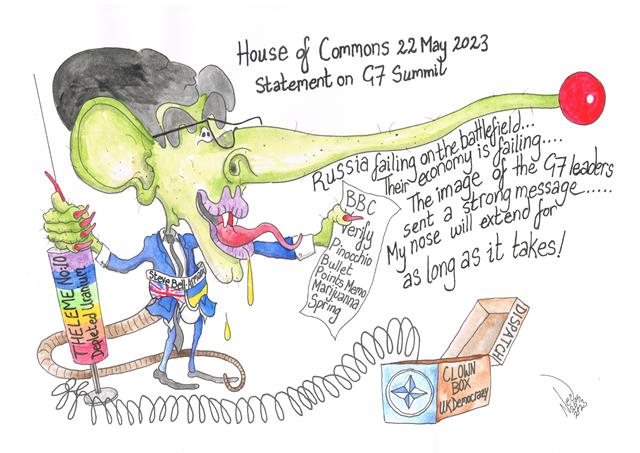 Fight to the last Ukrainian! Well, when it's not those fighting, calling for a fight, it's easy to say till the last Ukrainian; for as long as it takes! Safe and effective! Build back better!
Hey, Marijuanna Spring, where are you? Verification of a falsification is required. The UK PM needs to be fact checked. Russia is losing everything, going down the pan fast while the G7 leaders stand strong, true and proud beside the winning, visionary, super-successful President Zelensky. Ukrainian Marching Powder, yippee! Meanwhile blasted disinformation artists portray Rashee Sanook as having reptilian green skin which is flagrant racism, sexism, xenophobic naughtyism. Roundabout time you fixed the art of false and fake artistic misrepresentation Marijuanna!
They're not lies when we tell 'em!
PM statement to the House of Commons on G7 summit: 22 May 2023
https://www.gov.uk/government/speeches/pm-statement-to-the-house-of-commons-on-g7-summit-22-may-2023
"Russia's military is failing on the battlefield. Their economy is failing at home, as we tighten the stranglehold of sanctions and the image of the G7 leaders standing shoulder to shoulder with President Zelenskyy in Hiroshima sent a powerful message to the world: we will stand with Ukraine for as long as it takes."
Would I lie to you? I know a song about that.
Previous:
https://tapnewswire.com/2023/05/lib-dems-for-dinner/