In the bathroom I turn on the radio to catch up with the Blob that is BBC clown world continuum. The BBC project daily. The prejudice love to accuse others of prejudice while being prejudice themselves.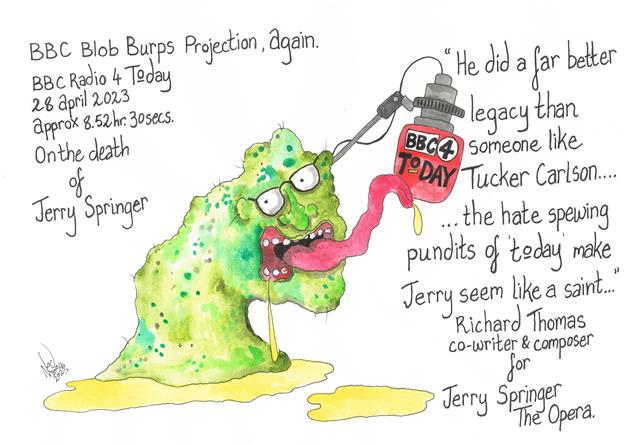 For the record, though this is not open to public access:
https://www.bbc.co.uk/sounds/play/m001l9fn
BBC R4 Today 8.52hr 30secs
On the death of Jerry Springer
'He did a far better legacy than someone like Tucker Carlson… the hate spewing pundits of today make Jerry seem like a saint now-a-days.'
Richard Thomas , co-writer & composer for Jerry Springer the Opera
So, Jerry Springer never platformed hate? I'm not sure I ever watched his show, but I've seen clips that appeared to portray degenerate behaviour and hate did seem to manifest between the participants. I have never witnessed Tucker Carlson spewing hate.
Previous:
https://tapnewswire.com/2023/04/thetford-vote-bob-may-4th/