As Mr. Global attempts to infiltrate from top down, local activists are standing strong bottom up. Though the legacy media and establishment push the tired old left-right paradigm, Bob of Thetford is standing as an Independent:
'It's not about left or right. It's about right or wrong.'
Though already featured at TAP, let's do so again leading up to the local elections. I met Bob on the anti-lockdown London walks and he was indeed, donning his kilt.
Local elections 2023: When are they and who can vote?
https://www.bbc.co.uk/news/uk-politics-65013652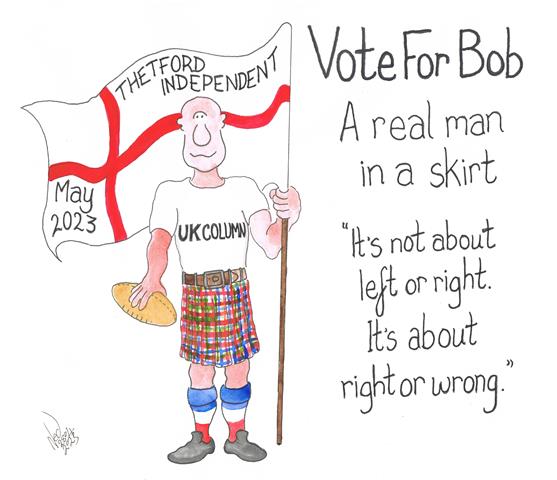 20 Minute Neighbourhoods – Bob Seys and Thetford residents hold their Councillors to account
Many residents of British urban areas are standing up against the control mechanism of 15-minute cities. They don't like the policies and are voicing their rejection of them. But the same UN Agenda 2030 policies are also targeting rural communities in the form of 20-minute neighbourhoods.
The rural community in Thetford, Norfolk, has been among those that stood up to say no, and Bob Seys was one of them. At a public meeting, he and other locals took on their local councillors to challenge them about their knowledge of the Agenda 2030 policies and their impact. What's more, the motivated local team did this in a calm, professional way and videoed the event, so that the meeting and its outcome could be shared with others.
In an interesting and informative interview, Bob Seys takes Brian Gerrish from connections with Egypt to the key subject of 20-minute neighbourhoods in East Anglia.
https://www.ukcolumn.org/video/20-minute-neighbourhoods-bob-seys-and-thetford-residents-hold-their-councillors-to-account
https://odysee.com/@ukcolumn:9/20MinuteNeighbourhoodsBobSeysandThetfordresidentsholdtheirCouncillorstoaccount:3
Previous:
https://tapnewswire.com/2023/04/just-say-no-to-the-digital-consultation-paper/