Marijuanna Spring is absolutely over the moon, gleefully dropping into HMP Belmarsh again to share the latest report by Miss. Information on the BBC flagship news programme PM which airs daily at 5pm. Downton Abbey TV star Hugh Bonneville and BBC presenter Evan Davis, the well known brutally butch anchor for PM, have been steadfastly promoting the plight of Vladimir Kara-Murza. As we all know, Russia bad, Putin evil and the scurrilous rumours of 'elensky (do not mention the Z!) and Ukrainian Marching Powder are yet more Russian bot disinformation. The Russian opposition figure has been jailed for 25 years. It's not confirmed as yet whether Vladimir was associated with BBC Media Action where Nazarin Zaghari-Ratcliffe once plied her trade, but it wouldn't be such a shock if found to be true.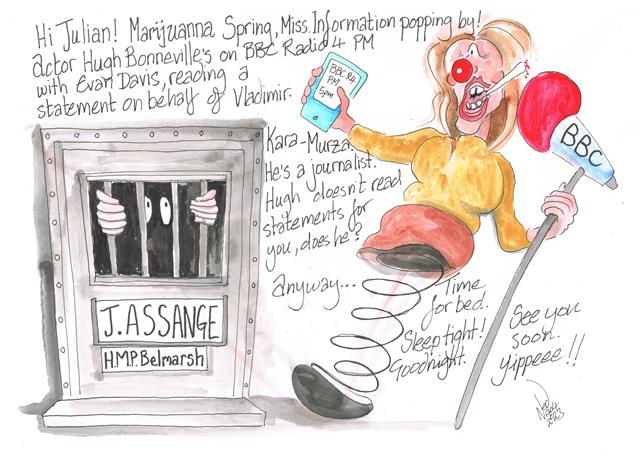 At the time of going to press, there is no confirmation that the entire Downton Abbey cast will visit Julian Assange in Belmarsh to read statements on his behalf, live on BBC PM programme. But hey, you never know… well, you do, but let's remain optimistic.
It's expected that Evan and Hugh will be rewarded and kneel before King Charles, the new queen, to lick the safe and effective apeel from the Ducky of Cornwall's fruit & veg.
www.apeel.com is thoroughly espoused by WHO and all its sponsors, nod nod, wink wink, first name Bill.
Reference:
Vladimir Kara-Murza has been found guilty of treason and sentenced to 25 years in prison. At the closing session of the trial a week ago, he made a statement to the court. Actor Hugh Bonneville read the translation of it for #BBCPM:
Vladimir Kara-Murza has been found guilty of treason and sentenced to 25 years in prison. At the closing session of the trial a week ago, he made a statement to the court.
Actor Hugh Bonneville read the translation of it for #BBCPM:https://t.co/qg9NRbZhqV

— BBCPM (@BBCPM) April 17, 2023
Actor Hugh Bonneville reads the words of Vladimir Kara-Murza
https://www.bbc.co.uk/programmes/p0fh6fb1
https://www.bbc.co.uk/news/world-europe-65297003
Check out Hugh's blue and yellow flagged Twitter feed:
Tweets by hughbon
Previous:
https://tapnewswire.com/2023/04/hrh-jug-ears-more-equal-than-others/