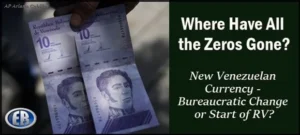 Is this the start of the global currency 'RV' or re-evaluation we've been hearing rumours about, where currencies are put at parity? The news agency (AP) report below denies that the value of the new bolivar will be different, and that inflation will just continue on anyway, requiring the addition of more zeros over time. It is a completely 'business as usual', fear-based report. We wonder, however … This process has to start somewhere.
********
Venezuela introduces new currency, drops 6 zeros
An employee displays new bolivar banknotes ahead of a currency redenomination in Caracas, Venezuela. Venezuelan banks possess more than 90% of the new bolivar bills issued by the central bank as part of the currency 'redenomination' (Bloomberg)
ASSOCIATED PRESS (AP) Via LIVEMINT
Before the adjustment, the highest denomination was a 1 million bolivar bill that was worth a little less than a quarter as of Thursday. The new currency tops out at 100 bolivars, a little less than $25
A new currency with six fewer zeros debuted Friday in Venezuela, whose currency has been made nearly worthless by years of the world's worst inflation.