Silver is piling up in warehouses
Why Polymetal cannot supply bullion to foreign markets
Silver bars turned out to be of no use to anyone. Polymetal is forced to accumulate them in its warehouses. According to the press release, this is due to restrictions on sales to Europe. After the outbreak of hostilities in Ukraine, the London Bullion Market Association excluded domestic producers from its list. Because of this, it is impossible to sell metal with a Russian stamp to Europe. Although, according to Bloomberg, this did not prevent Switzerland from buying 3 tons of gold from Russia in May. The interlocutors of Kommersant FM assumed that it was sold there precisely for remelting, so that the ingots could get to foreign markets.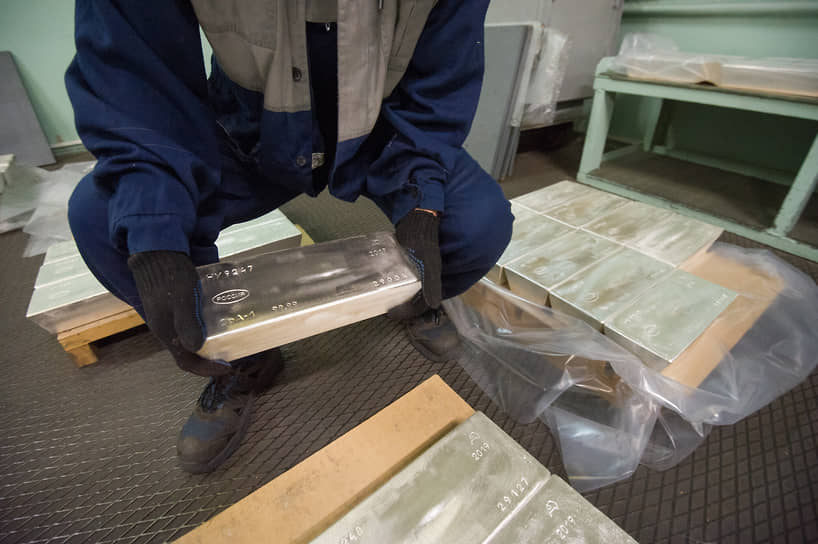 Photo: Vlad Nekrasov, Kommersant
However, this will not work with silver, Oksana Lukicheva, commodity market analyst at Otkritie Investments, believes: "This does not work with silver, because there is enough of it on the world market, and apart from Europe it cannot be sent somewhere else. Since the UK has withdrawn the Good Delivery status ("reliable delivery" – approx. "b FM") from refineries, they cannot sell their metal according to all international standards and safely send it not only to Europe, but also to other world hubs, in the same United Arab Emirates, only if at a discount.
But in principle, deliveries are, of course, possible, Swiss refineries have taken 3 tons of gold for remelting. It's just that silver is not so needed on the world market, the reserves are large. As soon as prices rise above $28 an ounce, silver immediately starts to sell. The situation is especially striking in China. They have a lot of silver stocks and were very active in selling it at the beginning of the year. When there was a surge in prices back in 2021, it was from there that exports went to the world market."
In addition, Polymetal says that it is also difficult to sell on the domestic market. Silver bars are not particularly in demand among private investors, even despite the fact that in the spring the authorities canceled VAT on the purchase of precious metals. This spurred demand for gold, but not for silver, says Alexei Vyazovsky, vice president of the Golden Mint House.
According to him, this type of investment is more suitable for those who are not in a hurry to earn money, but are not afraid to take risks:
"Silver, of course, is less popular with investors than gold. It is still more industrial than precious metal.
Silver bars are not a very popular topic because it is easier to buy coins. Let's say we mint silver St. George the Victorious, there are foreign coins, the same Vienna Philharmonikers – all this is sold in Russia.
It must be remembered that silver bullion is about 80 times cheaper than gold, plus it is heavy, darkens over time, loses its qualities, although, of course, it can be refined. Silver prices follow gold – it is a more volatile metal. If conditionally gold grows by 1%, silver – by 2%, and, conversely, if gold falls by 1%, then silver falls by 2%. That is, this metal is suitable for investors with a more aggressive approach, who are willing to tolerate risks based on higher returns."
Polymetal is one of the largest producers of precious metals in Russia. According to the Federal Customs Service, the United Kingdom and Switzerland bought Russian silver last year. Now Polymetal expects that by the end of 2022, the share of silver bars in the sales structure will be less than 5%.