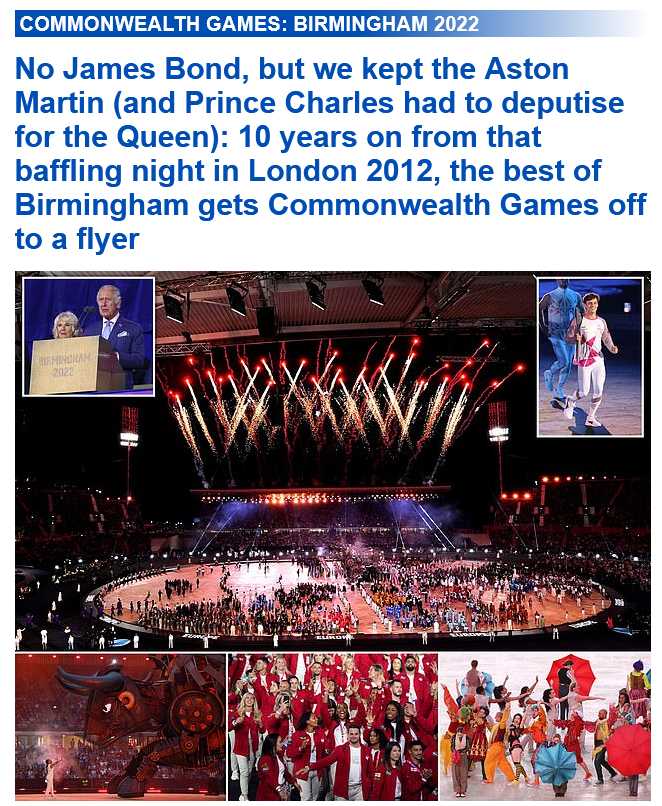 Just a quick heads up post. I'm sure others saw the blatant ritual and symbolism in the commonwealth games 2022 opening ceremony. We're told there's a war going on, we're told there's a global recession coming, we're told everything is doom and gloom and yet millions of pounds are wasted on this rubbish. If things were really that bad this would have been cancelled and all monies and efforts would have been redirected in to the essentials for life. Food, water, energy and shelter.
In my world running fast and jumping things or watching others do it is not an essential for life.
For the masses cognitive dissonance is in full swing. For those awake and awakening fast the penny is rapidly starting to drop. What we're told and what we see are two very different things. The parasites are getting ever more daring and overt with their work and workings. I would confidently say these are magickal workings. Crowley would indeed be proud.
I'll leave it to someone more qualified to decode the full ceremony such as Vigilant Citizen but for me the bull is a major giveaway to what they're covertly saying. The bull is Taurus and that's a very important constellation for the elites. Again, someone more qualified will know exactly what this is really about.
If you read the works of Wayne Herschel the ceremony absolutely makes sense. So does the bull. The games have started, we'll soon be hungry and on our knees. We're being terrorized through fear, shortage and scarcity mostly via the mainstream media and at some point the terrorists will issue demands.
Wayne Herschel – www.thehiddenrecords.com
The ruling class whether elected or not do not answer to us, have never answered to us and will never answer to us. It seems they keep telling us but there are none so blind as those who cannot see.
If we truly want better lives we have to reject big government, remove the fake elites and redistribute the wealth and go back to the things we really need to have good, happy and fulfilling lives.
Food, water, shelter, purpose, love.
"The minute you begin to do what you really want to do it's really a different kind of life." – R. Buckminster Fuller
"You never change things by fighting the existing reality. To change something, build a new model that makes the existing model obsolete." ― R. Buckminster Fuller
All comments on the ceremony are welcomed as only by working this out together will we defeat their plans. Plans that are hidden in plain sight.
Orion – Taurus – Pleiades – Isis rope – Home