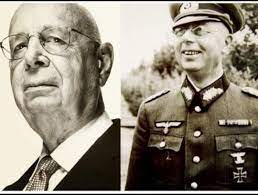 Wow!
EUGEN W. SCHWAB WAS A NUCLEAR-HAWKING RAVENSBURG CITY FATHER Klaus' father, Eugen Wilhelm Schwab, was the managing director of Escher-Wyss & Co. in 1938 when Klaus was born in Ravensburg, Germany, and continued with the company as President Emeritus until his death in 1982.
Super race?
Adolph Hitler and the Nazi Party ascribed to the concept of the "Master Race". This ideology held that the Aryan Races, people of Northern European descent, represented a superior and "pure race". An ideal member of the Master Race was referred to as an "Übermensch", or literally, a "Super Man".
So let me guess this straight… Schwab's dad was Hitler's buddy, and the vaxx alters genetic material of humanity, and they want to turn the rest of us into PATENTED human/alien/monkey hybrids??
https://beforeitsnews.com/alternative/2022/05/are-you-aware-hitlers-buddy-was-klaus-schwabs-dad-eugen-whos-name-is-found-in-the-word-eugenics-3773609.html