In Britain a series of unexplained fires have occurred recently – the most suspicious at RAF Welford the UK's air munitions depot on April 14th.  This is accompanied by other fires causing explosions, which seem most unusual, in other locations such as Redditch and Manchester.  See earlier posts.  Revisiting the May 6th Redditch fire. Was it another missile? | (tapnewswire.com).  Russia's ultimatum to Britain was sent on April 13th but was not reported in any media.  It was rejected by Britain's junior Defence Minister.  Since when the fun started.
Britain is being affected by Transport chaos, in air, rail, road and ferries.
Some of this could be being caused by cyber attacks, and radar jamming.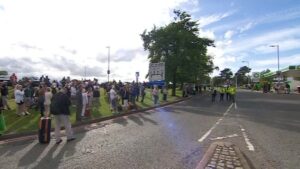 East Midlands airport closed today with reason being given of a device in hand luggage. Yet no one arrested and threat not confirmed. There are all the excuses in the book being given for long delays at all airports every day with multiple flights cancelled. All the reasons bar maybe the real one that ATC is being disabled by jamming, flight control systems on airplanes are failing (7700 squawks becoming more frequent) and and booking systems are facing cyber attacks.
East Midlands Airport evacuated after 'security threat' amid scenes of 'mayhem' – Mirror Online
Russia could be hitting back in ways that bring chaos but don't kill (hopefully). Motorways are also being blocked with accidents which Police say have no obvious cause. This is indeed preferable to a nuclear missile, but there is still significant danger – especially if these attacks are increased and widened to attack other parts of the economy. https://www.independent.co.uk/independentpremium/news-analysis/easter-travel-rall-air-ferry-disruption-b2058372.html#comments-area
Ports and ferries were also affected by computer system failures in April https://www.ft.com/content/e3e54f35-915b-4d4f-81f5-d72617d7886b
Russia is well able to use cyber attacks on Britain. As well as the possible missile attacks. At some point the government will no longer be able to hide the fact that their Ukraine policies are wrecking the country with Russian reprisals.
What do you think? | (tapnewswire.com)
It can't all be COVID. Chaos with flights across Britain. | (tapnewswire.com)
Did Russia take revenge for targeting of the Moscva? RAF Welford Depot explodes. | (tapnewswire.com)
No wonder the Russians are looking so relaxed and confident during their May 9th WW2 remembrance day celebrations.  They can dismantle Britain and no one wants to even notice.  Too much loss of face for the government so all is denied and brushed under the carpet.