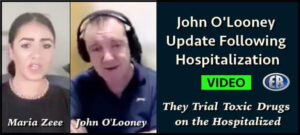 ER Editor:  The last we heard about Milton Keynes funeral director John O'Looney, he had been taken to hospital ill. A drama ensued whereby he was literally rescued from the hospital by connected sources from within North America and the UK. He talks about these precise circumstances at the outset of the video. We've made a few notes below. See John O'Looney for more.
****
Readers may also be interested in this very short video with a funeral director from Sydney, Australia, who makes similar observations to John O'Looney:
****
NOTES
He fell ill 10 days before going to hospital with a type of cold; he was on antibiotic treatment for this. His condition deteriorated: 3-4 days before Xmas; his oxygen saturation levels had gone way down. An ambulance was called for him in order to get the necessary oxygen treatment. One of 3 ambulance staff berated him because he wasn't vaccinated. He was intimidated into staying in the hospital by various staff.
He was told by hospital security staff he would be 're-arrested' if he left the hospital. He hadn't been 'arrested' in the first place. O'Looney wasn't intimidated by this. His Covid tests were negative.  When he stood up to them, they backed off.
Was he poisoned? This has been suggested to him but it's impossible to know. His symptoms left him feeling that he had been poisoned. He was coughing up blood at one point.
In November 2019, he went over to Northampton hospital because a family complained they couldn't see their loved one. While he was collecting the deceased, he noticed the pandemic tents; staff warned him that there was something bad coming. So they expected this 'pandemic' back then.
2019 was a busier year for deaths than 2020. It's the same for all funeral directors. Most funeral companies are more bothered about their bottom line than their dead clients and their bereaved families. All his clients get washed and dressed in person whether they've had Covid or not. All regular deaths were labelled as 'Covid' no matter the cause. And many carehome deaths were relabelled without the families being present, without being able to know. A government agent contacted him early in the pandemic asking regularly for his death statistics, pushing him to report them as Covid deaths. There were financial incentives along the chain, leaving behind many angry families. He hadn't heard of Covid deaths among children, but plenty after vaccination.
In March 2020, he also got a letter from Thames Valley police informing him that police and doctors wouldn't be attending deaths anymore. This used to be a matter of course. The reason? – 'Covid'. A funeral director isn't qualified to declare the cause of death or be involved in this situation. 'It's a great time to do a murder because you'll get away with it' said one funeral director to him. By April, the elderly were to be transferred to carehomes from the hospitals. Then the virus proceeded to 'sweep through' the carehomes. How does a virus target specific buildings?? A virus is in the community generally, not a building. Then his phone rang off the hook for 3 weeks from carehomes. Meanwhile, heaps more Midazolam had been ordered by the government. All deaths in these carehomes were then due to 'Covid'. The key element here is consent: many of these elderly were simply not dying. Some elderly were recovering or coping with their illnesses in the carehomes. (Visitors were not let in because they could act as witnesses.) Meanwhile, they were dying. Family members would call to find out how their relatives were doing only to be told they had died that day. Nurses had been instructed to give a particular dose of Midazolam, an end of life drug (60 mg), which is a lethal dose in fact, and known to be so. Who's been giving these injections? An incredible amount of Midazolam was used during this time. There is a paper trail on this. He's been contacted by dozens of people abroad with the same testimony. It's global; our governments are puppets to the same end, to get needles in arms. 2020 had no increase in death rates except for a small spike in March-April. By November/December, there was something going on – vaccines were being advertised. He predicted an increase in deaths by January, when vaccine rollout started. Deaths in his estimation increased by 300%. He had to turn away clients. It lasted around 12 weeks, into April. They were crafty – they started with the ones most vulnerable, those who were expected to die. Meanwhile, everyone else had been frightened over a lethal 'pandemic'.
From April 2021 until August/September or so it was quiet until deaths started up again from heart attacks, strokes and aneurysms. When people die suddenly, the coroner is involved; O'Looney checks the paperwork on these deaths. A lot of deaths have been of very young people, in their 20's, 30's and 40's. 2021-2022 has seen many deaths of young people. Now they're accurately listing the cause of death but they're not going further to say if they've been vaccinated or not. He e-mailed the Chief Coroner with CC's to prominent people (doctors and scientists) over an unusual number of early deaths; he didn't receive a reply. Finally a secretary replied. They were 'following government policy' he was told.
What about the 'blood turning to glue' claim? The US embalmer interviewed talked about blood of deceased being very thick. O'Looney's embalmer has reported the same thing. You make an incision into an artery to clear it out and inject formaldehyde into the body. He's been struggling to perform this process efficiently. The GMC (General Medical Council that oversees GPs) in the UK is simply a mafia. It harasses doctors who speak out. Dr. Sam White has been positively persecuted and offered deals to keep quiet. The GMC is just a facilitator for this corruption. Its days are numbered. A parallel organization will be set up that has credibility, that attracts honest doctors.
Are doctors being raided in the UK? He doesn't know but many doctors have been harassed and taken to court. It's happening in Australia. Police are just being used as blackshirts. It's shameful.
Do families know it's the vaccine when young family members die? Some are very aware, but who do you talk to? The coroner has already seen the report, so there is nothing to be gained from that. A 'blood clot' will be recorded as such. If you go for a second post-mortem (that you pay for), you need a new coroner, who is simply going to follow the same govt policy and is a friend of the first coroner. It's better to let your loved one rest and join the cause to get justice. Only numbers will get justice.
He's heard reports up and down the country about child deaths from the vaccines – it's probably in the dozens. The families are pressured and bullied. In April 2022, 80,000 NHS staff would rather leave their job than get the vaccine. That by itself is sufficient testimony against the vaccine. Football players are dropping and dying from heart failure on national TV. 186 collapsed and around 150 of these died in FIFA. How can this be? Now we're seeing commercials programming us to accept heart attacks in children and young people. Normally, zero children die from heart failure in his professional experience. It tells you what a rarity it is. Collectively, we have to get out and protest, as we've seen in London and Brussels, but the MSM don't report it.
When O'Looney was in hospital over 3 days, a few staff came up to him quietly to support what he had said publicly. His experience was instructive. All sick people he met in there were vaccinated. A consultant was going to start him on Remdesivir, which he refused. 'Why would you give somebody who has difficulty breathing a drug that affects the breathing?' The consultant disappeared. Someone from Oxford University approached him to trial some drugs. BARICITINIB & TOCILIZUMAB – these all have side effects. Why would you trial these drugs on sick people? Because it's govt policy. He refused to sign a waiver.
In Australia we have a honeymoon period – it's summer with elections coming up. But when winter comes down below, post-election, what awaits Australians if nothing changes? O'Looney: People falling over from bloodclots; a new 'variant' with new emergency measures. And people will be terrified all over again. A recent ad campaign in Australia predicted heart failure over the next 5 years 'because people haven't been seeing their doctors'. In the UK, people cannot even see their doctors. It's clear medical neglect. GPs work from home; they're on a Covid payment to sit at home and answer the phone. They're in no rush to get back into clinics. It's fundamentally ruined the NHS. Which is why 80,000 will bailout. They've seen it and had enough. One NHS nurse told him that she goes into work to mitigate the damage that's being done because of poor clinical decisions. He picks (dead) people up who've had Remdesivir and are full of fluids that they couldn't get out of their bodies. Patients in the hospital he was taken to were given morphine overnight, which suppresses their breathing while their lungs were already full of fluid, leaving them gasping for air. He had to argue with the staff to get himself discharged, and that was with expert advocates supporting him. The staff knew him in there; it's possible he was targeted with the efforts made to keep him in. Without expert help, he probably wouldn't have made it out alive.
People have totally lost faith in the healthcare system. The staff around him were mostly excellent; it's govt policy that's wrecking the healthcare system. How do some of the staff live with themselves? Do they know what they're doing when they give experimental drugs or morphine to patients?
An agency nurse of 30 years experience he knows told him that they were admitting patients into hospital, giving them a chest x-ray, and on that basis alone, they were being put on palliative care. Not even a PCR test or lateral flow test was being done. Many of these patients could have simply had a course of antibiotics. "People stood on doorsteps and clapped for us. When they find out what we've done, they'll stone us to death", she said.
He's got 1,000's of e-mails from frightened medical staff who know what's going on. He's sure that if he'd have stayed in hospital and taken those 2 drugs offered to him, as well as Remdesivir, he'd be dead.
They've decided to cull people to keep the world 'sustainable'. That's the real story here. A hospital mortuary manager, Nick who's going to lose his job soon, has told him that thrombosis deaths have gone up 600% just this year. To all the complicit people out there who aren't speaking up, what's going to happen to you when you're next and you're put in a FEMA camp? You'll have fulfilled your purpose. It's what Australians are concerned about. It's a 14-day stay, but they're building 5 new ones in Australia. So there'll be 12 in total. The feeling is from experts he's spoken to, such as economists, is that China wants Australia, to whittle down the population and take Australia as a mining colony. It's all like a B-grade horror film. In Australia, we've never had a govt launch such an attack on its people. We've seen disturbing things creeping in over the years, but this is the first time that people cannot trust the govt. It's clear citizens and children are being culled. O'Looney attended a Westminster meeting back in September of 2021 at the behest of former police officer Mark Sexton, with Sir Graham Brady in attendance, a senior Tory politician. His committee ('1922') chooses the next prime minister; it's an influential group. 18 other people were there – eminent lawyers and scientists mostly. They gave their expert testimonies to Brady. Those who have taken a shot with an 'active ingredient' (not what's called a 'clot shot') that damages the immune system have between 2 and 5 years to live, he was told. 70% of vaccinated children will be sterilized as a side effect. This was widely acknowledged at this meeting. Sexton walked Brady out of the meeting, warning him that there would be extreme civil unrest when the public discovers what has gone on. Sexton was told that the govt were aware of this and had prepared for it, and were surprised that civil unrest hadn't already started(!). So they are ready, and nothing has changed since that September meeting. Will they bring in the EU army? Are they placating us right now simply because there's so much unrest in Europe that they can't be everywhere at once? But they'll return their attention to the UK again.
In Australia, they've softened a bit following public protests, yet they're still going on with the 3rd jabs. Nothing's really changing.
They've played a really good game of divide and rule – claims of homophobia and racism, BLM, etc. Now it's the 'unclean' non-vaccinated. The vaccines don't work so what is the point of them? In the hospitals, they're all vaccinated. Staff and patients admitted this when he was there. The September meeting of highly eminent people, such as Prof. Dolores Cahill, who's been in charged of P3 biolabs and who has developed vaccines, was reported in the media as a meeting of 'anti-vaxxers'. It's a whitewash. According to Cahill's projections, next winter will be extremely dark for those who have been vaccinated. It's already been one year since vaccination started. (He mentions some of the science behind some of the vaccines according to last September's meeting.) A lot of African leaders who've been deposed or killed in the last year have all opposed the vaccines in their country. Sir Graham Brady is probably powerless.
************
Published to The Liberty Beacon from EuropeReloaded.com
https://www.thelibertybeacon.com/update-from-john-olooney-following-his-hospitalization-video/