It is something to be acutely aware of considering the fundamental events that occurred this week. First, on Wednesday the Federal Reserve's FOMC meeting concluded and confirmed what many market participants had anticipated which is that a series of interest rate hikes are forthcoming beginning in March. Yesterday's release of the fourth-quarter GDP came in exceedingly strong indicating that the annual rate of GDP increased by 6.9%. This gives the Federal Reserve the data necessary to initiate liftoff and begin a series of rate hikes throughout this year and next.
Today the Commerce Department via the St. Louis Federal Reserve released the most recent data on inflation showing that the PCE index (the preferred inflationary index used by the Federal Reserve) joined its component the CPI coming in at the fastest rate in the last 40 years. The current PCE index jumped 5.8% in 2021 after factoring in a sharp increase in December. This puts even more pressure on the Federal Reserve to raise rates quickly, with some analysts projecting that the first-rate hike could be as high as ½% to1 ½% to compensate for the current inflationary pressures.
Gary Wagner kitco.com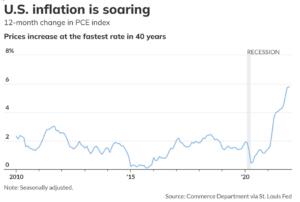 See also UK –
Britain's cost of living crisis worsened in December after inflation jumped to 5.4% – its highest level in almost 30 years – driven by the higher cost of clothes, food and footwear.19 Jan 2022.  Google.