She's a creation of the media, and shows no ability to see beyond the falseness of her looking glass world.  COVID is a mild disease best dealt with by the immune system with minimal assistance from medicine.   Rates of death are rising in all countries where vaxx has been introduced, not from COVID but from primary organ failure, in people aged from 18 to 65.  This is unprecedented.  That's how successful Navratilova's medical opinions are – bunkum, and that's how heroic Novak is being – standing up for life – against the mass murder of the vaccinators like Navratilova.
She is a media useful idiot these days and nothing more (See her other recent comments below).  She'd do a lot better to move on and find something constructive to do.  Former sports players hang around for decades in many cases getting more and more tragic as the years pass.  Being exploited by the media for cheap headlines is about the only role she has left.
Support Novak.  He is the one doing the heavy lifting for the anti-vaxx campaign to save humanity.  Navratilova's fading fame is looking terminal and a sad reflection on her once great sporting career.
MEDIA – 8-time singles Slam champion Martina Navratilova has expressed her belief that Novak Djokovic should leave the country following the continuing saga of his attempts to play the Australian Open unvaccinated.
Navratilova sees the move as the right thing to do when considering the world number one's apparent lone status as the only unvaccinated player in the men's competition. There is still the chance that Djokovic will be deported by Immigration Minister Alex Hawke as an official decision on the matter is yet to be announced.
Speaking to Channel 7 News in Australia she said:
"[Getting vaccinated] may not be something you want to do. But, the numbers are astonishingly in favour of getting vaccinated, to get rid of this Covid, horrible infection, that's infecting the whole world.  So you just suck it up! For the team! for the greater good!"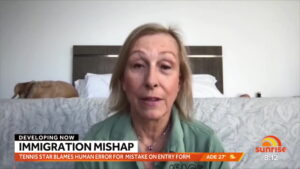 https://tennisuptodate.com/atp/suck-it-up-for-the-greater-good-tells-martina-navratilova-to-novak-djokovic?fbclid=IwAR2jXAs6Dm_sm_cFa6E_9Bo8-vgPMxCGtr-014JKMxdNltufR_LQ5Nn-UNA
TAP –
Novak's fight isn't to play tennis in Australia it's a fight for the rights of 7 billion people across the globe being subjugated into the NWO Great Reset dystopia. His father has made that clear. (Sir Mood 2022 on Twitter)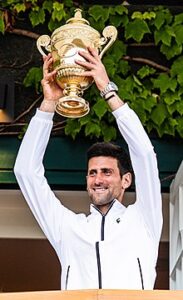 https://edition.cnn.com/2019/03/04/sport/martina-navratilova-transgender-cheats-apology-spt-intl/index.html
https://www.dailymail.co.uk/femail/article-4850824/Martina-Navratilova-s-wife-reveals-marriage-like.html