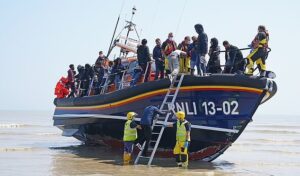 Introduction – Oct 12, 2021
Will the migrants who sailed across the Channel require proof of "vaccination" to enter the country, like most Britons returning from overseas? No and nor will they require a job offer. Instead, they will be housed and fed at taxpayer's expense. And for most this will continue indefinitely because few, if any, will ever be repatriated.
Why is this allowed to continue? Could it be because the British government is simply following orders from the global elite, who want to create a world without borders? A sort of global refugee camp whose inhabitants live without national or even racial affinity and who are more easily manipulated as they are dependent of the largesse of the globalist controllers.
Is this why Britain has paid "not one euro" of the £54 million it promised to France to try to stop migrants making the perilous journey across the English Channel?
Is the British government simply using this as a pretext to cover what is effectively an "open borders" policy?
More than 1,000 migrants crossed English Channel over two days
ITN – Oct 10, 2021
More than 1,000 migrants crossed the English Channel in small boats over the past two days.
After 10 days of bad weather, which made crossings impossible, at least 40 boats managed to reach Britain on Friday and Saturday.
At least 624 people reached the UK on Friday aboard 23 boats – the fourth highest daily tally on record during the crisis.
And 491 people, including children, crossed on Saturday aboard 17 boats, according to numbers released by the Home Office on Sunday morning.
More people were seen arriving in Dover on Sunday.
A young girl with a pink jacket was seen on Sunday being helped to put on woolly hat by a border official. She is one of a number of children who have made the dangerous crossing in the last few days.
Another woman was seen ushering a small child ahead of her as the pair were guided up a gangway by a border official.
Meanwhile, a French minister has claimed "not one euro" of the £54 million the UK promised to France to try to stop migrants making the perilous journey across the English Channel has been paid.
He urged the government to fulfil its promises.
Earlier this year, the government pledged to send millions of pounds to support French efforts to stop the crossings.
However, Home Secretary Priti Patel recently threatened to withhold the funding unless more people were stopped from reaching the UK.
More than 18,000 people have succeeded in making the dangerous trip across the Dover Strait aboard small boats in 2021, according to data compiled by PA news agency.
The total for 2021 so far, is already more than 6,500 higher than the number of people who made the crossing in 2020.
Speaking on Saturday during a visit to Dunkirk, France's Interior Minister Gerald Darmanin said "not one euro has been paid" of the money pledged by the UK government to the French.
"We are asking the British to keep their promises of financing because we are holding the border for them," Mr Darmanin said.
He also called on Britain to take measures to reduce its "attractiveness" for migrants without residency papers, without elaborating.
"We are speaking of human beings. There are children, babies who are taking these boats, who are risking their lives. There are people who die in the Channel. I don't what them to be hostage to political debates," he said.
Speaking on Sunday, Business Secretary Kwasi Kwarteng refused to be drawn on whether the payments had been made or not, insisting instead that the government had "worked very effectively with the French goverment", adding the two countries had a "good collaborative relationship".
He continued that at least 65 convictions had been made and the two countries had prevented thousands of crossings.
A Home Office spokesperson said: "This year record numbers of people have put their lives in the hands of ruthless people smugglers and risked perilous channel crossings from French beaches.
"Joint cooperation with the French has led to nearly 300 arrests, 65 convictions and prevented more than 13,500 crossings. But with hundreds still risking their lives and making the crossing, all sides must do more.