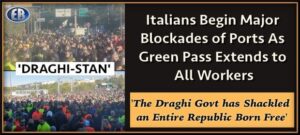 ER Editor: Not a twofer today, but a threefor or more. Italy is reaching crescendo point as globalist Draghi's government is now requiring all workers to be subject to the conditions of the Green Pass.
This from Dr. Dominic Standish living in Italy for RT:
From today, all employees in Italy are legally required to have the country's 'green pass', showing they have had at least one dose of a vaccine, or have recovered from the disease within the last six months, to go to work. Alternatively, they can also do their jobs if they pay (out of their own pockets) for a test every two days, provided it comes back negative, obviously. Currently, around 15% of private and 8% of public sector employees are reported to not have the green pass.

Workers in Trieste announced they would strike at the port from today and are refusing to conform with green pass requirements. Late yesterday, this strike was ruled illegal, but thousands of port workers are out demonstrating against the pass today.

In the Venice region, at Electrolux, which has 23% of 1,430 employees unvaccinated, an eight-hour strike started today against the pass. Many other businesses face disruptions as employers struggle with checks every day as they cannot store employees' health data due to privacy regulations. Many buses and coaches in the Venice region have been cancelled due to a lack of drivers with passes.

In addition, it is estimated 30% of truck drivers in Italy do not have the pass. Forty percent of drivers originate from outside Italy, meaning many of them have types of vaccination doses that are unrecognised by the government and may be unable to enter workplaces from today.

Employees risk fines of up to €1,500 and being suspended from work without pay if they do not comply with the new regulations. The only other country that has made evidence of not having Covid-19 necessary for all employees is Saudi Arabia.
The northern port of Genoa is also being affected by strike action in addition to Trieste (see red spot on map). The ports and regions mentioned in these reports are in the industrial north.
France Soir below gives us a more detailed report on the dockworkers' protest. The government is trying to cherrypick them off by giving them exemptions but the men are not having it, recognizing a solidarity between themselves and all other workers.
Below that, two reports from RT give us video footage.
********
The dockers of Trieste against the "Green Pass": the vanguard of a revolt in Italy?
FRANCE SOIR
The health pass is becoming compulsory today for all workers in Italy.
The dockworkers of Trieste are strongly opposed to this, and the government has offered them free tests; they have clearly answered that this is out of the question, rejecting this preferential regime (or rather of lesser disadvantage), expressing their solidarity with all workers. They will therefore blockade the port of Trieste from today: an action that adds to their demonstrations and other mobilizations such as those of truck drivers, and that is echoed by the Italian population, some of whom have even made them heroes.
Founded over 2,300 years ago, the commercial port of Trieste is the most important in Italy. That's why the government is keen to keep its dockers on course and keep business flourishing. A free port since 1719, its territory is legally excluded from the European Union's customs zone. Somehow they are free, and today they are showing that they intend to stay that way:
Coordination of the Workers of the Port of Trieste

October 12, 2021

Press Release – Please republish!
"Hello to all!

Following yesterday's demonstrations, we insist once again: on October 15 will take place the blockade of the operations of the port of Trieste.

We have just learned that the government is seeking an agreement, a kind of compromise for the dockers of Trieste. They are waving the scarecrow of the resignation of our president, Zeno D'Agostino.

We, the dockers, insist, because our message must be clear: none of this will lead us to negotiate. We want the Green Pass to be eliminated for all categories of workers, not just the dockers.

We also want to remind President D'Agostino that when he was under attack, his dockworkers defended him with a knife between their teeth.

Now that the dockworkers have decided to defend themselves and the other workers, he shows by his resignation that he refuses to fight on our side.

So we wish him well. Goodbye.
Following this message, Prime Minister Mario Draghi summoned the union leaders (CGIL, CISL and UIL).
Resistance in the transport sector
The popular protest movement is affecting road transport (at least 30% of Italian truckers refuse the "Green Pass", and 80% of foreign truckers in transit through the country). Confetra, the federation of transport and logistics associations, fears "the paralysis of the national logistics system". As for customs forwarders, they consider that the bottlenecks in Trieste will affect all terminals: port, airport and inter-port.
According to the president of Anasped, Massimo De Gregorio, many workers and truckers from Eastern European countries can no longer enter Italy, and now we must add all the Italians who refuse the vaccine. "The movement of goods and customs clearance will inevitably be slowed down."
In Rome, problems in public transport occur when 5% of the staff is absent, and now, probably 20% will not come to work. The Committee "Public Order and Security" of the Ministry of the Interior has recently decided to intensify the control on the whole Italian territory, as well as the control on the Internet and on all social networks, and to strengthen the protection of official institutions.
Parliamentary resistance
MP Pino Cabras, who leads the party "L'Alternativa C'è" ('there is an alternative' – in opposition to Margaret Thatcher's famous phrase) declared in the Italian parliament on September 22:
"The Draghi government (…) has shackled an entire Republic born free. It has transformed it into a system where every house has become a customs house, every office a border, every school a checkpoint, every auditorium a border, every public square a branch of the police headquarters, every cafeteria a place of apartheid."
Also vice chairman of the Foreign Affairs Committee, he gave an interview on October 9 to the newspaper Opinione pubblica:
"No party or movement has succeeded for more than a decade in bringing such a large crowd to Rome's Piazza del Popolo as this movement rejecting the Italian anomaly of the Racket Pass. […] The mass media will do everything to hide the significance of the news and the politicians of the Draghistan regime will label the people with denigrating labels. However, if the people are determined enough, their victory is possible, as the extortion has reached (…) the threshold beyond which it will no longer be possible to restrain the will of those citizens to whom Brunetta wants to make pay an abnormal, sadistic cost, economically, socially and psychically. […] The sorcerer's apprentices who run the Italian regions are realizing a little late that on October 15 there will not be a health improvement, but rather a bureaucratic tragedy unique in the world that will hinder entire sectors of work. The Racket Pass is unconstitutional. The parliamentarians of "L'Alternativa c'è" are going to introduce actions to sweep away this attack to the civil pact. The alternative to Draghistan is in the public square".
And Pino Cabras concluded:
"It is essential to avoid provocations, which always arise when what is at stake is the power relationship between the people and the power. The power invariably has violent pawns that it can use. I call for democratic firmness and to isolate the perpetrators of violence."
In addition, he and his party will go to the Constitutional Court, because the Draghi government now wants to prevent non-vaccinated parliamentarians from entering the hemicycles.
Mario Draghi, former head of the European Central Bank, who is positioned at the center of the projects of privatization of public goods and thus the dismantling of the work of Enrico Mattei, since at least 1992, had raised questions about his mental health, when he declared on July 22, 2021, with a patient face: "non ti vaccini, ti ammali o muori oppure fai morire, contagi. (If you don't vaccinate yourself, you get sick or die, or you make others die, you infect them).
In short, the confrontation around this "Green Pass" seems to be engaged from all sides.
********
Hundreds blockade Italian ports as mandatory Covid-19 passes come into effect for all workers (VIDEOS)
RT
Hundreds of people have gathered at Italian ports protesting the requirement for all workers to show Covid-19 health passes, which has now come into force. Failure to comply could result in suspension from the workplace and fines.
On Friday, around 300 protesters blockaded an entrance to the port of Genoa in Northwest Italy in opposition to the so-called 'green passes', which require both private and public workers to prove that they are either vaccinated, have tested negative for Covid, or have recently recovered from the virus.
If workers cannot produce a green pass within a grace period of five days, they will be suspended without pay and could face a fine of up to €1,500 ($1,730) should they dare to work on regardless.
Footage uploaded to Twitter showed a large gathering of people in high-visibility jackets in protest against the measure and signs saying "No green pass."

Meanwhile, in Trieste in the northeast, some labor groups threatened to block operations indefinitely in defiance against the mandate, with crowds of hundreds demonstrating at the city's major port.
Videos on Twitter showed swathes of people congregating and blockading the gateway of Trieste's port. On the eve of the pass taking effect, a crowd of people gathered in front of a worker who called for them to "strike to the bitter end… until the health passport requirement is eliminated."
Translation: Trieste October 14, 2021 7 pm. Port workers: "Strike to the bitter end from tonight to midnight. It will continue until the health passport requirement to work is eliminated!" Trieste calls, Genoa answers: "Port of Genoa on strike from tomorrow morning!"
Trieste 14 ottobre 2021 ore 19. Lavoratori del porto: "Sciopero ad oltranza da questa sera a mezzanotte. Continuerà fino a quando non sarà eliminato l'obbligo del passaporto sanitario per lavorare!" Trieste chiama, Genova risponde: "Porto di Genova in sciopero da domani mattina!" pic.twitter.com/WuGKbRpC8s

— RadioGenova (@RadioGenova) October 14, 2021
Italian Prime Minister Mario Draghi's government approved the mandate – one of the world's strictest anti-Covid measures – in mid-September. Rome first made the health certificate necessary to visit public venues, such as restaurants and bars. In September it became mandatory for teachers and other public sector workers to come forward and get jabbed.

The ever-tightening pass has spurred several protests in Italy. Last month, Italian police warned of planned armed attacks by anti-vaxxers ahead of a rally in Rome, with reports in local media that they were planning to use weapons and DIY explosives. Eight people were investigated for incitement to crime. (ER: We would expect RT to buy into the 'anti-vax' smear, frankly.)
********
WATCH: Protests hit major European port of Trieste amid threats to block it completely over Italy's mandatory Green pass
RT
The port of Trieste, which is the seventh-largest in Europe and a key oil terminal in the Mediterranean, remained functional on Friday despite the dockers earlier threatening to completely block its operations.
While some colleagues remained working, a crowd of some 2,000 people, according to local media estimates, gathered outside one of the entrances to the port to once again decry the Green Pass mandate.
According to the new rules, all workers in Italy have to be vaccinated, recently recovered from the coronavirus, or have a fresh negative test to be able to do their jobs. Those without the Green Pass will be suspended without pay and fined 1,500 euros if found to be still working despite not having one. The government papers seen by Reuters suggested that some 15% of private and 8% of public sector employees in Italy are currently lacking a health pass.
The people in Trieste, many of whom were sporting yellow vests and carried slogans, reading 'Freedom' and 'No to Green Pass, no to discrimination', acted peacefully and didn't try to stop the cargo truck from getting into the port.
"The Green Pass is a bad thing. It is discrimination under the law. Nothing more. It's not a health regulation, it's just a political move to create division among people," one of the demonstrators told the media.
The situation was also calm in Genoa and other Italian ports, which earlier voiced plans to support the strike by the dockers in Trieste. A small rally against the Green Pass mandate also took place in the capital Rome on Friday amid heavy police presence.
The port workers in Trieste in northeastern Italy have been critical of the initiative since it was first announced last month, calling it "not a health measure, but a measure of discrimination and blackmail that requires a significant part of workers to pay to be allowed to work." They have staged a number of protests against the Green Pass mandate, with the largest rally gathering around 15,000 people as many of those employed in other areas also took part in the action.
Earlier this week, the government offered unvaccinated port workers free Covid-19 tests until the end of the year, but the dockers rejected the proposal, saying that the Green Pass mandate must be dropped for all jobs in Italy.
************
Published to The Liberty Beacon from EuropeReloaded.com
Meltdown Begins in Italy with Mass Protests at Ports [VIDEO]