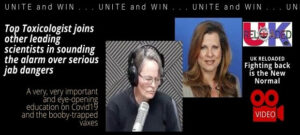 Intro by Watchdog
Here we have YET ANOTHER  highly qualified expert sounding the alarm about the new experimental biochemical agents being touted as "vaccines" for the disingenuously hyped Covid19.
One wonders just how many will have to sound the alarm before the evil psychopaths in government pay attention and cease and desist from inflicting them on their own citizens.
DR. JANCI CHUNN LINDSAY is a veteran toxicologist and mechanistic biologist. She explains the science and troubling evidence behind her recent urgent public plea before the Center for Disease Control and Prevention's Advisory Committee on Immunization Practices to stop all covid gene therapy vaccine campaigns.
Dr. Lindsay is joined by dozens of other leading scientists and doctors, so many to date that one can easily lose count calling for a halt to the use of these vaccines.
Among other things she points out the sheer reckless folly of injecting people with agents that have not been subjected to and proven safe by standard animal trials.
She covers these many vital aspects that we urge you to listen to carefully. Among these serious concerns are:
the impact of these agents upon fertility, pregnancy and miscarriages AND THE FACT THAT THESE CLEAR IMPACTS ARE, MYSTERIOUSLY, NOT BEING STUDIED.
fraudulent studies that justified the suppression of safe and effective remedies.
the fact that the pseudo-vaccines are not vaccines and calling them such is a deception.
the use of the vaxes as a population-reduction tool for known Eugenicists such as Bill Gates
how country after country record experience a spike in Covid deaths AFTER their vaccination rollouts.
how the vaxes are rendering the vaxed MORE susceptible to serious and possibly fatal  Covid infections.
And MUCH more!
You really need to listen to this expert!
This warning was published, by the way, as long ago as  June 11th, 2021. Things have gotten a lot worse since.
Watch video on Bitchute
EMBED CODE
<iframe width="640″ height="360″ scrolling="no" frameborder="0″ style="border: none;" src="https://www.bitchute.com/embed/CqSa7hCYIcUH/"></iframe>
---
People's Media News Dashboard
Top Toxicologist joins other leading scientists in sounding the alarm over serious jab dangers