UN-REDACTING THE REDACTED GOOD NEWS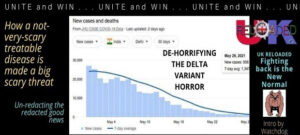 Intro by Watchdog
Much is made of the big scary threat of the "Delta Variant", which began life in India as the "Indian Variant" and is going to "kill everybody" unless we can be scared into submitting to the experimental pseudo-vaccines that the variant evidently "gets past" anyway.
Its alleged appearance was timely and it arrived on the scene in the nick of time to ramp up the fear when the terror was flagging.
Leaving aside the loopy logic of combatting something using a vaccine that doesn't combat it, and to cut a long story short it is probably worth taking a look at India to see if the variant originally named after it "killed everybody".
We discover of course that, no, it didn't.
It is much the same as it is elsewhere with the invisible creeping menace of the alleged variant: lots of alleged "cases" but relatively few deaths despite the efforts of corrupt agencies to talk up, fiddle and falsify the stats.
And, worse, whilst our governments continually talk up the threat of the delta variant in an effort to spook us into receiving their dodgy booby-trapped pseudo-vaccines "for out own good", what is never mentioned is that this variant, along with the rest of them is very treatable. Had the available cheap safe treatments not been ignored or suppressed, there would be no ruddy pandemic.
By way of an analogy, imagine if the authorities had rejected antiobiotics as a treatment for infections: the epidemic of septicemia and similar illnesses would have been terrifying.
The Delta variant can only be presented as a threat if those engaged in this marketing ploy for vaccine sales (a) focus our attention on an inflated infections stat and (b) make sure nobody knows it can be treated with considerable success – success sufficient to remove it from the board as a threat and thus nullify its value as a vaccine marketing ploy.
Therefore the propagandists of the Covid terror – not the slightest bit  motivated by the greater good – carefully do not mention the success achieved in India (and indeed elsewhere)using just one of the Covid cures, Ivermectin.
That sort of info gets redacted from the news churned out by the corporate media.
So how about we in the people's media un-redact  it.
Ivermectin obliterates 97 percent of Delhi cases