ARM YOURSELF WITH KNOWLEDGE!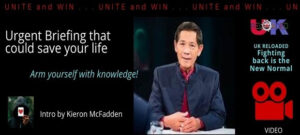 by Kieron McFadden
Please for God's sake WATCH THIS BRIEFING AND TAKE ON BOARD THE INFO. It could save your life.
Urgent message from Prof. Sucharit Bhakdi M.D. ( please process and make your mind up for Yourself ) Dr. Bhakdi explains clearly, based on New scientific evidence which has emerged, why he believes the following ;
(1) Your immune system is your best defence.
(2) If you have been infected, even if you experienced no symptoms at all, you are immune to all variants.
(3) We have already reached herd immunity.
(4) There is no scientific reason to continue with this. There is simply no benefit and the rollout must end.
And if you have not already had the vax PLEASE DO NOT LET ANYONE INJECT YOU WITH IT.
At the very least wait until these experimental biochemical agents have finished their trials and we have had time to observe what happens to those who have already been conned into volunteering themselves as guinea pigs.
https://www.facebook.com/watch/?v=1510243332640818
---
People's Media News Dashboard