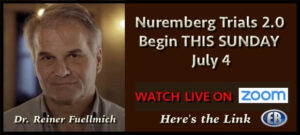 ER Editor:  Apparently, we are able to join the first zoom meeting this Sunday, July 4, 2021 with the opening statements made by the Chief Justice, in the case first launched by German lawyer, Dr. Reiner Fuellmich.
If you click on the Zoom link below, you see this:
A reminder as to times:
8am PST = 11am EST = 4pm UK = 5pm EU
********
Nuremberg Trials 2.0 The Int. Criminal Court for Crimes Against Humanity, July 4th 2021
GREAT REJECT
Join Zoom Meeting for public Nuremberg Trials 2
With opening statements and evidence by the Chief Justice & Grand Jury vs Hitler's 4th Reich members for Coronavirus measures.
************