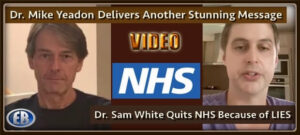 ER Editor: Dr. Michael Yeadon, former CEO of Pfizer, has been one of the most outstanding, educative voices throughout this whole non-pandemic. Here's something he put out over the weekend, including information about a young UK doctor, Dr. Samuel White, whom Yeadon showcases.
Thanks as ever to 
Robin Monotti Graziadei
 for communicating Mike Yeadon's valuable information. Yeadon has long since been banned on Big Tech media platforms.
Monotti's Telegram channel is particularly worth following for the amazing amount of useful information he puts out.
********
Dr. Mike Yeadon
Twitter
drsamuelwhite
Why I resigned as a GP Partner #ivermectin #hcq #HydroxyChloroquine #thegovernmentislying #AmericasFrontlineDoctors #drsimonegold #drsherritenpenny #drchristinanorthrup #drmikeyeadon #restorecommonlaw #awarriorcalls