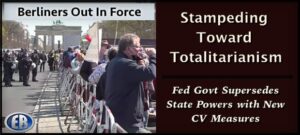 ER Editor:  A Deutsche Welle report gives an update on this RT story of citizen protest in Berlin ahead of a Parliamentary vote.
Please note that DW is as mainstream media as it gets; and as Dr. Mike Yeadon famously said, 'viruses don't do waves'. What is driving their 'cases' – vaccines? more PCR testing? We are highly sceptical:
The German parliament on Wednesday passed potent new legislation to control the coronavirus pandemic across the country.

The changes to the Infectious Diseases Protection Act could be a watershed moment in Germany's fight against the third wave of coronavirus infections.

The federal government has been technically in charge of restriction measures, but, in Germany's decentralized structure, the 16 states were free to implement those guidelines as they saw fit.

Increasingly, the states have diverged on how to implement measures — leading to huge disparities across state borders on what rules were in place. Some states were opening up, despite exponential infection growth, while others remained closed. Although this may have won state premiers popularity among voters, it has also seen infection numbers soar.

Faced with such inconsistency, German Chancellor Angela Merkel's government introduced this legislation to legally obligate — rather than cajole — states into specific action in certain circumstances.

It has been described in German media as a move to centralize power to Berlin, however, but such a move would require a change in the constitution.

What happens next?

The 16 federal states could still block it on Thursday in the Bundesrat, Germany's upper house of parliament. However, this is not expected. 

If passed by both houses, affected districts will be immediately required to implement the new rules.

At some point, the law could be challenged in Germany's Constitutional Court.

What are the new rules?

The law states that if cities or districts exceed a seven-day incidence rate of 100 new infections per 100,000 inhabitants over three consecutive days, then local authorities must:

Restrict personal contacts to one household and one other person, not counting children under 14. Exemptions include meetings of spouses and partners or the exercise of custody and access rights.
Implement a 10 p.m. to 5 a.m. curfew with exceptions for walking and jogging alone until midnight, and exceptions for emergencies, professional practice, nursing and care, animal care, or other significant reasons.
Ensure nonessential shops only allow customers in with a negative COVID-19 test and an appointment. If the incidence rate exceeds 150, customers can only pick up preordered goods (also known as click & collect).
Close in-person teaching at schools if the incidence rate exceeds 165. Exceptions for graduating classes and special schools are possible.
Limit funerals to 30 mourners.

The law would be in effect until June 30, with any further changes requiring parliamentary approval.
***
Italian journalist Cesare Sacchetti responded thus:
This is the document he links to.
********
Thousands gather in Berlin to protest more Covid restrictions as parliament debates giving Merkel's govt power to impose lockdowns
RT
Demonstrators have gathered in the thousands in the German capital as the nation's parliament debates whether to give Merkel's government more power to impose lockdowns on areas with high Covid-19 infections.
Protesters, many of them not wearing face masks, descended on Berlin on Wednesday morning to demonstrate their opposition to Chancellor Angela Merkel's proposal which would give the national government power to implement new restrictions if regional Covid-19 incident rates exceed certain thresholds.
Music could be heard playing as those gathered near the Brandenburg Gate waved flags and banners embroiled with the messages "End scaremongering now," as well as "Peace, freedom, no dictatorship" and "democracy."
The police said they have 2,200 officers on duty to secure the area and to ensure compliance with the Covid-19 rules. The Reichstag building and the Brandenburg Gate have been cordoned off. A spokesman for the police said water cannons were ready and could be used if necessary. Berlin police have been reinforced by the federal police and officers from several federal states.
The parliament will vote on the new Infection Protection Law on Wednesday, which would give Merkel the power to introduce a nationwide lockdown or regional restrictions. The measures would include a nighttime curfew, school closures and new limits on private gatherings, sports and shop openings.
Germany saw mass protests in November as the second wave hit the country and new restrictions were brought in by the chancellor. The nation is now facing a third wave, along with much of Europe, as new variants including the more contagious British strain become more prevalent. The seven-day infection rate sits at 176 cases per 100,000 people, lower than France but many times higher than the UK.
************
Published to The Liberty Beacon from EuropeReloaded.com
Thousands Gather in Berlin to Protest More Covid Restrictions as Parliament Gives Merkel's Govt Power Over States [VIDEO]