A 'wave of pub closures' will hit Shropshire if more support is not given, leading figures warned today.
One licensee, who has already been forced to shut one of his pubs, said he expected to see up to a quarter of businesses close when the lockdown restrictions end.
The news comes as the pub trade body the British Beer and Pub Association claimed that pubs had been forced to throw away 87 million pints of beer since the start of the pandemic.
The association's chief executive Emma McClarkin said that was equivalent to pouring £317 million down the drain.
Malcolm Nicholls, who keeps Housmans restaurant and bar in Church Stretton, said he had already been forced to close another pub he kept during the pandemic.
Mr Nicholls said he closed the Stretton Ale House, also in Church Stretton, in June last year after failing to come to a rental agreement with the owner of the property.
He said he had been able to keep Housmans in business after coming to an agreement with his landlord, but said he had still been forced to pump his own money in.
The Government is due to present its 'roadmap' to easing the lockdown on February 22, but Mr Nicholls said he did not expect pubs to be reopening until May at the earliest.
He added that even then, he expected there would be some form of social distancing in place.
"I think we are going to see a lot of closures, I see no reason why Shropshire should be any different to anywhere else," he said.
"My own opinion is that 20-25 per cent of pubs won't reopen, or they will give it a go and it won't work out.
"It looks likely there will still be social distancing in place, so if you've either got small premises, or you've got a big rent, it will be those pubs that are facing difficulties."
It has even been reported that the Government plan could allow pubs to reopen in April – but not sell alcohol, a suggestion dismissed by pub owners as pointless.
However, there may be plans to allow pubs to start selling 'takeaway pints' again prior to a full reopening, a measure that would be widely welcomed by establishments starved of income since the start of the year.
Clarity called for by landlords
One common theme among landlords is that the rules to reopen should be simple, and well thought out, allowing pubs time to plan without expensive changes that only last weeks before fresh restrictions.
James Hitchin, landlord at the Alb in Shrewsbury, said they would look to start selling take-away if allowed and if the restrictions were not too onerous.
Meanwhile, John Ellis, landlord at the Crown in Oakengates, said that he could not understand why pubs were not allowed to sell takeaway pints now.
His pub sold takeaway beer during both previous lockdowns, and he has been doing delivery during the latest lockdown.
Mr Hitchin said: "If I saw plenty of good guidance, with clear rules and borders on what you can achieve, why wouldn't you? Some sales is better than nothing and at the moment I have got nothing."
Mr Ellis said: "You should be able to sell takeaway now. There is no reason for it not to be happening now. At the moment you have 100 people mixing in a supermarket with no restrictions at all."
Both Mr Hitchin and Mr Ellis said that the pub trade will want a sensible reopening, and that most landlords would rather wait longer than open with restrictions. Mr Hitchin, 36, who has been landlord at the Alb since 2012, said: "I do not think anyone knows what will happen or what will be done with the industry but I think when the decision is made it will be made by the people because they will vote with their feet."
He added: "The general feeling off landlords is we do not think we will be open well into spring. There are a lot of people saying we will be lucky to be open in summer."
Mr Hitchin said that whatever happens it is vital that the rules are clear and simple – with pubs given enough time to put them in place.
He said: "With the first lockdown we were given 10 days with the guidance to change the business, retrain staff, adapt the way the business worked.
"Coming into the second lockdown we were given 48 hours to look at guidance that was not tidy enough." He added: "What we really want is simple, clear guidelines so we can decide how and if we want to trade."
Mr Hitchin said the constant guesswork he found himself doing as guidelines changed over and over again was mentally damaging, and that he found he had to try and switch off from it all.
"I was so obsessed with trying to figure out what they were going to do next. I was looking at how things were unfolding in other countries and trying to work out what might happen. I realised I was spending a lot of time obsessing over it and it wasn't healthy."
He suggested we could see a "role reversal" where safely vaccinated pensioners could take over the nightlife scene as the jab roll out continues.
"They're great customers with lots of disposable income because their kids have moved out," he joked. "You've got to remember as well that there are kids that turned 18 last March and have probably never walked up to a bar and ordered a pint."
He added: "A friend of mine in the trade said he thinks there will also be a sense of mourning for what we have lost. People will reflect on how difficult it has been."
Mr Ellis said: "I would rather stay closed a bit longer and be able to open with fewer restrictions.
"The way customers want to come back, they want to come back to a place they enjoy, feel confidence in a place they can be entertained.
"They do not want to come back where you cannot sit here, cannot sit there, cannot be served easily, you have to be out by 10pm – all these restrictions. You do not want people to come back and not have the enjoyable experience they are used to.
"It would be better to wait a bit longer."
Mr Ellis said that longevity of new rules would also be important – explaining that many pubs had prepared themselves for new rules, only to see them closed again within days.
He said: "The longevity of the planning is vital. We can all plan to reopen but it is the not knowing if we can stay open.
"We got ourselves all approved with the local council for doing food with substantial meals for the previous rules and we were open for 11 days doing substantial meals before we were closed down again."
The reopening of outdoor areas at pubs does also have the support of some experts.
Tim Spector, professor of genetic epidemiology at King's College London, said he believed reinstating the rule of six allowing people to meet outdoors should be "definitely encouraged" around the same time as primary schools begin to return.
Asked about whether private gardens were safer than outdoor pubs or restaurants, he said: "My personal view, and I'm not speaking for anyone here, is actually sometimes a beer garden is more controlled than people's homes and gardens," he said.
"Generally most establishments are well behaved and I think they clean the tables and people keep their distance and I see no reason why we couldn't move towards that in places that are well set up for it."
Support needed – Camra
Norrie Porter, of the Campaign for Real Ale (Camra) Shrewsbury and West Shropshire branch, said the industry recognised that public safety should take priority, but added that more support was needed for pubs during the lockdown.
"It will be very difficult for many pubs, which will have huge debts that have built up because there has not been enough support for them," he said.
"The pubs which have had the least support have been the wet-led pubs, the ones that serve only drinks, and have not benefited from the support that those which do meals have.
"The cut to a five per cent VAT rate was a good idea by the Government, it helped a lot of restaurants and licensed premises, but it didn't extend to alcohol sales."
Paul Jones membership secretary of Telford & East Shropshire Camra said the next few months will prove vital as pubs look to get themselves back on their feet.
He said: "My feeling is that the free houses which aren't tied to a tenancy with any breweries will be the ones most likely to survive the challenges of the pandemic.
"Tenants have been struggling with rents in recent times and depending on what the breweries are asking for, some those public houses may call it a day.
"In the Shifnal area I get the impression that a couple of the pubs have been able to tick over by delivering to homes."
An industry trade body said pubs have been forced to throw away up to 87 million pints of beer in the UK since the start of the pandemic.
The British Beer & Pub Association (BBPA) said the waste was the equivalent of £331 million in lost sales.
Emma McClarkin, the association's chief executive, warned there would be a "wave of closures" and job losses in the sector unless the Government provided further financial support.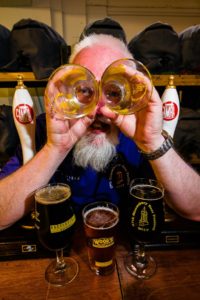 https://www.shropshirestar.com/news/business/2021/02/09/wave-of-pub-closures-could-hit-shropshire-as-industry-pleads-for-support/