That's why the "Horned Protester"
was outfitted with two BIG horns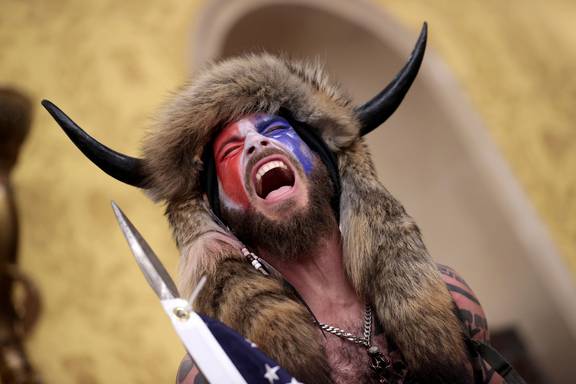 ---
So much happened at The Capitol Building on January 6th, it's difficult to piece all the pieces of the puzzle together in just a couple of days.
However, two key pieces of the "plot within the plot" have become quite evident.
First, that the Democrats planned on using the "wildly" disruptive event as a final opportunity to destroy President Trump's reputation by falsely accusing him of sedition and treason, which they have done.  As follows:
---
---
Secondly, Team Trump was perfectly aware of the Democrat's stupid sting op and, therefore, executed a sting within their juvenile Deep State-overseen sting.
How so?
---
---
What are the telltale signs that Team Trump was all over the Democrat's scheme to smear the POTUS, yet again, well before the 6th?  And, to use their false flag operation as a pretext to remove him from office via the 25th Amendment or Impeachment.
While the skeleton of the convoluted back story is still be fleshed out, the following exposé is a perfect example of where a single photo speaks volumes.
---
---
Clearly, those two photos indicate a very interesting plot was afoot to sting the Democrats, which is why Pelosi, Schumer et al. are now apoplectic about how to proceed against Trump.
By the way, it was the ultra-liberal, globalist rag — Business Insider — that first broke the story about the "Horned Man" being a 'QAnon influencer'.
---
---
Now, get ready to watch the rest of "The Greatest Show On Earth".
The next and hot phase of the Second American Revolution appears to have already begun with Trump's major move to Texas, a state that will fiercely protect the POTUS and Commander-in-Chief while the Democrats conspire with Deep State and the NWO globalist cabal to overthrow him during the final days OF HIS FIRST TERM.
---
---
Stay tuned for more breaking news about this epic "sting with a sting operation" over the coming days.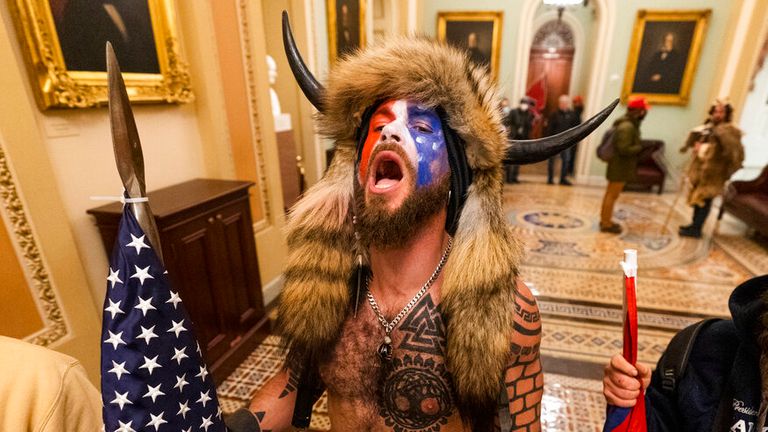 State of the Nation
January 8, 2021
CAPITOL HILL DEMOCRATS GET STUNG BY "HORNED PROTESTER" ON THE JAN. 6TH!