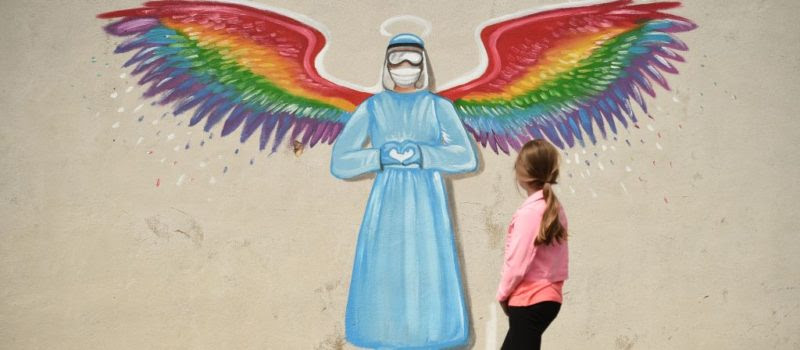 What follows is a guest post by Professor David Livermore, Professor of Medical Microbiology at the University of East Anglia.
Guy de la Bédoyère argued on Monday, and last week, that COVID-19 was being over-estimated as a cause of death. Put simply, his assertion is that if one subtracts deaths attributed to COVID-19 from weekly mortality totals then the remaining "non-COVID-19" deaths are improbably few compared with previous years.
It follows that many "COVID-19 deaths" must really be deaths that would have occurred anyway.
This view is supported by two graphs that the ONS publish and update weekly.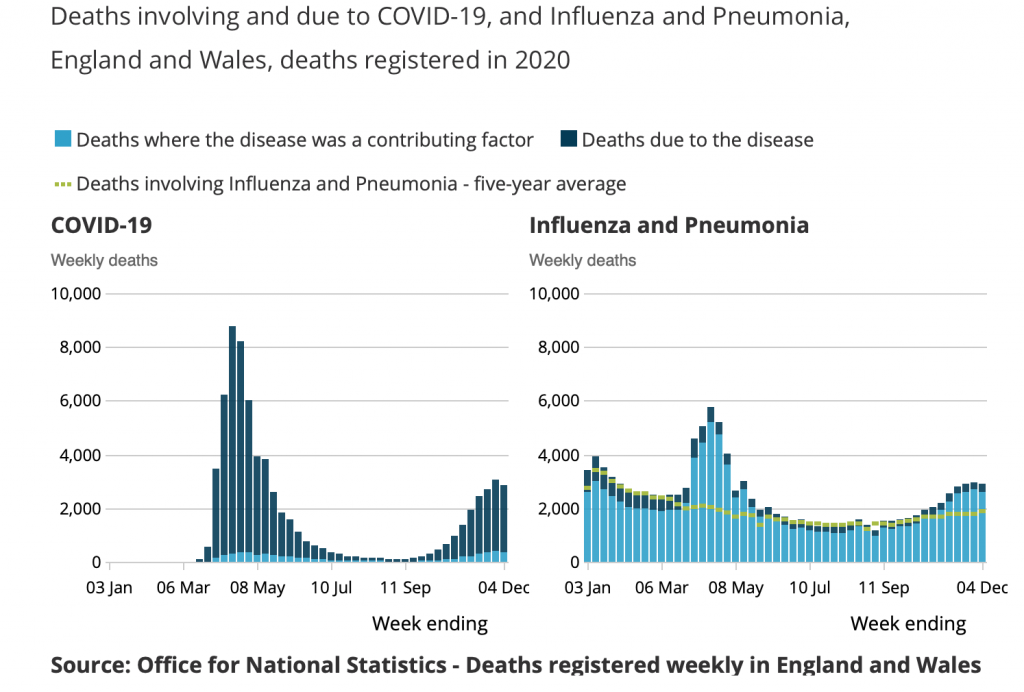 The left hand panel is for COVID-19 and the right hand for influenza and pneumonia. Dark blue is "died due to" and light blue is "disease was a contributing factor to death" or, as the ONS footnote puts it:
We use the term "due to COVID-19" or "due to Influenza and Pneumonia" when referring only to deaths where that illness was recorded as the underlying cause of death. We use the term "involving COVID-19" or "involving Influenza and Pneumonia" when referring to deaths that had that illness mentioned anywhere on the death certificate, whether as an underlying cause or not.
It is immediately obvious that over 90% of the deaths among patients with COVID-19 are recorded as "due to" the virus, whereas over 90% of the deaths among patients with influenza or pneumonia are recorded with infection as "contributory".
This would be just about plausible if, like the Spanish 'Flu of 1918, COVID-19 frequently killed the young and otherwise healthy whereas other pneumonias afflicted those whose chances were already minimal. But we know this is not the case. Around half the COVID-19 deaths have been care home residents who, sadly, are in the last few years of their lives. Median survival after entering a care home is 462 days. More generally, the median age at death is 82 years with COVID-19 and most deaths are in people with underlying illness.
90% direct mortality isn't tenable in these populations.
But what really gives the lie is the April/May spike of deaths in the influenza/pneumonia panel on the right. This exactly coincides with the spring peak of COVID-19 and, since no other respiratory plague was circulating concurrently it follows that it too comprises COVID-pneumonia deaths, but without the virus directly demonstrated. Yet here, without a formal diagnosis, physicians rarely recorded pneumonia as the underlying cause of death, noting it only as a contributory factor. The pattern recurs, on a smaller scale, in the autumn.
The inescapable conclusion is that confirmation of SARS-CoV-2 is a strong prompt to write "COVID-19" on the death certificate as the underlying cause of death. This puts the death into the "due to" category, leading to the distortion that Guy de la Bédoyère describes.
And, not just here. This (via Google Translate) from Sweden is instructive:
The Östergötland region has examined all deaths that have died at home or in special housing with confirmed COVID-19. Records from 122 people have been reviewed, which is 51% of the 240 people who had died in the county when the review was done.

The cause of death on the death certificate is COVID-19, but the review shows that other diseases may have contributed or been the decisive cause of death – for example, heart disease, lung disease or dementia.

111 of the deceased outside the hospital had extensive comorbidity and 11 moderate comorbidity. Half were 88 years or older.

COVID-19 was estimated to be the direct cause of death in 15% of deaths. For a majority of the deceased – as many as 70% – COVID-19 was a contributing factor rather than a direct cause. In 15% the cause of death was judged to be other diseases, most often heart disease.

In some cases, COVID-19 may have contributed to the death occurring earlier than it otherwise would have done. The review shows that very many of those who died with COVID-19 outside the hospital were not expected to survive for long.
The consequence of over-attribution is to inflate country death counts and apparent infection fatality rates.
SARS-CoV-2 is an unpleasant virus, without a doubt, but we live with the consequences of this exaggeration, which must be obvious to the (not stupid) people compiling the statistics.
Stop Press: OffGuardian has a new report on the inflation of UK and US Covid death data: "The COVID-19 Data is a 'Travesty'".
https://lockdownsceptics.org/