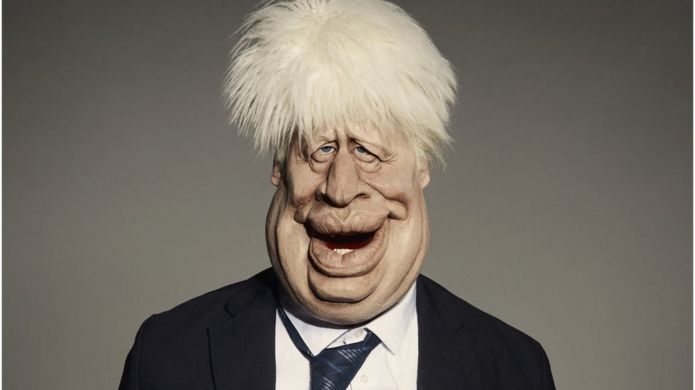 Andy Burnham accused the Prime Minister of playing a "game of poker with people's lives" after he imposed a Tier 3 lockdown on Greater Manchester without agreeing a support package.
Talks between the Government and political leaders in Greater Manchester broke down yesterday afternoon, with Andy Burnham and co holding out for £65 million and Boris and his ministers only being prepared to offer £60 million. The upshot is that Greater Manchester is now only going to get £22 million.
At the 5pm presser where Boris tried to spin this to his advantage, Deputy Chief Medical Officer Jonathan Van Tamm – or JVT, as Boris insisted on calling him – produced a series of charts appearing to show that, in his own words: "Pretty much everywhere in England is now heating up to some extent."
But his slide deck told a different story.
For instance, the slide illustrating the geographical spread of positive cases (wrongly described as the spread of "COVID-19") showed the rate of infection falling in many parts of the country.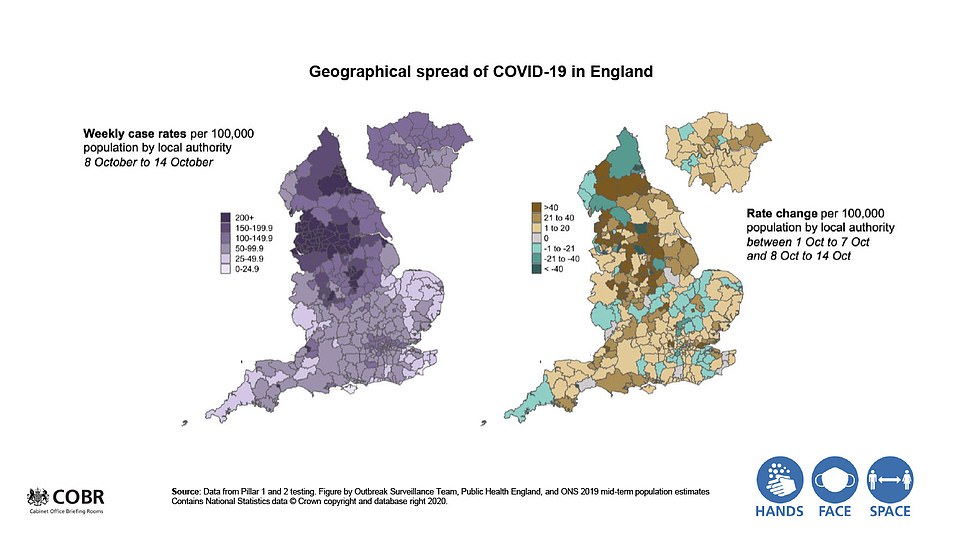 Van Tamm made much of the fact that hospitals were admitting more and more Covid patients, particularly in the North West, as shown in the slide below.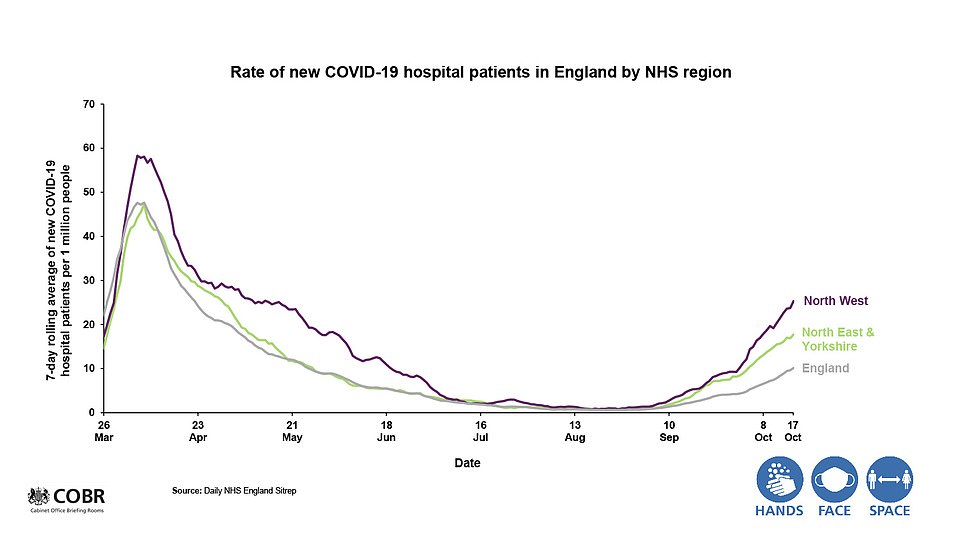 But what this charts doesn't show – and which no journalist asked about, unfortunately – is that Covid admissions in the North West are no higher than admissions would be for other respiratory illnesses in a normal year. Yes, Covid admissions are up, but admissions for pneumonia are down. Indeed, hospital admissions for all respiratory illnesses in the North West were about half the five-year average at the end of September. What looks to be happening is that elderly patients who would normally be admitted for flu and pneumonia are being admitted for COVID-19 instead. Which means that hospitals in the North West are nowhere close to being overwhelmed. If that's the rationale for placing Greater Manchester in Tier 3 – protect the NHS – it doesn't stack up.
The feebleness of this justification for the local lockdown was exposed by Jennifer Williams in the Manchester Evening News, who tried – and failed – to obtain the figures. The paper sent an identical list of questions to all the key players in Greater Manchester's healthcare system, wanting to know trust-by-trust Covid admissions numbers as a proportion of overall capacity, compared to the April peak, and the same figures broken down for intensive care and high dependency beds, plus ventilator beds, including non-invasive ventilation. And it asked for equivalent bed occupancy figures for this time last year, so it could compare them with the start of a normal winter.
Our request was sent to NHS England, Greater Manchester's Health and Social Care Partnership, each individual hospital trust in the conurbation, the Department of Health and Social Care, the mayor's office and Downing Street. We gave a 4pm deadline.

Six out of seven relevant NHS trusts did not respond. Wigan, Wrightington and Leigh said that "we are unable to provide figures – these will be issued at national level", while none of the others have replied.

The M.E.N. understands trusts have been told by both regional NHS England and the Greater Manchester system specifically not to issue their own figures to the media today.

Greater Manchester's Health and Social Care Partnership responded this afternoon to say that Dr Jane Eddleston would be doing a pooled interview with the Press Association about the hospital picture here. But the M.E.N's specific questions weren't addressed.

The mayor's office has not responded.

The Department of Health and Social Care replied almost immediately this morning, to say NHS England holds the data.

NHS England did respond with some links to data.

But most of the relevant information it offered was only broken down to North West level, which matters.

Government's argument is about Greater Manchester specifically, so North West numbers are no good – they are skewed by the situation in Liverpool in particular.
Clearly, the reason the data is being withheld is because it shows Greater Manchester's hospitals are very far from being overwhelmed by Covid patients.
Which begs the question, why are the people of Greater Manchester being needlessly punished in this way?
Stop Press: The always dependable Ross Clark wrote a piece in the Telegraph yesterday headlined: "Don't believe the scare stories about hospitals running out of ICU beds". And Sarah Knapton, the Telegraph's Science Editor, has written a piece pointing out that ICU beds in Manchester are no fuller than they were this time last year.
By Toby Young
https://lockdownsceptics.org/