On Monday, 16 March, 2015, this report states, Captain Cole received from the Pentagon a launch order authorizing a "limited" nuclear strike against Russia, but which failed due to a critical Permissive Action Link (PAL) failure thus causing her to abort this planned attack.
For her failure to communicate the launch authorization to US nuclear forces, this report continues, Captain Cole was arrested on Tuesday, 17 March, relieved of her command and then taken by armed guard to US Naval Air Station (NAS) Miramar in San Diego, California where she remains incommunicado.
U.S. Navy Captain Heather E. Cole was the commander of the US Navy's Strategic Air Command Wing 1 located at Tinker Air Force Base, Oklahoma whose EA-6B Mercury aircraft provide the communications links allowing President Obama and US Secretary of Defense Ashton Carter to directly contact the submarines, bombers and land-based missiles that comprise the United States strategic nuclear force.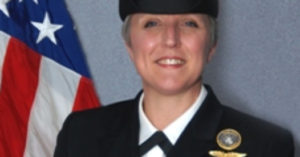 Navy doesn't admit she was arrested, however this article seems to be recently edited to be Politically Correct.
her actions mirrors those of Soviet Naval Captain Vasili Arkhipov, who during the Cuban Missile Crisis, in 1962, also refused to obey orders to launch nuclear weapons against the United States.
Cole's air wing had no role in operating nuclear weapons but was responsible for the Navy squadrons whose E-6B Mercury aircraft provide communications links between the president and the nuclear forces. By ignoring that order and using Chuck Hagel's failsafe measures, Captain Cole is my Hero!
the main article which sources this document seems to be
Ministry of Defense (Russia) and
Foreign Intelligence Service as the main sources for this claim. However, both of them have removed (??) any mention of any "Heather Cole"