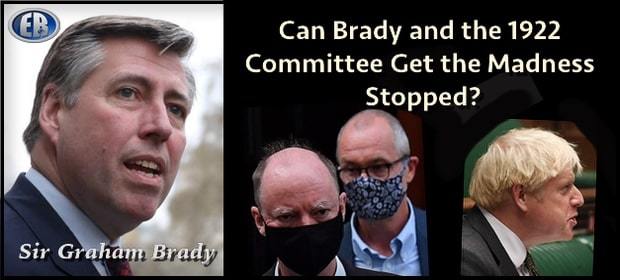 Tory MPs are ready to rebel against government by decree
The likelihood of executive mission creep was foreseen back in March by David Davis and Steve Baker who pushed the government into adopting an amendment reducing from two years to six months the period in which the powers of the Coronavirus Act must be renewed by parliament. That renewal debate will now take place next Wednesday.
However, having been enacted as a statutory motion, it is unlikely that The Speaker will permit a simple amendment to the Act. Rebels would therefore have to rubber-stamp the legislation as a whole or repeal it as a whole – there will be no opportunity to fine-tune. Very few MPs would be prepared to vote down the Act in its entirety. Any such rebellion would be an exercise in political futility.
But an alternative avenue remains open. Whilst the legislation may be declared unamendable, Sir Graham Brady could seek a scrutiny clause appended to the end of the Act. Rebels are pinning their hopes on this prospect. They may find a friend in the The Speaker, Sir Lindsay Hoyle, who has already made clear his intense irritation with Matt Hancock's disregard for informing parliament first of major legal changes like the "rule of six" and for the government's brusque imposition of restrictions in his own Chorley constituency.
What this scrutiny postscript may encompass is now a subject of negotiation between Brady and the government although the principle would be that fresh regulations would require parliamentary approval before they could be enforced.
Given the potentially large number of regulations this involves, including those that the government might seek to implement when parliament is not in session (for instance during the coming Christmas recess), the government may argue that such a provision is unrealistic in the current climate.
But a precedent was created in the drafting of the European Union (Withdrawal Agreement) Act for the creation of the European Statutory Instruments Committee as a sifting committee. This committee would review what "made negative" statutory instruments should be converted into "made affirmative" statutory instruments.
According to research by the Hansard Society, this year the government has so far laid over 230 Coronavirus-related statutory instruments before parliament. But of these, 175 were "made negative" procedures which ministers signed into law. They will remain the law unless parliament actively annuls them within 40 days. A further 53 have been "made affirmative" statutory instruments whereby the minister still enjoys the initiative of signing the measures into law but they will cease to be legal unless actively approved by the Commons (often the Lords too) within a statutory period ranging from 28 to 40 days. A sifting committee could determine which statutory instruments should fall into the category of draft affirmative – which a minister cannot sign into law unless the draft is approved by both Houses following a debate (or the Commons on its own if it is a financial statutory instrument).
The appeal of such a mechanism is obvious to Tory backbenchers concerned that laws are being made without scrutiny and are difficult to repeal. But there is no in-principle reason why Opposition parties need object to such a parliamentary safeguard either. Hence the likelihood of a rebellion having the numbers to succeed next Wednesday.
As Steve Baker puts it, "too many MPs aren't really persuaded any more that these restrictions are proportionate. The fuss is about trying to get the government to do less in restraining our liberties. There's a row about the scientific evidence and what it means. There's a row about whether that evidence justifies the lockdown measures that have been taken. How does parliament force the government's hand? The renewal of Coronavirus Act is the moment."
Source: https://thecritic.co.uk/graham-bradys-covid-rebellion-has-the-numbers-to-succeed/