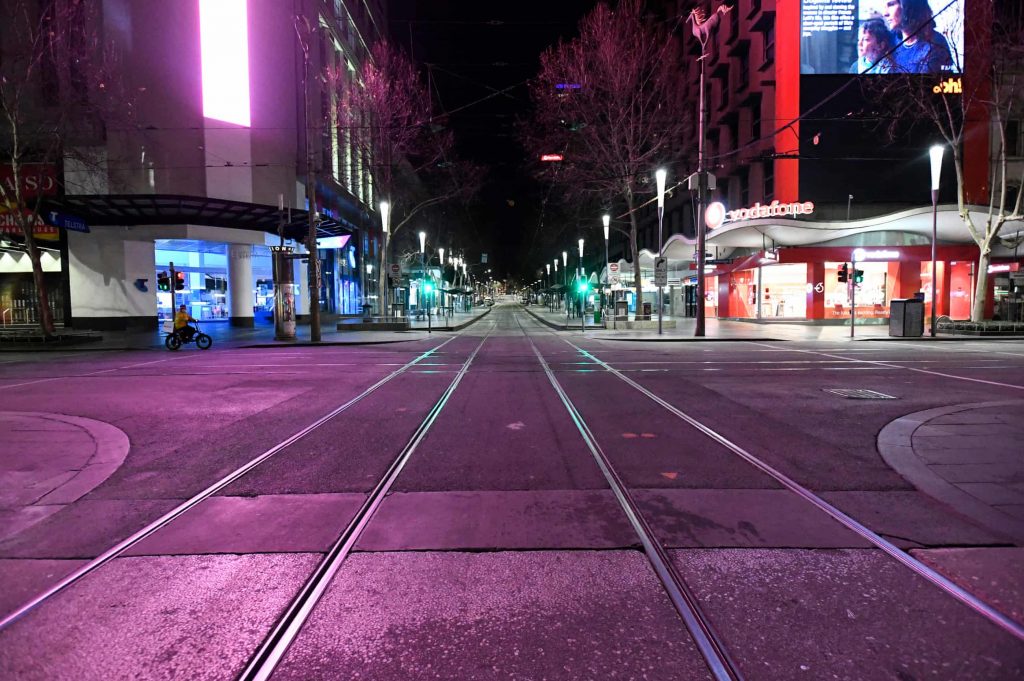 After reading yesterday's "Postcard From Melbourne" I didn't think things could get any worse in the capital of Victoria. But yesterday the power-crazed Premier of the state – Daniel Andrews, known as Kim Jong Dan – announced tough new "Stage 4" restrictions in metropolitan Melbourne, including an 8pm curfew. This looks like another instance of what I'll call the "collapsing skyscraper" rule of this unending catastrophe. Being in lockdown is like falling through a collapsing skyscraper. Every time you think you've come to the bottom and your feet have found solid ground, the floor gives way again.
Here is a list of the "Stage 4" measures introduced from 6pm yesterday and due to last for six weeks:
The "state of emergency" in Victoria has been upgraded to a "state of disaster", meaning police can now enter your home to carry out spot checks even if you don't give them permission and they don't have a warrant.
Between the hours of 8pm and 5am, you're not allowed to leave your homes except for work, medical care and caregiving.
Outside those hours, you may only leave your home for four reasons: shopping for food and essential items, care and caregiving, daily exercise and work. "We can no longer have people simply out and about for no good reason whatsoever," said Kim Jong Dan.
Daily exercise can only take place within a 5km radius of your home and cannot last longer than an hour.
You cannot exercise in groups of more than two, even if they're members of the same household.
Apart from daily exercise, you are only allowed to leave your home once a day for essential supplies and food.
In the whole of Victoria, you cannot buy more than two of certain essential items, including dairy, meat, vegetables, fish and toilet paper.
Schools have closed again, with all Victoria school students returning to remote learning from Wednesday (except for vulnerable children and children of permitted workers). Childcare and kindergarten will be closed from Thursday.
Golf and Tennis venues, which were open, have now been closed.
Weddings will no longer be allowed from Thursday, and funerals will be limited to 10 people.
Face nappies anywhere outside your home have been mandatory for people in metropolitan Melbourne since July 22nd, but that rule has now been extended to the entire state of Victoria.
You cannot have visitors or go to another person's house unless it is for the purpose of giving or receiving care. However, you can leave your house to visit a person if you are in an "intimate personal relationship" with them, even during curfew hours. So no "bonk ban".
If you have a holiday home or were planning a holiday outside Melbourne, tough cheese. You must remain in the city for the next six weeks.
The maximum fine for breaching a health order currently stands at $1,652, but Kim Jong Dan said he would have more to say about penalties later today, i.e. he's going to increase them.
These measures were prompted by 671 new cases of coronavirus on Sunday and seven more deaths. That's up from 295 new cases last Wednesday, but down from 723 on Friday. It was that spike on Friday – the highest daily total in Victoria to date – that prompted Kim Jong Dan to unveil the new restrictions yesterday.
But could the increase be due to a corresponding increase in testing? It certainly looks that way.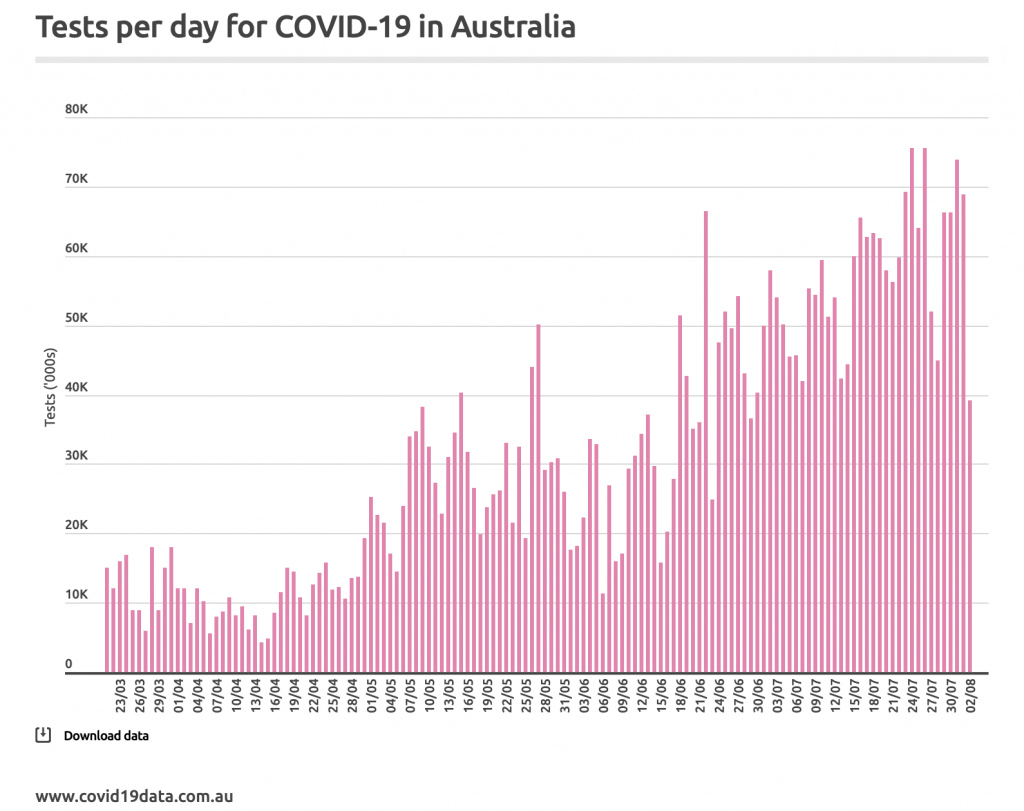 Victoria tested almost 43,000 on Sunday, July 26th, twice as many as on normal days, and the peak on Wednesday could be due to the few days delay before the results come through. In addition, a percentage of the positive results are likely due to the extensive contact tracing introduced in the past few weeks, with targeted testing of those who've been in contact with other infected people.
It looks like a familiar pattern: on the advice of public health officials, a political leader ramps up testing and introduces a track-and-trace programme, then, when the number of cases inevitably increases, the leader panics and introduces draconian new measures.
How long before bungling Boris introduces another new set of random restrictions here?
Stop Press: A "Major Incident" was declared in Greater Manchester yesterday in response to alleged increases in coronavirus infection rates across "multiple localities". (Almost certainly an artefact of increased testing, as explained below.) Major Incidents are typically declared after a terror attack or natural disaster and mean a region can access extra national resources if necessary, with the police able to draft in the army if they need support. Looks like Manchester is in the frame to be the Melbourne of the UK.
By Toby Young / 3 August 2020
https://lockdownsceptics.org/