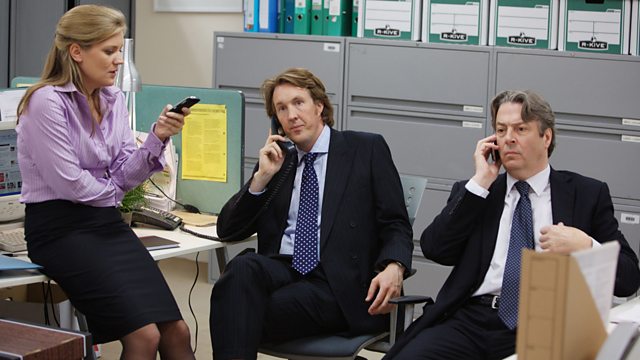 I didn't think the Government's management of the pandemic could get any worse, but I was wrong. The measures announced last night, imposing new restrictions in Greater Manchester, east Lancashire and parts of West Yorkshire, are a new low.
They were announced by Matt Hancock in a Twitter thread at 9.16pm – no, I'm not making that up. He really did announce restrictions affecting millions of people on Twitter less than three hours before they were due to come into force. Or should that be farce? It's as though Matt Hancock's script is being written by Armando Iannucci, creator of The Thick of It. Oh, and the Government then published the new guidance two hours later – less than an hour before it came into effect – and then published further guidance this morning.
Let me see if I can get this straight. In Greater Manchester, Blackburn with Darwen, Burnley, Hyndburn, Pendle, Rossendale, Bradford, Calderdale and Kirklees, people from one household won't be allowed to meet people from other households in their homes or gardens. That seems relatively clear, but the Government then added the caveat that you are allowed to mix with a person or persons in another household if the two households have formed a "support bubble". A "support bubble" "must include a single adult household, i.e. people who live alone or single parents with dependent children aged under 18".
Clear?
When asked about this rather complicated rule on breakfast television this morning, Hancock only added to the confusion.
"The law that we're bringing in is that two households cannot meet in the area defined, but obviously any two households that are meeting should follow the social distancing guidelines," he said.
Not only did that fail to make the advice any clearer, but by using the words "in the area defined" he muddied the waters even further. In its published guidance, the Government specified that people in the these areas should not "visit someone else's home or garden even if they live outside of the affected areas". So has the Government changed its mind about that? Or does Hancock not understand his own guidance?
Perhaps Hancock's confusion isn't surprising since the guidance is borderline incomprehensible.
For instance, someone from outside an "affected area" is not allowed to visit someone inside an "affected area" unless they're attending a wedding or a funeral, in which case they can provided there are no more than 30 people in attendance. Oh, and you're allowed to travel into an "affected area" if you're "holidaying" there.
Clear?
There's more of this gobbledegook. People in the "affected areas" will be allowed to visit pubs, restaurants, cafes, shops, places of worship, community centres, leisure and entertainment venues and visitor attractions, but only if they remain with members of their households while in those venues and don't "socialise" with anyone else – unless they're in their "support bubble", of course.
In Leicester, where a local lockdown has been in place for the past month, pubs, cafes and restaurants will re-open on Monday, but the no-socialising restriction will apply, as will the other new rules.
You are allowed to meet people in the open air, provided it's not in a private garden:
In line with the national guidance, you can continue to meet in public outdoor spaces in groups of no more than six people, unless the group includes only people from two households.
What if one of the two households includes someone from another household in their "support bubble"? And why public parks but not private gardens? Who knows.
The new law mandating these restrictions is going to be called "The Dog's Breakfast Act". Or is it the "Whack-A-Mole Act"?
In his Twitter thread, Hancock said this decision was "based on the data" and referred to "an increasing rate of transmission in parts of Northern England".
The main evidence that the number of cases is increasing comes from the ONS, which claims it has discovered a slight increase in the number of people testing positive based on a nose and throat swab in recent weeks. Here's what the BBC has to say about those data:
The figures are based on its infection survey, which takes swabs from people selected at random in homes in England.

The ONS estimates that about 1 in 1,500 people in homes in England are infected (roughly 36,000 people in total) with 4,200 new infections each day.

Both figures are up on last week, when it was estimated there were 2,800 new infections each day and that one in 2,000 people (28,000 total) were infected in homes in England.
Unfortunately, the ONS hasn't disclosed whether it re-tested anyone to ensure the first test result wasn't a false positive.
Even though these data show a slight uptick in the number of cases in the past few weeks – from 0.05% of the population to a whopping 0.07% – the overall number of cases is far lower than it was at the end of April (0.34%):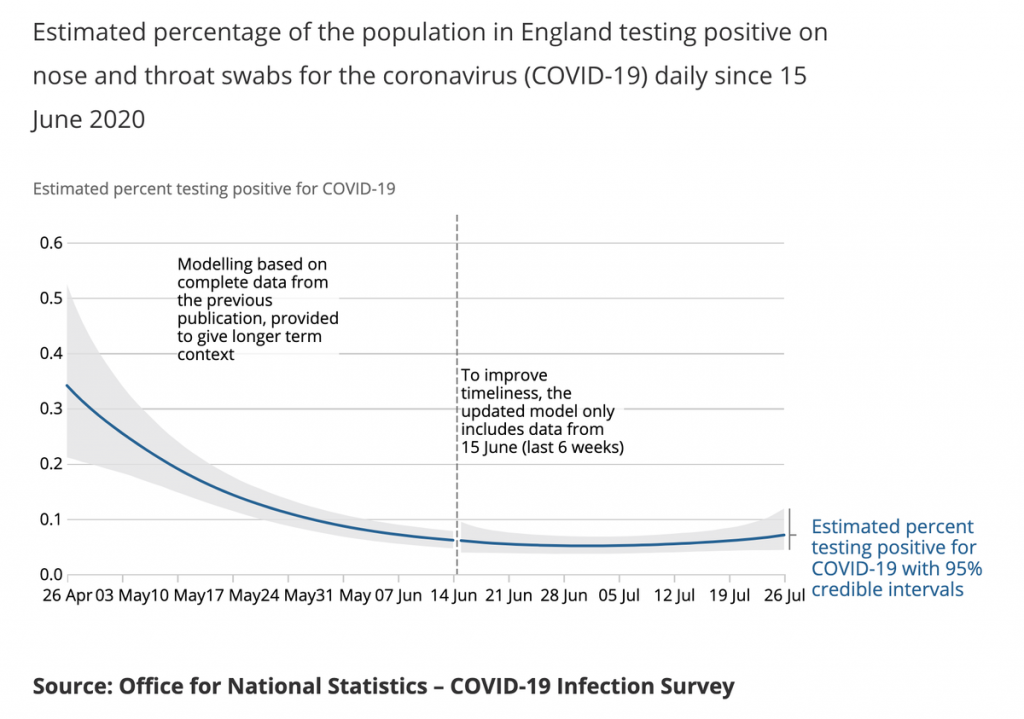 Can these data be used to justify the new measures? No. The ONS has produced a breakdown of the percentage of infected people per region, but it shows that the North West has fewer infected people than all but one other area (the South West) and lower than Yorkshire and the Humber, the East Midlands, the East of England, the South East and London, which is way out in front. If I lived in Manchester, I would ask why I'm having to endure these additional restrictions when a smaller percentage of my city is infected than London.
The BBC also published some data from PHE showing the number of news cases per 100,000 has increased in some parts of Greater Manchester, although it has fallen in Bolton and Rochdale: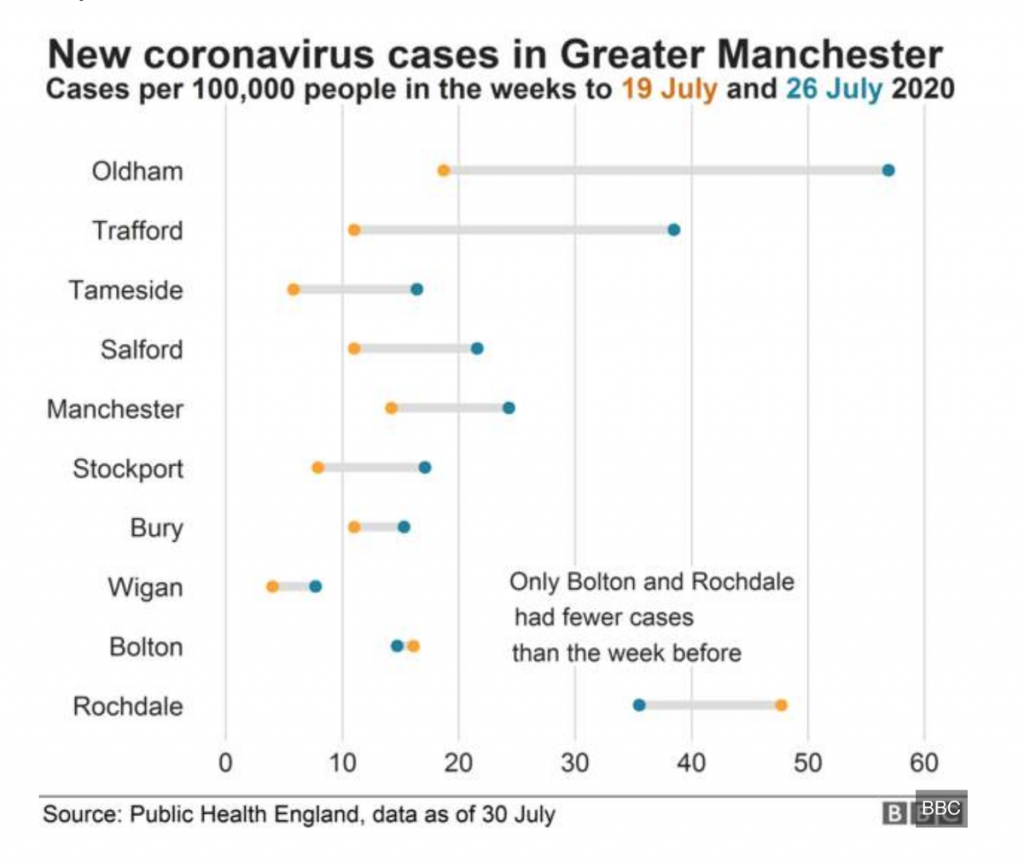 Can this be used to justify the local lockdowns? Not really. In Germany, the trigger for a local lockdown is the number of new cases climbing to above 50/100,000. The only part of Greater Manchester that's happened in is Oldham. Why are the people of Manchester having to suffer all these new restrictions when the infection rate is only 25/100,000?
As usual, there's no rhyme or reason to the Government's handling of the crisis. They're just making it up as they go along. No wonder more than half of the British public don't understand the lockdown rules.
Stop Press: A reader has emailed to point out that anyone from one of the affected areas who's currently visiting someone in another area is now breaking the law and could be fined £100.
My mother-in-law is staying with us. She lives in Manchester. Now, according to the hapless Hand Cock, she's breaking the law unless we make ourselves her support bubble. Whatever that means.

By Toby Young / 31 July 2020

https://lockdownsceptics.org/