The Ontario Civil Liberties Association has issued a press release9 calling for peaceful civil disobedience against mandatory masking. The U.S. nonprofit Stand for Health Freedom is also calling for civil disobedience, and has a widget you can use to contact your government representatives to let them know wearing a mask must be a personal choice.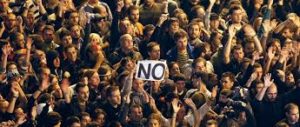 "In the memo that was put out, we explain how best to perform that civil disobedience. We explain that you should be calm and confident and not get into arguments and not try to convince the authorities.
Just express your disobedience regarding this rule. And then we explain that they may want to trespass you, they may want to give you a fine, that you can anticipate fighting that fine in court. We go through the steps so that people can visualize how to do this.
We explain that some of their core shoppers or core citizens will be angry and aggressive, and to not get into a fight and not to get into a war of words. Do not try to convince them. Just stick to that you are not going to comply. Be very calm. This kind of civil disobedience has been successful at various times in North American history.
There are risks involved, but it's often worth it to the individual to have that civil disobedience because there are many individuals that don't know what to do that are very angry because they're being forced to wear masks and they see it as absurd and a constraint. So, we try to give them a view of a venue on how to resist this …
We also recommend when people are practicing this kind of civil disobedience that they not be isolated, that they try to form a grassroots group of support and that they don't do it alone. Try to bring at least one person, one supporter, with them. Record the interaction with the authorities and report back on social media and to their groups with details of what happened and so on.
We hope to create kind of a smoother messaging that a lot of people, or at least some people, do not believe this mask story and do not believe that they are at risk and are willing to practice civil disobedience to make that point."

https://articles.mercola.com/sites/articles/archive/2020/07/19/are-face-masks-effective.aspx?cid_source=dnl&cid_medium=email&cid_content=art1ReadMore&cid=20200719Z2&mid=DM600337&rid=919609313