Example –
https://www.dailymail.co.uk/news/article-12703453/Hamas-killers-roasted-babies-oven.html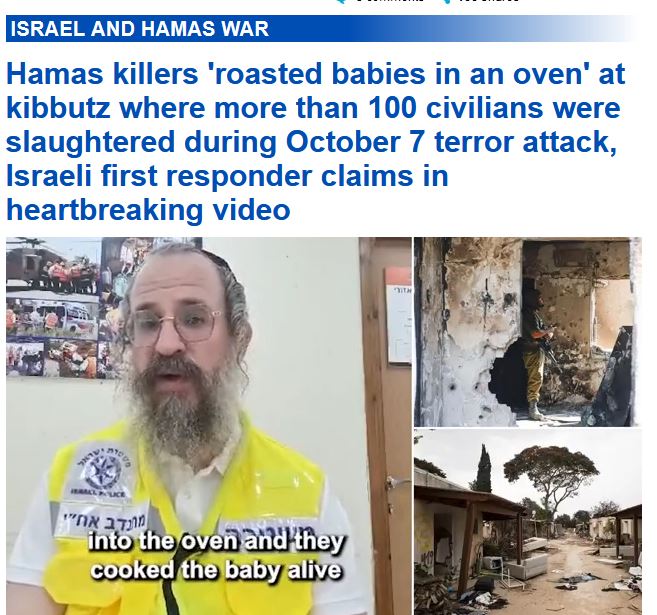 'Crude Zionist psyops closely linked to the intelligence community'
source https://aanirfan.blogspot.com/2023/11/crude-zionist-psyops-closely-linked-to.html
Unknown commented –
'THE CLUB OF THREE', MAILONLINE, THE VISCOUNTS ROTHERMERE AND THE ZIONIST PROJECT


JONATHAN HARMSWORTH, the 4th Viscount Rothermere.
MailOnline, The Daily Mail and The Mail on Sunday —
crude Zionist psyops closely linked to the intelligence community
— are the essential pillars of media conglomerate The Daily Mail and General Trust (formerly "Associated Newspapers")
The chairman and controlling shareholder is JONATHAN HARMSWORTH, the 4th Viscount Rothermere.
Jonathan's father, Vere Harmsworth, was a participant in THE CLUB OF THREE and a "longstanding friend" of its ultra Zionist founder, LORD WEIDENFELD *.
Lord Weidenfeld founded The Club of Three in 1996 with the help of fellow ultra Zionist, LORD JACOB ROTHSCHILD
(about whom Ghislaine Maxwell's victim Maria Farmer has made certain allegations),
and Lord Robert Alexander QC
, who studied Law at Cambridge at the same time as Leon Brittan.
Lord Weidenfeld is famous not only for his partnership with Lord Rothschild.
For Weidenfeld also once served as the political adviser and Chief of Cabinet to the first President of Israel.
Weidenfeld subsequently married Jane Sieff, daughter of the Zionist Lord Israel Sieff, part of the family that controlled Marks and Spencer.
Lord Weidenfeld also founded the Institute for Strategic Dialogue (ISD) in 2006.
The ISD "gives policy advice and publishes articles on hate, extremism, and disinformation". Its main activities are related to "counter-terrorism and the fight against Islamist radicalisation" [sic].
The ISD works on funded projects with organisations including Bill Gates' Microsoft.
"Notable sources of foundation support include the Bill & Melinda Gates Foundation … and [George Soros'] Open Society Foundation."
DR WOLFGANG ISCHINGER serves on The Club of Three's steering group.
Previously, Ischinger served on the board of the Alfred Herrhausen Society of Deutsche Bank with Jeffrey Epstein's associates Lord Peter Mandelson, Lady Lynn de Rothschild and Deutsche Bank CEO Josef Ackermann. Deutsche Bank executives approved Jeffrey Epstein as a client in 2013 and then kept working with him.
NILS TAUBE was a Club of Three participant. He is the late business partner of George Soros, and until 1996 was Lord Rothschild's principal investment manager.
DAME PAULINE JONES, the former Chairman of the Joint Intelligence Committee and Minister for Security and Counter-Terrorism, has been a Club of Three participant.

Jonathan Nicholas Powell
NICHOLAS POWELL has also been a Club of Three participant.
In 1991 Powell was posted to the British Embassy in Washington and attached himself to Bill Clinton's Presidential campaign as an observer.
He went on to serve as Blair's chief of staff in the 9-11 era, from 1997-2007.
It was he who reportedly introduced Tony Blair to Bill Clinton, the longtime friend of ultra Zionist 'business partners' Jeffrey Epstein and Lady Lynn de Rothschild, whose honeymoon with Evelyn de Rothschild the Clintons accommodated at The White House.
Mr. Blair later served as the official envoy of the 'Quartet on the Middle East' — lobbying European powers to drop their support for Palestine's bid for statehood.
He was described as "closer to an Israeli diplomat than a neutral negotiator."
* https://www.theguardian.com/media/2003/feb/21/pressandpublishing
https://www.huffpost.com/author/lord-weidenfeld-of-chelsea
https://go.gale.com/ps/i.do?id=GALE%7CA117269722&sid=sitemap&v=2.1&it=r&p=EAIM&sw=w&userGroupName=anon%7E5b65a615&aty=open-web-entry
https://www.jpost.com/features/a-fireside-talk
https://www.clubofthree.org/about-us/steering-group/
https://aanirfan.blogspot.com/2023/11/crude-zionist-psyops-closely-linked-to.html