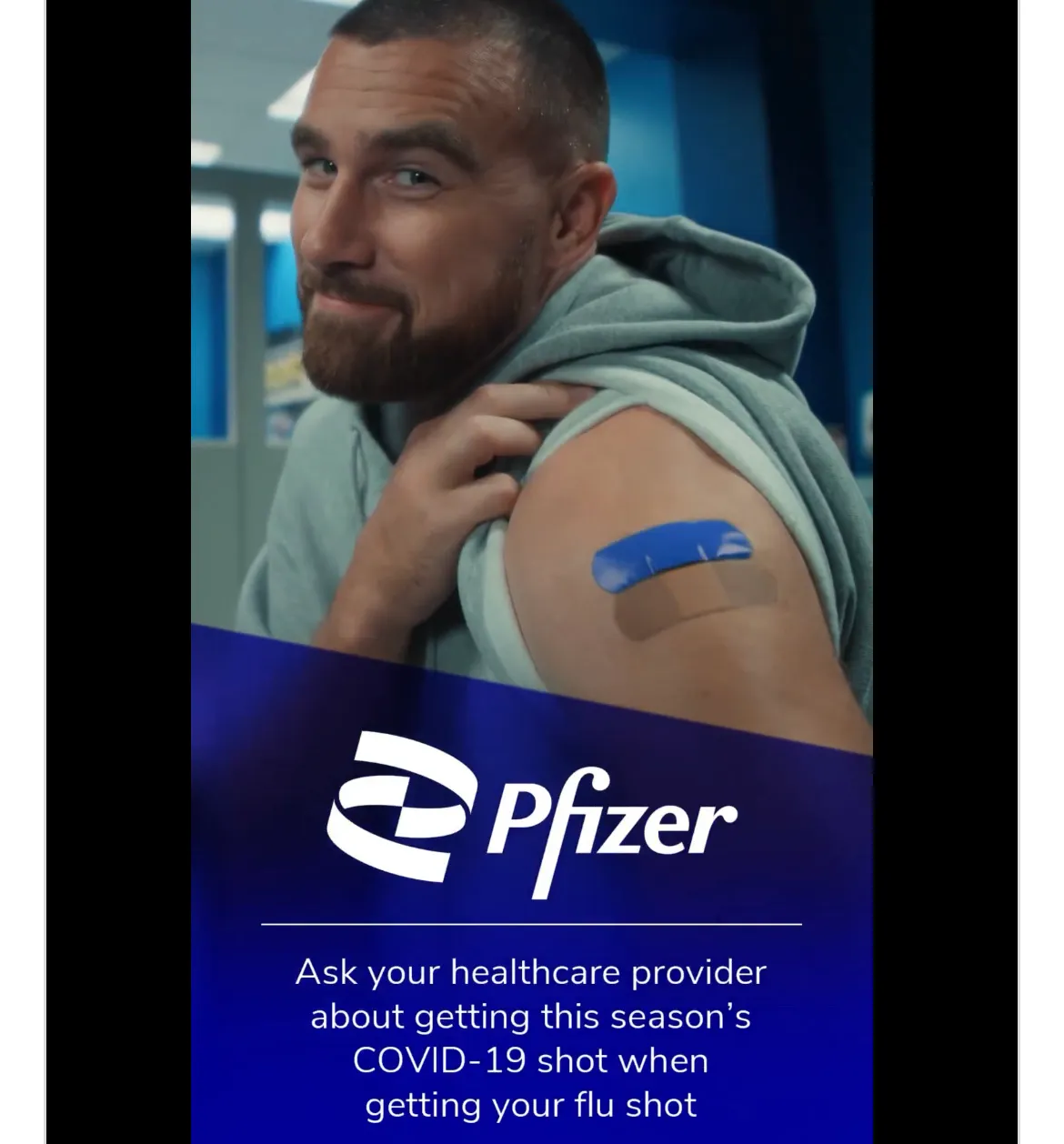 Some good news, rarer than hen's teeth in this mad world
"Even Travis Kelce's shuckin' and grinnin' for Pfizer can't save these shots. People know they don't stop infection, they know the side effects are often brutal, and they don't want them.
RIP, mRNA.
The once-heralded vaccine biotechnology officially died last week after a long illness. Maybe myocarditis or Type 1 diabetes. Could have been a shingles infection. Or possibly just a mix of uselessness and nasty side effects.
Dr. Mandy Cohen, the director of the Centers for Disease Control, accidentally announced mRNA's passing on Friday on X (aka Twitter). Wearing a blue dress and her trademark vapid smile, Dr. Cohen admitted barely 1 out of 50 Americans have received the new mRNA Omicron booster.
Hours later, Pfizer confirmed the death, saying it will write off nearly $1 billion in mRNA jab inventory because of weak demand. Pfizer expects the market for shots to be one-third smaller than it predicted just weeks ago – though its new estimate still appears too high.
Okay, mRNAs aren't actually dead. But even as the CDC and vaccine manufacturers to promote the new booster with massive ad campaigns, demand has collapsed. And Wall Street has noticed.
Since the announcements Friday, shares in Moderna – which unlike Pfizer has no other products and relies only on mRNA Covid shots for revenue – have fallen almost 15 percent. Amazingly, Moderna is now off 80 percent from its peak in summer 2021 (its highest weekly close ever came Sept. 10, 2021, one day after President Biden announced Covid jab workplace mandates).
Even more amazingly, Moderna and Pfizer now trade lower than they did in November 2020, before the companies announced clinical trial results that seemed to show the jabs worked near-perfectly against Covid. Since then, the two companies have sharply underperformed the stock market as a whole.
It's as if the trials never happened.
(Destroying inventory, plunging share prices, and Travis Kelce shilling for a vaccine he wouldn't even be allowed to get in most other countries: TWO THINGS AT ONCE! Oh, wait, that's three.)
On a conference call to discuss Monday morning, Dr. Albert Bourla, Pfizer's chairman and the World's Favorite Veterinarian (TM), knew just who to blame for the shortfall in demand: anti-vaxxers.
"We are experiencing a peak of anti-vaccination rhetoric," Bourla told investors. (Full disclosure: Bourla is a defendant in Berenson v. Biden, my federal lawsuit over the conspiracy to violate my First Amendment rights and ban me from Twitter in 2021.)
On the call, Bourla predicted about one in six Americans, or 55 million people, would take this year's booster during the 2023-24 vaccination season. Less than a month ago – after the rollout had begun – Pfizer predicted the figure would be about one in four, or 82 million.
Put another way, Pfizer has cut its estimates for demand for the shots by one-third in a matter of weeks.
But even the new 55 million figure may be too high. It equals the number of the "bivalent" boosters given during the 2022/23 jab season – and Bourla told an analyst that Pfizer is simply assuming "the people that did it this year will continue doing it next year."
Unfortunately for Pfizer and Moderna, that assumption so far is holding up about as well as the real-world protection the jabs provide. Politico reported yesterday that about 8 million shots had been administered this fall, compared to about 14 million bivalents at the same time last year. If demand continues at the same pace, that would translate into about 30 million shots this year – less than 10 percent of Americans.
And even that figure may be too high, because demand for the boosters has been front-loaded, so the gap may only widen over time. Further, Pfizer – which said Friday it plans to cut $3.5 billion in costs to help shore up profits – will likely pull much of its advertising and marketing for the shots soon if demand doesn't pick up.
(Moderna? More like Last-year-a!)
Of course, Moderna and other companies will not stop trying to use mRNA biotechnology to try to develop vaccines. Moderna already has an mRNA jab for flu in late-stage trials.
But demand for existing flu shots, which are based on older and far simpler and more tested technology than the mRNAs, has remained strong and will far outpace the Covid jabs this year.
In other words, people aren't rejecting the idea of an annual booster for a respiratory virus, they are rejecting the mRNAs specifically – because of side effects, lack of efficacy, or both. It is hard to think of another product – any other product – where public opinion has shifted so dramatically and quickly as the mRNA jabs. In two years, people have gone from begging for them to avoiding them.
So it's equally hard to see how the mRNAs can ever compete directly with the older-style flu shots (or any vaccines based on more proven technology), much less get a premium price from insurer or patients.
Investors have clearly reached this conclusion, which is why they're fleeing Moderna (and BioNTech, which supplies Pfizer's mRNA vaccine).
Oh well. It was fun while it lasted.
Actually it wasn't."
Source: https://alexberenson.substack.com/p/nobody-but-nobody-wants-mrna-jabs