Rishi Sunak insists 'terrorism will not prevail' as he pledges support to Israel after Gaza attacks
Mr Sunak is expected declare his support for Israel's 'right to defend itself and to deter further incursions' in his speech tonight.
'Last night we flew the Israeli flag over Number 10 to show our solidarity with the people of Israel and our utter condemnation of the horrific violence that Hamas unleashed over the weekend,' he is expected to say in a speech at the Future Resilience Forum, according to his office.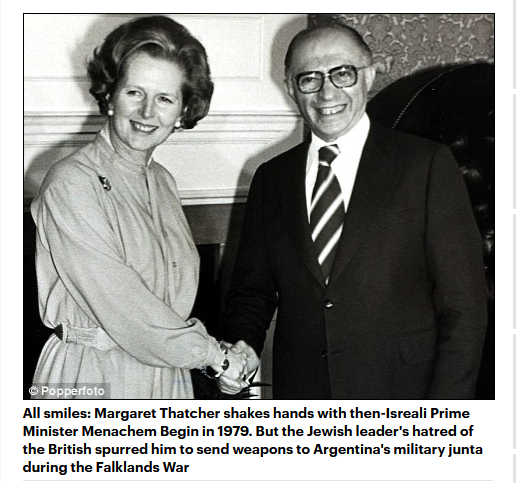 https://www.dailymail.co.uk/news/article-12611837/Rishi-Sunak-pledges-support-Israel-right-defend-itself.html
Mr Sunak said that the UK was in 'close dialogue' with Israel over any support it needed, after holding a phone call with Israeli prime minister Benjamin Netanyahu on Sunday.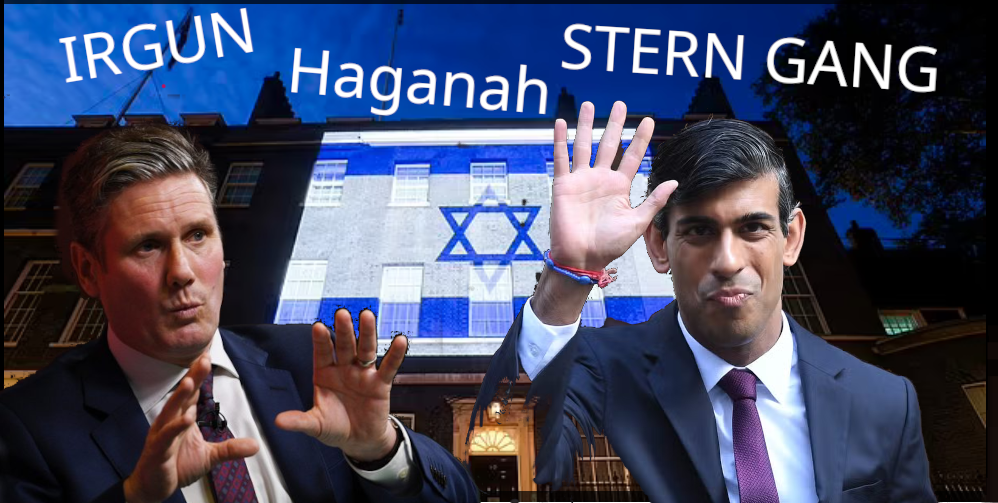 'We already have a very long-standing relationship with Israel, we're one of their strongest allies.
Israel secretly provided arms and supplies to Argentina during the Falklands conflict, according to revelations in a new book.

Israeli Prime Minister Menachem Begin had such a deep-rooted hatred of the British that the Jewish state covertly became the biggest supplier of military equipment to the Argentine military junta.

Gas masks, radar alert systems, air-to-air missiles and fuel tanks for fighter bombers were sent from Tel Aviv to arm General Galtieri's forces. The most audacious deal involved supplying 23 French-built fighter aircraft – Mirage IIICs – which were camouflaged with the insignia of Peru. But they arrived after the war was over.

https://www.dailymail.co.uk/news/article-1379008/A-deep-rooted-hatred-British-How-Israelis-armed-junta-Falklands-conflict.html
'We've provided in the past the kinds of equipment that they've used to defend themselves over the past couple of days.
On Monday, Labour's shadow chancellor Rachel Reeves also condemned the attack
She told Times Radio: 'Israel has been attacked by terrorists. It has every right to defend itself, get its hostages back and protect its citizens.'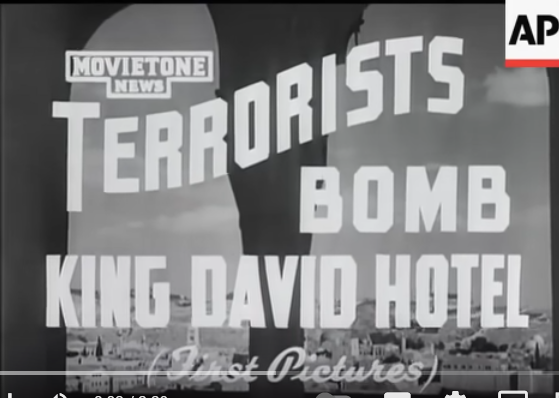 Israel's defence minister has ordered a 'complete siege' on the Gaza Strip, saying authorities will cut electricity and block the entry of food and fuel.
Authorities in Israel are said to be in 'control' of the border communities, with no fighting going on as of mid-morning on Monday.
All UK Government buildings were asked to light up in Israeli blue and white on Sunday evening, with the country's flag projected on to the outside of No 10 in a show of support.
https://www.dailymail.co.uk/news/article-12610199/Rishi-Sunak-Cobra-Israel-Hamas-Palestine-attacks.html
We will continue to support Israel as it seeks to defend itself against this brutal terrorist attack initiated by Hamas
Foreign Secretary James Cleverly
GAUMONT BRITISH NEWSREEL (REUTERS)
To license this film, visit https://www.britishpathe.com/video/VL…
Palestine after a terrorist explosion at the Goldsmith Officers Club, thought to have been perpetrated by Irgun, in which 19 people died.
Full Description:
SLATE INFORMATION: Palestine Terror gangs strike again
PALESTINE: Jerusalem: Goldsmith House:
Aftermath of explosion and gunfire attack on officers' club including ruined building, rubble, emergency and rescue workers.
Jewish Agency for Palestine Headquarters:
General view of JAFP building.
Location unknown:
British troops along deserted street in army trucks and on patrol during curfew. Armed soldiers carrying out house to house searches, rounding up suspects and marching in formation.
Jerusalem: Goldsmith House:
Destroyed British Army building after bombing.
Background: Palestine after a terrorist explosion at the Goldsmith Officers Club, thought to have been perpetrated by Irgun, in which 19 people died. Includes shots of destroyed building and of British forces on patrol and carrying out searches after martial law imposed.
Archive: Reuters
Archive managed by: British Pathé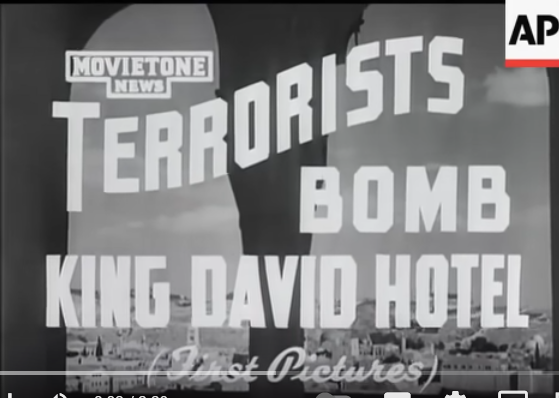 We will not stay silent as innocent Israelis are murdered by Hamas.

Terrorism will not prevail.

Earlier today I visited the Israeli Embassy in London to express this government's support for Israel 🇮🇱 pic.twitter.com/P7zCvjZ3xw

— James Cleverly🇬🇧 (@JamesCleverly) October 9, 2023
A post on Facebook of Margaret Thatcher shaking hands with Menachem Begin has been shared hundreds of times.
The text surrounding the picture claims:
"Menachem Begin was a key organizer of the 1946 Irgun terrorist attack on the King David Hotel in Jerusalem which killed 91 people, including 28 Brits.
"Margaret Thatcher actually shook hands with him!"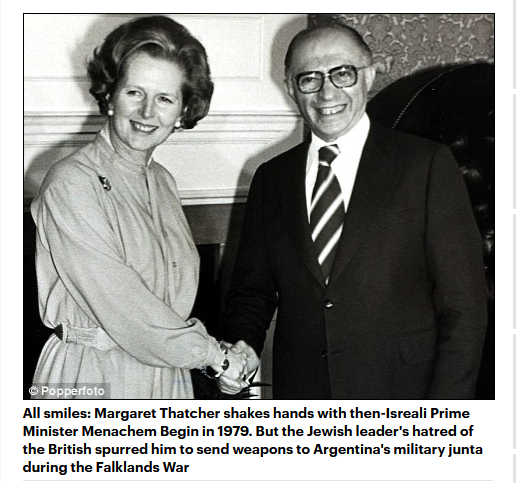 It is a real picture from a meeting between Mrs Thatcher and Menachem Begin in 1979. However, there is some context missing: Begin was the prime minister of Israel at the time of the meeting. He visited the UK that year and the photo was taken at Downing Street.
Menachem Begin was the sixth prime minister of Israel, serving from 1977 to 1983. During the Second World War, Mr Begin joined the Irgun Tzeva'i Le'umi (Etzel), or National Military Organisation, in what was then Palestine.
The defeat and collapse of the Ottoman Empire after the First World War led to the British taking control of their holdings in Palestine and the British controlled the region from 1920 to 1948. Etzel was opposed to this and, due to its paramilitary activities, considered a terrorist organisation.
In 1946 Mr Begin, by then leader of Etzel, ordered the bombing of the King David Hotel in Jerusalem, which was also the headquarters of the British administration. 91 people died in the bombing, including 28 British people, 41 Palestinian Arabs and 17 Palestinian Jews.
The post also claims that Begin killed British World War Two veterans and booby trapped their bodies.
This appears to refer to an incident known as the Sergeants Affair in 1947. Contemporary accounts said Begin ordered the killing of two British soldiers as retribution for the execution of three Etzel members by British forces. The bodies were hanged and booby trapped.
After Etzel was disbanded in the late 1940s Mr Begin turned to politics and founded the Herut Party, this went on to eventually merge with other parties to form the Likud Party.
The year before his UK visit Mr Begin had jointly won the Nobel Peace Prize with Mohamed Anwar al-Sadat (then-President of Egypt) for the peace treaty concluded between Israel and Egypt that year.
The 1979 meeting between Mrs Thatcher, Mr Begin and the foreign secretary Lord Carrington did not go well. In his book 'Margaret Thatcher and the Middle East', Azriel Bermant describes it as a "disaster", writing that Mrs Thatcher "had been unsympathetic towards Begin, at the outset, because of his record of violence during the British mandate. Nevertheless, the encounter instilled in her a strong distaste for the settlement policies espoused by the Likud party." She would later tell the French president Giscard D'Estaing that she had "never had a more difficult man to deal with".
This article is part of our work fact checking potentially false pictures, videos and stories on Facebook. You can read more about this—and find out how to report Facebook content—here. For the purposes of that scheme, we've rated this claim as true as it is a real picture of Margaret Thatcher and Menachem Begin and he did lead Etzel at the time of the King David Hotel bombing in which 91 people died.
By Claire Milne
Share this:
https://fullfact.org/online/margaret-thatcher-menachem-begin/