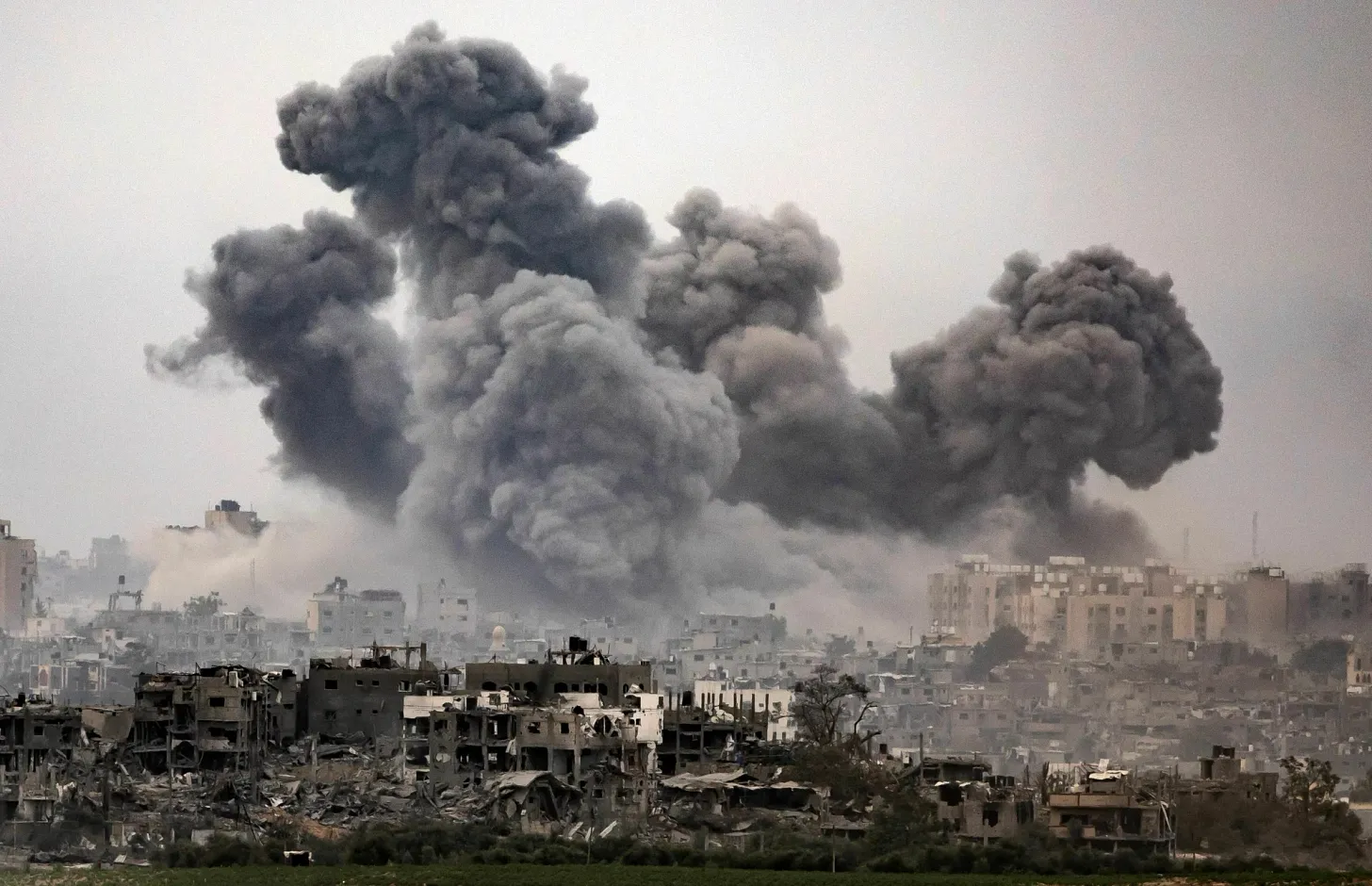 Military attack is the mechanism to drive people south, then out, of Gaza
U.S. $106 billion emergency aid request cites resettlement outside the Strip
Separate intel report suggests four-step plan to expel Palestinians

Israel to bomb Gaza, then offer deportation as 'humanitarian' gesture
Anticipates reputational damage from 'many Arab deaths'
For the gain to outweigh the opprobrium, deportation must be permanent

Israel wants U.S. to finance the ethnic cleansing and exiling of Palestinians
Transfer of all residents of the Gaza Strip to North Sinai
Tent cities, prior to permanent settlement, with closed security zone within Egypt

Another institute close to PM sees 'unique and rare opportunity'…
for the relocation and 'final settlement' of the entire Gaza population
Parallels with the Havaara or Transfer Agreement of 1933

Media conspired to hide plans to displace 2.4 million residents of Gaza
Removing the population would give access to land and energy resources
Zionism, like globalism, sees not people but only land and resources
Israel has multiple plans for the depopulation of Palestinian territories and the use of United States financing to resettle the people of Gaza abroad.
The deportation plans were drawn up in advance, suggesting that the Hamas incursion of Oct 7 was encouraged, as a pretext for a land grab — as Moneycircus has detailed in previous articles.
Recent intelligence leaks coincide with U.S. spending requests, as well as legislation for the redevelopment of the West Bank and Gaza. It leaves little doubt that Israel is trying to expel Palestinians once and for all.
The cynicism of the operation is astounding; the methods are horrifying.
Israeli institutions have planned to use the mass murder of Palestinians as a stimulus to force them to leave their ancestral lands — so that their deportation can be presented as humanitarian.
Israel knows its reputation will suffer long-term damage, but it is prepared to suffer disgrace so long as it can ensure the Palestinians never come back.
These are the words of policy-making institutes close to prime minister Benjamin Netanyahu. They are not the imaginings of this author.
It aims to persuade Gazans that they are suffering divine punishment, and to convince people worldwide that casualties would have been even worse had the Gazans remained.
This suggests that the carpet bombing of Gaza is calculated terror, in order to induce the people to leave and not, as Israel claims, just an operation to destroy Hamas.
Moreover, the strategy implies that the perpetrators know their plan will taint Jewish people and quite likely endanger them — and the syndicate behind this banality of evil is prepared to place Jews in peril in order to reach their objective.
No-one sane person wishes the consequences of this policy upon Jews, Israelis or Palestinians — such an exception for opinion, or editorialising, must be made.
Blood money
Contained in a request for emergency funding for Israel on Oct 20 is a provision for humanitarian aid to "addresses the potential needs of Gazans fleeing to neighbouring countries … for the refugee population to receive life-sustaining support. This crisis could lead to displacement across borders… and funding may be used… outside of Gaza."
The details are listed in a request to Congress for $106 billion in funding.
The second piece of evidence is the Israeli Ministry of Intelligence deportation framework document, issued the week before, on Oct 13. The ministry confirmed its authenticity.
The document reveals a plan to move all residents of the Gaza Strip to north Sinai, in four steps:
Population will be vacated to the south of Gaza
Gaza will be occupied, north and south. Hamas tunnels will be cleared
Troops gradually occupy the Gaza Strip, pushing citizens towards the Rafah crossing and Egypt
Tent cities, prior to permanent settlement, with closed security zone within Egypt
Since attacking Gaza, the government has repeatedly urged the population to move to the south of Gaza. Last Saturday Netanyahu announced that "phase two" of the attack on Gaza had been launched, with the beginning of ground operations.
The document's existence, revealed by Israeli news magazine Calcalist on Oct 24, does not mean it being implemented. However it does coincide with the White House letter to Congress, and with plans for the redevelopment of Palestinian territories that Moneycircus described in two recent newsletters.
The Ministry of Intelligence is headed by Gila Gamliel of the Likud party, but it does not actually control any intelligence agencies. Rather it issues policy papers and studies.
The document recommends a campaign that would "motivate" Gazans "to agree to the plan," and make them give up their land.
Gazans should be convinced that "Allah made sure that you lost this land because of the leadership of Hamas — there is no choice but to move to another place with the help of Your Muslim brothers."
Israel should try to avoid damage to its reputation or hostility to Israelis. So it must launch a public relations campaign to promote the idea that deportation is for humanitarian reasons. The justification would be that it will lead to "fewer casualties among the civilian population compared to the expected number of casualties if they remain."
Israel should use the U.S. to pressure Egypt to accept the population of Gazas. Israel's government would also induce other countries, especially Greece, Spain and Canada, to accept refugees.
Israel's image would suffer even greater damage from the "many Arab deaths" during the army occupation — even moreso than the deportation. In order for the gain to outweigh the opprobrium, the deportation must be permanent.
Separately, an Israeli think tank with ties to Israeli prime minister Benjamin Netanyahu issued a report on October 17 promoting the "unique and rare opportunity" for the "relocation and final settlement of the entire Gaza population."
Tellingly, this is the same language as the Great Reset: "The pandemic represents a rare but narrow window of opportunity to reflect, reimagine, and reset our world," said the World Economic Forum's head Klaus Schwab.
We have argued before that Israel is able to take such action only in the shadow of other "cascading crises," from the pandemic to the "wildfires" that have accompanies other resettlement plans. It also follows the ethnic cleansing of Armenians from Artsakh or Ngorno-Karabakh.
Apocalyptic circumstances
The Misgav Institute for National Security & Zionist Strategy also published a position paper advocating for the "relocation and final settlement of the entire Gaza population."
The Misgav Institute's thinking has also been reflected in the Israeli intelligentsia. In 2004, respected Israeli historian Benny Morris, who is a self-proclaimed leftist, shocked many by bemoaning the fact that Ben Gurion did not "finish the job" and carry out the full ethnic cleansing of the Palestinians, saying it would have led to less conflict in the ensuing decades. But he also said that a "transfer and expulsion" policy is only a question of time, and timing. Morris argued that in "normal" times, such policies may be immoral — but in "apocalyptic circumstances," they may be both moral, "reasonable," and "even essential."
Former deputy foreign minister Danny Ayalon told Gazans to evacuate Gaza, in an interview with Al Jazeera on Oct 13 – under the pretext of protecting their safety. [1]
When prime minister Benjamin Netanyahu appeared at the United Nations' 78th General Assembly in September, he displayed a map in which Israel appeared to include the occupied West Bank and Gaza Strip.
Leveraging America
The U.S. is being used to finance Israel's ethnic cleansing and deportation of Palestinians.
Middle East Eye reported, "The Biden administration's wish for cash for 'potential needs of Gazans fleeing to neighbouring countries' reads to some as a green light for ethnic cleansing and a 'new Nakba'." [2]
It quoted Hanan Ashrawi, a former leader of the Palestine Liberation Organisation, as saying the U.S was "justifying ethnic cleansing."
"They know very well that neither Egypt will accept them, nor Jordan, nor will the Palestinians leave. So this is really encouraging Israel to continue with its genocidal plans and measures."
Lara Friedman, president of the Washington-based Foundation for Middle East Peace, told the journal that the Biden administration had put no obstacles in Israel's path, and was preparing financial support should it happen. "How can you not see that as a green light?"
Preparations are already being made for the redevelopment of Gaza. On Oct 16 we reported there is already research into a SMART city plan for Khan Younis in northern Gaza. The scheme to resettle Gazans in the Sinai is decades old, as Jonathan Cook described in 2015.
See Gaza's Fate Holds A Warning (Oct 16, 2023)
In Feb 2023, Israel's finance minster, and head of the Defense Ministry's new Settlements Administration, Bezalel Smotrich was given authority to allocate land, and authority over planning and construction, over the West Bank.

Michael Sfard, writing in Foreign Policy, said Israel was de jure annexing the West Bank, taken in 1967 from Jordan, in violation of international law, by transferring control from the military to civilian government.

Roni Pelli wrote in the journal #972: Smotrich did not proclaim, "in his most militant tone, that he would be crushing Israeli democracy. Smotrich seems to understand that effective action, particularly when it comes to the settlement enterprise, is done quietly and behind the scenes."

Quietly and behind the scenes — because that is how Agenda 21, the SMART city prisons, and the corporate capture of officialdom works.

The state corporate media deliberately ignored the provisions for relocating Palestinians in the Office of Budget and Management funding request.
Media collusion
Reuters hid or missed this when it reported "What's in Biden's $106 billion supplemental funding request." [3]
Likewise Politico, which briefly mentioned Gaza, but failed to see the words, "could well result in displacement across border and higher regional humanitarian needs and funding may be used to meet evolving programming requirements outside of Gaza". [4]
The next time a state corporate news outlet says, "What you need to know" — why trust them?
Source: https://moneycircus.substack.com/p/crisis-update-gaza-depopulation-plan