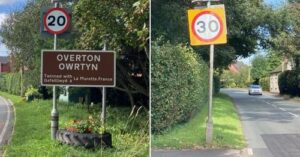 Overton on Dee sums up the situation quite nicely.  Speed cameras will be most confused if there are any.
Local reporting –
A spokesperson for Wrexham Council, which has been responsible for changing over road signs said the issue in Overton-on-Dee had been flagged up and was on its schedule of works.
"As the speed change came into force all at once, it has been challenging to ensure that everything has been changed over instantaneously," they said.
"We are confident that the majority of changes are complete, however there may be the odd anomaly – either that has been missed or been tampered with. We are continuing to dedicate resources to rectify these issues.
"We are encouraging anyone who spots any errors to report them to 20mphTrafficSigns@wrexham.gov.uk."