Opposition to 20mph speed limits in Wales shows little sign of easing. A petition against the new default speed has hit 400,000 signatures and last night saw more 20mph signs targeted by protesters.
A pair of defaced road signs in Llanrhos, near Llandudno, were daubed with paint for the second time this week. No sooner had Conwy Council cleaned and repairs the roundels, they were again vandalised – this time with black and green paint.
It comes as the minister who led the introduction of Wales' new 20mph limit faces a Conservative no confidence vote. Next Wednesday's motion against deputy climate change minister Lee Waters will focus on a record-breaking petition opposing the lower limit.
By 3pm today (Saturday, September 23), the petition had almost reached 402,000 signatures. At the last Senedd election, almost as many people – 440,000 – voted for Welsh Labour.
The new limit, which applies to built-up areas, was introduced last Sunday, making Wales the first country in the UK to reduce the default speed from 30mph to 20mph. The policy has drawn strong support but it has been marked by even fiercer opposition.
In Llanrhos, a pair of road signs near a small roundabout in Conway Road were vandalised for the second time, this time with slogans. One with a spelling error was painted "Cymry (sic) Am Byth" (Welsh For Ever), the other appeared to read "For Dictator Wales".
Some residents living nearby claim the speed restriction is not needed. On Facebook, one said: "Both the two roads at that little white roundabout are long stretches of just mostly field on either side. It's ridiculous!"
Another noted that a "SLOW" sign on the road surface is still present. "Slow down further to what – 5mph?" he said. "Crazy and confusing. There'll be more accidents."
Vandalism of signs has focused in north east Wales, mirroring local support for the anti-20mph petition. It's believed few, if any, signs have been damaged or defaced in Gwynedd or Anglesey.
Conwy Council said defacing signs was a criminal act as well as being a safety risk to motorists. The local authority has made North Wales Police aware of the issue.
Do police need to crack down on sign vandalism? Share your thoughts in the comments below.
As in Conwy and elsewhere, damaged 20mph signs in Flintshire are being "replaced or corrected immediately", the county council has said. "Any wilful damage reported to the police for further investigation," said Katie Wilby, chief officer for Streetscene and transportation at Flintshire Council.
Despite the threat of prosecution, some protesters have pledged to continue targeting 20mph signs. "I bet we can paint 'em quicker than they can replace 'em," said a social media user.
Neil Jones spotted the defaced signs in Llanrhos on an early-morning run today. He said. "I've been seeing the same thing happening all across Wales on social media. While I don't condone any form of criminal damage, I can understand the frustration and the feeling of last resort. The Welsh Government just won't listen to people."
LIVE: Thousands march for Welsh Independence in Bangor
The YesCymru and AUOBCymru rally has attracted a large crowd waving banner and flags in the cathedral city
Thousands have filled the streets of Bangor to march in support for Welsh Independence. The cathedral city is a sea of flags and banners for the rally organised by YesCymru and AUOBCymru. Campaingners have been gathering since late morning with the march expected to start after 1pm.
They take a route through Bangor High Street, onto Glynne Road, and then down Deiniol Road before returning to Glanrafon Car Park for a rally. There will be music and guest speakers including Rhun ap Iorwerth MS, Sera Cracroft, Joseph Gnagbo, Bryn Fôn, Fleur De Lys.
Geraint Thomas, one of the event organisers said: "I'm delighted that Gwynedd will once again play host to the AUOBCymru and YesCymru march for independence. With over 8,000 attendees at the march in Caernarfon back in 2019, we are hopeful to surpass that figure in Bangor this time."
LIVE: Thousands march for Welsh Independence in Bangor – North Wales Live (dailypost.co.uk)
TAP – The Welsh are teaching the English which way our future must also lie.  We all need to be independent of the Untidy Kondom, which has given away our freedom to corrupt and murderous world government bodies, like the UN, EU, WEF, WHO and many other combinations of letters all determined to end our existence as a nation.  Wake up England.  Stay Free another thousand years.  Why should Wales have all the fun?  The English white dragon is also awakening.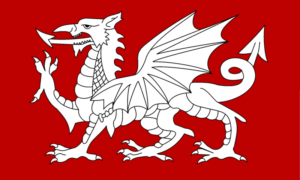 Previous marches have been held in Caernarfon, Merthyr Tydfil, Wrexham, Cardiff, and most recently, Swansea. The largest of these, in Cardiff, was said to have have attracted "up to 10,000 participants".
READ MORE: Campaign launched to refer to Anglesey by its Welsh name only
READ MORE: Salvage Hunter Drew Pritchard born to find gold in junk is 'starting again from scratch'
Making its debut today was a roaring 10 metre-long Welsh dragon made by artist-led organisation Small World Theatre. Designed to make loud "roars", it fired up a crowd that hardly needed rousing.
Actress Sera Cracroft, who was among the speakers, said it was an unforgettable event. "The dragon is a symbol of our fiery spirit and our unwavering commitment to an independent Wales," she said.
Today's march and rally was organised by YesCymru and All Under One Banner Cymru. It was the sixth in a series that has been attracting greater support over time.
MARCH FOR INDEPENDENCE RALLY IN BANGOR
Some 2,000 participants were involved in the first, in Cardiff in May 2019. Later that year, Caernarfon drew more than 8,000 people according to organisers, and 5,000 people according to police.
Subsequent marches were cancelled due to the Covid pandemic. After a three-year break, organisers estimated 8,000 attendees marched in Wrexham in July 2022, followed by around 10,000 people in Cardiff in October. Another march, in Swansea earlier this year, was said to have been supported by 7,000 people.
Mr ap Iorwerth said: "Once, the idea of independence was ridiculed, but now it is a prominent part of our national political discourse. I am convinced that only the people of Wales can build a fairer nation, and spur us to be much more ambitious in order to secure the future of our children and grandchildren."
Sign up for the North Wales Live newsletter sent twice daily to your inbox
An August poll by Redfield and Wilton Strategies showed growing support for a referendum on Welsh independence being held in the next year. Equal numbers of those polled favoured and opposed the idea (34%) but the figures showed a swing towards the Yes campaign.
Support for independence is noticeably greater among young people, the poll found. Those aged 18 to 24 (41%) and between 25 to 34 (51%) would vote "yes". Most of those aged 45 to 54 (62%), 55 to 64 (56%), and 65-plus (64%) would vote "no" in a referendum.