Rumble Censorship Escalation: Free Speech Platform Could Be "Forced Offline" by UK 🇬🇧 Regulators
The Times claims Rumble execs could also be arrested should they visit 🇬🇧- for not de-platforming Russell Brand over allegations of sexual assault, under the strict new terms of the Online Safety Bill.
Remember when London said the new laws weren't about censorship but to protect children? 🤬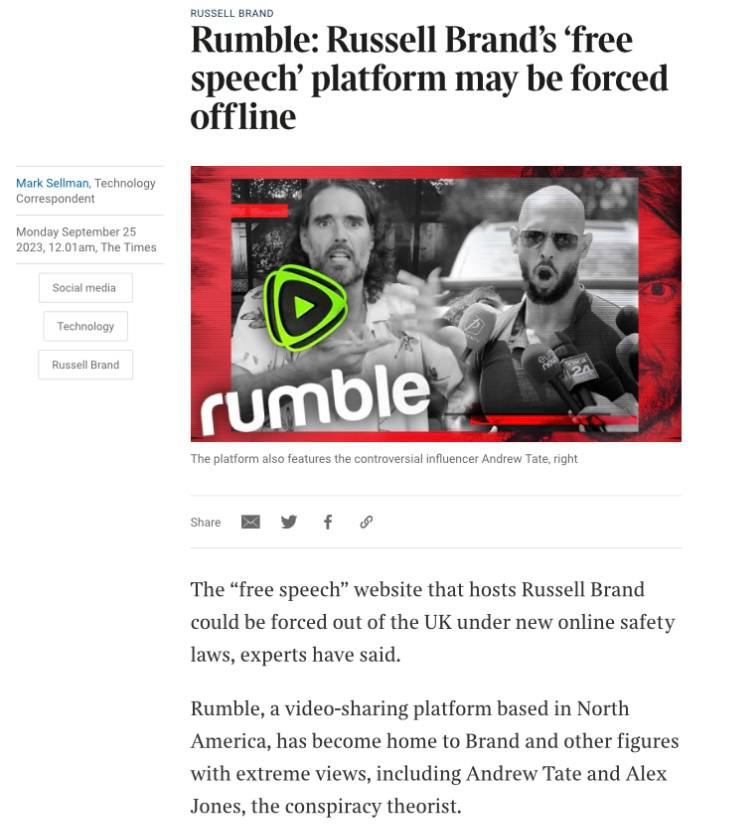 https://t.me/resistornewswireEUR/4322
…….
MP Caroline Dineage, who repeatedly lobbied social media platforms (https://t.me/resistornewswireEUR/4127?single) like Rumble and news channels against comedian Russell Brand, was a key component of the UK's draconian Online Safety Bill (https://t.me/resistornewswireEUR/4077), which effectively opens everyone up to state surveillance.
Her husband is Major General Mark Lancaster, who was previously Deputy Commander of the 77th Brigade from June 2018 to July 2020.
The 77th Brigade is the psychological warfare section of the British Militia, which works to shape perceptions on social media.
Nothing to see here…
Mark Lancaster, Baron Lancaster of Kimbolton
Last updated September 24, 2023 • 5 min read
Lancaster was nominated for a peerage in the 2019 Dissolution Honours. [11] On 16 September 2020, he was created Baron Lancaster of Kimbolton by Queen Elizabeth II. [12] He was Introduced to the House of Lords on 12 October 2020, and sits in the House as a Conservative Party life peer. [13] He made his maiden speech on 27 October 2020, while expressing regret that as a bomb disposal expert and with his family ties to fireworks making, that it didn't occur on 5 November. [14]
He was appointed as a member of the NATO Parliamentary Assembly on 9 November 2021.
…..
Lancaster was promoted to lieutenant-colonel on 1 February 2012 and to colonel on 22 June 2017. [22] [23] He was Deputy Commander of 77th Brigade from 2018 [24] to July 2020, and was appointed Chair of the Reserve Forces 2030 review in January 2020.
He was appointed as the Deputy Colonel Commandant Brigade of Gurkhas on 1 September 2019, [25] and Honorary Colonel of the Cayman Islands Regiment on 2 July 2021.
He was promoted to brigadier on 1 August 2020. [26] and served as Deputy Director Joint Warfare at UK's Strategic Command [27] until August 2023. It was announced on the 26th June 2023 that he has been appointed to be Director Reserves in the rank of Major General.
https://wikimili.com/en/Mark_Lancaster,_Baron_Lancaster_of_Kimbolton