War cheerleader Ben Wallace cashes out of the failed Ukraine game whilst calling for further enrichment of the parasitical arms industry and moneylenders.
Under Wallace's direction Britains Military also failed to defend UK borders and facillitated a mass invasion of migrants.
Who was Ben really working for whilst in office ? It certainly wasn't we the people.
Ben Wallace insisted that "now is the time to invest" in the Armed Forces as he stepped down from Rishi Sunak's Cabinet on Thursday.

The outgoing defence secretary said Downing Street must "not return to the days" when spending on the military was "viewed as discretionary".

In his resignation letter, he told the Prime Minister "I know you agree with me" on the need to boost funding as the world becomes "more unstable".

Mr Wallace stepped down on Thursday morning after four years in the role, having already announced his intention to quit as an MP at the next election.

During the Boris Johnson era, the former defence secretary and Mr Sunak, then the Chancellor, regularly clashed over the UK's military budget.

But in a carefully choreographed exchange of letters, the pair talked up how they are now on the same page over the need for increased spending.

….

The Prime Minister said Mr Wallace had been "a vigorous advocate for the defence of the realm" and highlighted the planned increase in military spending to 2.5 per cent of GDP.

https://www.telegraph.co.uk/politics/2023/08/31/ben-wallace-resign-invest-armed-forces-rishi-sunak-cabinet/
London confirmed the destruction of the British Challenger 2 tank in the Northern Military District zone
https://avia-pro.net/news/london-podtverdil-unichtozhenie-britanskogo-tanka-challenger-2-v-zone-svo
Machine Translation
The British Challenger 2 tank, which is priced at £4.2 million, is burning in front of the Russian army. ❓Foreign media are posting this video… but is it the same tank… Who has a good look, determine…?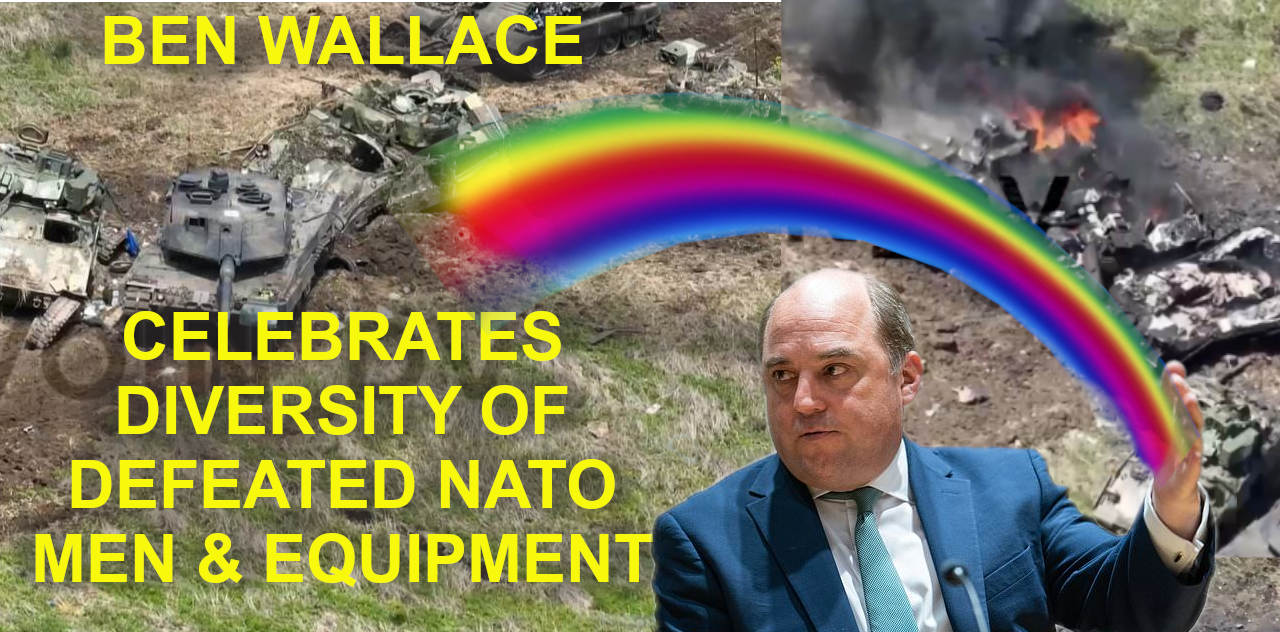 UK 'wastes billions' on defence firms that give investors rich returns
Study claims taxpayer is subsidising up to 90% of weapons companies' research and development budgets
The UK government is wasting billions of pounds of taxpayers' money on "corporate welfare" for arms manufacturers that is siphoned into massive shareholder returns, a new report claims.
The study, by thinktank Common Wealth, suggests that long-term purchase orders and direct subsidies, which sometimes paid for more than 90% of private defence firms' research and development budgets, were allowing leading defence companies to give billions of pounds to their shareholders.
But, despite being "supported by the state in a way no other sector is", weapons manufacturers had failed to deliver on government work, the report's authors stressed.
Common Wealth highlighted the case of new Ajax armoured vehicles being developed for the Ministry of Defence. At least £3.2bn of public money has been sunk into the project over the past decade, but the firm hired by the MoD to develop the vehicles, US-based General Dynamics, has been plagued by setbacks.
Ajax has now had the date for it to be fully operational pushed back to 2029, from an original target of 2017, after prototypes shook so violently they were unable to fire while moving, damaged the hearing of troops who tested them and made other personnel sick.
Despite this, General Dynamics has paid $25.6bn (£20bn) to shareholders since it was awarded the contract in 2014. It is one example of what Common Wealth researchers said was a pattern of huge investor returns at such companies, thanks to, it claims, "levels of state support above any comparable manufacturing sector".
The report found that BAE Systems pays just 14.35% of its own R&D costs, despite boasting £21.25bn in revenue in 2022. QinetiQ, another major private UK arms manufacturer with a £1.58bn annual turnover, pays just 4.5% of its R&D costs.
Meanwhile investors in the two firms have seen massive returns in that time – QinetiQ's 23.2% return on investor capital was almost twice the FTSE average of 11.7%.
The firm paid £43m to shareholders in 2022-2023, with the dividend per share being worth twice what it was a decade ago. BAE meanwhile paid nearly £1bn in dividends in 2022.
Common Wealth researchers found that three major investment firms (BlackRock, Vanguard and State Street) owned a combined average of 16% of the shares issued by the weapons sector.
The MoD's approach to contracts was another focus of the report. The ministry has committed to spending £242.3bn on equipment procurement and support over the next 10 years, which the report says is in stark contrast to other manufacturing industries, where "comparative 10-year plans on public procurement are not in place".
A recent National Audit Office assessment of the MoD's equipment plan warned that the ministry was "facing increasing risks in delivering equipment projects to budget and schedule" and suggested that parts of the plan could cost £5.2bn more than stated.
"Subsidies, procurement spending and institutional support feed a toxic marriage between the UK military industry, its investors and its primary export customers," Khem Rogaly, the lead researcher behind the report, told the Observer. "Sometimes, despite a steady flow of taxpayer cash, the goods aren't delivered at all."
The report found that 47% of the billions of pounds of weapons exports made in 2022 went to members of the Gulf Cooperation Council – Bahrain, Kuwait, Oman, Qatar, Saudi Arabia and the UAE.
"Arms companies are officially private companies, but they are supported by the state in a way no other sector is," said Anna Stavrianakis, a professor of international relations at the University of Sussex, and one of two academics who endorsed the report.
"Asset managers like BlackRock, Vanguard and Capital Group own a significant proportion of the arms industry, meaning that arms production is effectively a system of corporate welfare. The costs are socialised but the profits are privatised," she added.
full article
https://www.theguardian.com/world/2023/jul/09/uk-wastes-billions-defence-firms-investors-taxpayer-weapons