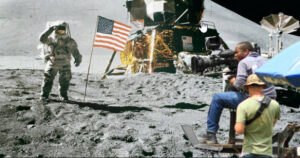 Click on Picture MP4
USA celebrates 54-year anniversary of faking Moon Landing
It's another giant leap for mankind today, after the National Aeronautical and Space Agency (NASA) and the United States government celebrated its 54th anniversary of the great Moon Landing Hoax of July 1969.
The elaborate hoax (which was filmed in a Hollywood basement and duped millions of viewers on "live" television) involved meticulous planning and required the silencing of hundreds of thousands of key witnesses and involved parties for nearly 50 years. Even today, it has still got all but 'a few enlightened geniuses in camper trailers across the globe' totally fooled.
"It's incredible," said then project manager for the intricate cinematographic con, Philemon Greenscreen. "Still to this day, millions of people actually believe we went and landed on the moon. You can't imagine the amount of work it has taken to keep them all in the dark.
Source: https://drive.google.com/file/d/1rUOEKkNIgeGZtVpCZOjj0t39kSu697wm/view?usp=drive_web