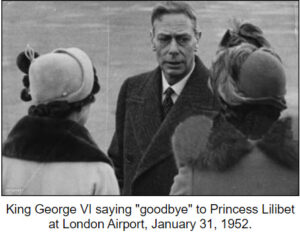 Ian in his recent post covered the murder of George V here are the details of the murder of George VI although from a Christian site which doesn't get all the biblical facts right as most do – chew the meat and spit out the bones as my friend in the USA likes to say!
Like The 1483 Princes In The Tower, King George Vi Was Smothered With A Pillow In 1952.
Group Captain Peter Townsend Was Replaced With A Double In 1953.The Real
Princess Margaret Was Replaced With A Double In 1955. Princess Diana was Assassinated In 1997.
A woman riding on a scarlet coloured Beast, and deceiving the whole world, is the terrifying last days scenario (Apocalypse 17:3). Fulfilled prophecy is a GREAT FAITH booster. The Messiah said:
And now I have told you before it comes to pass, that when it comes to pass ye might believe (Saint John 14:29).
The word REGICIDE (plural regicides) was invented to describe the 59 men who signed the death warrant for tyrannical Catholic King Charles I who was sent to "Purgatory" on January 30, 1649.
After returning from London Airport, King George VI went straight to the royal estate at Sandringham, on the east coast of England. Despite his physicians, he never felt better in his life, and spent the next 5 days hunting.
https://www.reformation.org/royal-murders-in-babylon-on-the-thames.html