Learn about the fascinating history of Maui's Lahaina Town from Theo Morrison of the Lahaina Restoration Foundation.
https://www.youtube.com/watch?v=eRN1dXndhFo
https://www.youtube.com/watch?v=z_nF61XNclo
One Response to "Lahaina History – Plantation Era and Whaling Era"
Back to Top
The Tap Blog
The blog that's fed by you, the readers. Please send in the news and stories that you think are of interest using the form below.
Search The Tap
Support The Tap
The Tap is managed and run by Alternative View Media. If you enjoy the Tap Blog then please show your support and help keep it online.
---
Events Coming Up
The Alternative View Conference
All-day event
Location:
The Leonardo Hotel, Midsummer Boulevard, Milton Keynes, MK9 2HP, UK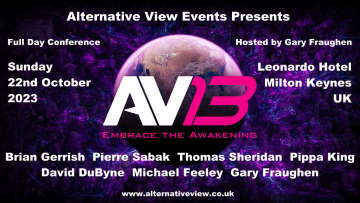 The AV Team are pleased to announce that AV13 will be held on the 22nd October 2023. It will be a one day multi speaker conference held in the Leonardo Hotel, Milton Keynes, UK. The AV Team and speakers look forward to seeing you there.
Brian Gerrish
End of an Era Jigsaw: Assembling the Alternative View pieces for 2023
Pierre Sabak
The Murder of Reality: Evidence of an Alien Culture in the Written Word
Thomas Sheridan
Psychic Defense of the Gaslighting Concensus Magi
Pippa King
Your Body – Biometrics and the Increasing Use of Control
David DuByne
Embrace the Awakening, Embrace the Cycle: The Water Bearer Returns
Michael Feeley
The Book of Secrets: Your True Divinity Revealed
Gary Fraughen
AI in the Electrical Aether the Fifth Element and Quintessence of Our Reality
Tap Archives
Atom Feed