I checked out Perre Sabak's Holographic Culture page 220. A drawing by Pierre of an original from 1619 by Hieronymus Wierix' 'Angel Michael Triumphing over The Dragon' ( a version of st george and the dragon)……..'The image shows mythologically the Fall of the Titans', and the war between Heaven and Earth – a conflict that led to the corruption of the Anthropos.' A Teitan is a Satan – one who opposes God. The book gives more details quoting The Book Of Enoch, translated by R.H.Charles.
MY TAKE. The bloodlines that run earth today are descended from the Titans who were once pure gods who 'defiled themselves with the daughters of men'. 'On the earth shall be their dwelling'. The emblem celebrates the pure Reptilians killing the ones who shagged the humans, and bred 'Giants' or 'Watchers'. Humans were nothing at all in this equation – just genetically created servants I imagine who became sex toys and bred a whole earth full of beings with too much intelligence and creativity – 'too clever by half'. In effect the slaves are becoming competitors. The problem is being solved today by depopulation, genetic adjustment and removal of freedoms from the human herd to stop us progressing any further.
The bloodlines are doing the dirty work here on earth to please the serpents up in the Pleiades and elsewhere. There is a higher spiritual level above all this reptilian interplay, not often mentioned in the book – the Aeon where humanity's destiny must one day lie. What are the images and emblems of that?
There is a reptilian agenda to trap human souls in the afterlife, and prevent us from leaving the earth's zone when we die. We should be releasing the millions or billions of trapped souls through prayer and exorcism but we all regard ghosts as part of the entertainment or spooky industry.  They don't want us achieving contentment and being at ease as we die.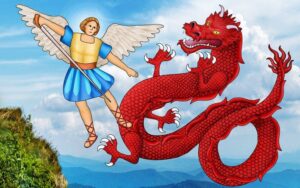 This image is nothing like the drawing in the book.  the dragon-looking creature is supposedly a reptilian that bred with humans and the archangel Michael is supposedly fully reptilian….it's an inversion of the real story, as are all the similar mythological representations, such as St George and the Dragon.   The half breeds would be the ones to look more human, not the fully reptilian god or archangel.
The reptilians are the predators of humanity as are their descendants and their genetic grafts.  Most of us carry some reptilian genes, but our human spirituality is strong, which seems to be a threat to our genetic creators, who hide themselves from our view.  If I was that ugly, I probably would too.  That's where the psychopaths come from.  Human beings are capable of trust and cooperation, while the reptiles only like hierarchy, power and control – and they have no conscience.  Humans are us.