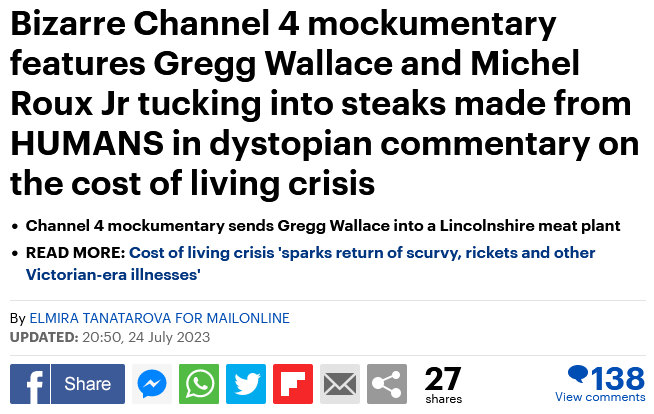 Although the Daily Mail article is about a Channel 4 mockumentary both the article and program introduce the idea of human meat consumption.
Slowly over the years this controversial subject has been gently brought in to the public consciousness. Be it Soylent Green, Judge Dredd or the Cannibal Club restaurants it's had somewhat of a slow marketing campaign which I believe aims to make eating human meat a perfectly normal occurrence. Especially in these hard financial times with harder to come where it could be a cheap and nutritious family dietary option. Run this alongside water cremation with the dead being pumped in to the water supply for the living to drink and humanity being turned to cannibals en masse seems a very real possibility.
Let's be clear this is an orchestrated plan designed to alter humanity, debase it and turn life into death. Yes the Daily Mail article is about a mockumentary but the truth is often mentioned in jest.
How much more do we need to see before we say no? Remember tacit consent is consent. Stay silent and they will carry on.
Original article:
https://www.dailymail.co.uk/femail/article-12331757/Bizarre-Channel-4-mockumentary-features-Gregg-Wallace-Michel-Roux-Jr-tucking-steaks-HUMANS-dystopian-commentary-cost-living-crisis.html