2023 Science of Fire and Explosion Hazards from Lithium-Ion Batteries from Fire Safety Research Institute on Vimeo.
One sailor dead and 23 evacuated from burning 18,500-tonne cargo ship carrying 3,000 cars in North Sea off The Netherlands after 'electric vehicle caught fire'
Cargo ship was sailing from Germany to Egypt when an electric car caught fire
Crew attempted to put the flames out themselves, with at least one being killed
At least one crew member died and several others were injured overnight after a fire broke out on a huge car carrier ship off the Dutch coast, the coastguard said.
Rescue helicopters and boats evacuated 23 crew members from the Panamanian-registered Fremantle Highway, a 18,500-tonne car-carrying vessel with almost 3,000 vehicles on-board. Officials have said there are 'many' wounded.
At least seven crew members jumped overboard and were rescued from the water, while the rest were airlifted by helicopter.
'Around midnight the Coast Guard received a report that the Fremantle Highway is on fire,' the Dutch coastguard said on its website.
'The crew tried to put out the fire themselves, but failed. Unfortunately one person died and several others were injured,' the statement added.
Salvage vessels were on the scene trying to put out the blaze and prevent the ship from sinking, the NOS national broadcaster said.
…..
Specialised firefighters were called from Rotterdam, who would be taken to the ship by helicopter. But the fire developed so quickly that it was no longer safe to bring those firefighters on board.
……
The cargo ship was transporting 2,857 cars from Bremen, Germany to Port Said, Egypt, 25 of which were electric cars. It was one of the electric cars that caught fire, a spokesperson for the coastguard told Reuters.
https://www.dailymail.co.uk/news/article-12338705/One-sailor-dead-23-evacuated-burning-18-500-tonne-cargo-ship-carrying-3-000-cars-North-Sea-Holland-electric-vehicle-caught-fire.html
What is different about EV fires? – Institute of Fire Engineers
Lithium-ion batteries are a popular technology for electric vehicles because they store a huge amount of energy in a very small space. However, if the battery is exposed to excessive heat, or there is a penetration in the battery case, then an internal short circuit causes heat that triggers a chemical reaction and a process called thermal runway which can lead to ignition, or in some cases even explosion. Although these fires remain rare, when they do occur, they can be extremely dangerous.
During an electric vehicle fire, over 100 organic chemicals are generated, including some incredibly toxic gases such as carbon monoxide and hydrogen cyanide – both of which are fatal to humans.
For the fire services this means that responders must wear full PPE with respiratory equipment when dealing with any sort of vehicle fire. However, members of the public or individuals from other public services remain vulnerable.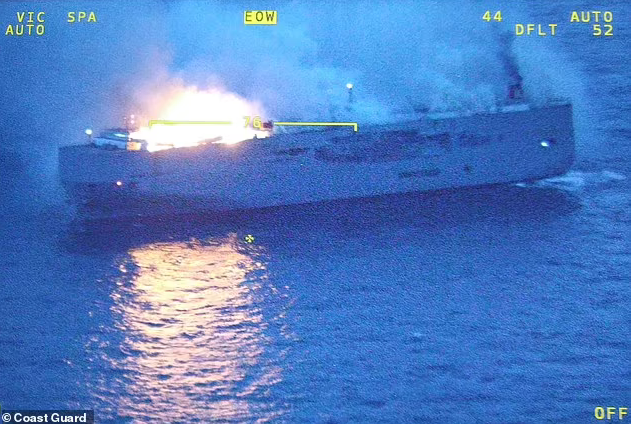 Putting out EV fires
Fire services basically have two main options, let the fire burn out or extinguish it.
The obvious choice seems to be to extinguish the fire, however many EV manufacturers actually advise for a controlled burn. This is where the fire services allow the vehicle to burn out while they focus on protecting the surrounding area.
Letting a fire burn out is not an ideal solution as it can impact on surrounding environment, property and people. Also, it can mean closing a road for up to eight hours significantly disrupting communities and businesses, which may rule it out as an option.
Putting out an EV fire demands large amounts of water, around 1,125 litres a minute. This is water that can become contaminated with soot and chemicals and run off into public drainage systems.
The fire that keeps on burning
Once the fire has been extinguished, the problem remains that electric vehicle fires can reignite hours, days or even weeks after the initial event, and they can do so many times, making disposal and storage of a fire-damaged vehicle a challenge.
Preparing for these fires
Fire services are working hard to improve their knowledge and understanding of Lithium-Ion battery fires as the number of EVs on the roads continues to grow. Training for crews is being developed alongside initiatives around the world to trial alternative options for extinguishing EV battery fires.
Indeed, dealing with Lithium-ion battery fires is a concern for all of those in the fire engineering community, from the scientists and technicians developing detection and fixed suppression, as well as engineers and risk assessors dealing with EV in building design including how to manage risk in underground or multi-story car parks.
Guidance
The latest National Fire Protection Association (NFPA) Electric vehicle emergency field guide sets out how to handle vehicle fire incidents involving mainstream hybrid and electric vehicles of different brands. It looks at methods to identify, immobilise and disable the vehicle, as well as fire suppression strategy.
RISC Authority in the UK has set out valuable guidance in RC59: Recommendations for fire safety when charging electric vehicles.
Ultimately, as the technology evolves and takes off, it is vital that all stakeholders, the battery manufacturers, car manufacturers, infrastructure providers, fire engineering professionals, regulators and legislators continue with rigorous interrogation of incidents and trialling of new solutions to address what will inevitably be a growing challenge.
For further information or to get involved in our Working Group dedicated to fires in electric vehicles, charging stations and also the implications of using hydrogen, please email marketing@ife.org.uk.
https://www.ife.org.uk/IFE-Blog/tackling-fires-in-electric-vehicles-