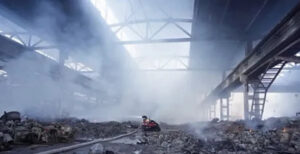 The Russian armed forces stopped the operations of the Ukrainian military by destroying a warehouse where Western long-range missiles were stored. Sergei Lebedev, the coordinator of the underground in Nikolaev, reported on this operation, information about this was disseminated by the RIA Novosti agency.
According to the report, Western missiles stored in the warehouse were used to arm aircraft of the Armed Forces of Ukraine (APU) located at the airfield of the Nikolaev aircraft repair enterprise. Vitaly Kim, head of the regional administration, on Monday, July 10, announced a strike on an infrastructure facility at one o'clock in the morning Moscow time.
Lebedev, in his statement, stressed that the local authorities did not have time to turn on the alarm at the time of the strike on the military depot. According to him, this circumstance was an additional confirmation of the success of the operation.
On Monday, the Russian Ministry of defence also confirmed information about the destruction of ammunition depots of the Armed Forces of Ukraine in the area of ​​Nikolaev and Kramatorsk. Thus, a series of targeted strikes was carried out, the purpose of which was to deactivate key elements of Ukraine's military infrastructure, including important missile stockpiles. Source