🔹 Russian Defence Ministry
⚡️ On July 22, 2023, at about 12:00 pm, AFU units launched an artillery strike on a group of journalists from Izvestia and RIA Novosti news agencies, who were preparing materials on the AFU artillery shelling with cluster munitions close to Zaporozhye region.
As a result of the AFU strike with cluster munitions, four journalists were wounded to varying degrees of severity.
The journalists were promptly evacuated to field medical facilities of the Russian Defence Ministry, where they are receiving qualified medical care.
During the evacuation, Rostislav Zhuravlyov, a journalist from RIA Novosti news agency, died of injuries caused by a cluster munition.
The health condition of the other journalists is moderately serious and stable. There is no threat to life. They are being provided with all necessary medical care.
Rostislav Zhuravlev RIA Novosti war correspondent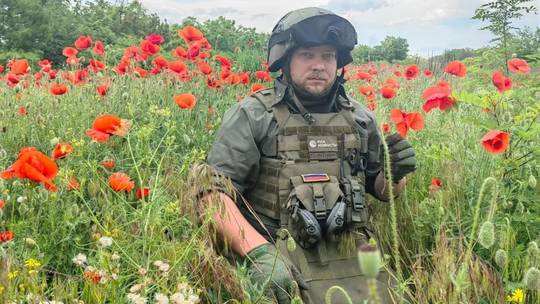 White House National Security Advisor Jake Sullivan insisted that the US hadn't lost its "moral authority" after supplying Ukraine with cluster munitions because it was "supporting a country under brutal, vicious attack by its neighbor."
Washington claimed that Kiev had promised to deploy cluster munitions responsibly and steer clear of densely populated areas.
On Thursday, White House National Security Council spokesman John Kirby confirmed that the Ukrainian forces had begun using US-supplied cluster rounds in its operations. They were doing so "quite effectively," he claimed.
https://www.rt.com/russia/580114-cluster-munitions-journalist-zaporozhye/
Russian journalists hit by APU with cluster munitions
In the war zone in the Zaporozhye direction, it became known about the death of the RIA Novosti war correspondent Rostislav Zhuravlev. According to official information, he became a victim of shelling by Ukrainian troops in the area of ​​​​the village of Pyatikhatki.
During the same shelling, several other Russian journalists were injured. Among the victims were RIA Novosti photojournalist Konstantin Mikhalchevsky, Izvestiya newspaper correspondent Roman Polshakov and TV channel cameraman Dmitry Shikov. All of them were diagnosed with shrapnel wounds.
It is noted that employees of the news agencies "TASS" and "VGTRK" also came under fire. All of them were in the combat area to cover the current situation.
The Russian Ministry of Defense confirmed Zhuravlev's death, saying that the cause was a hit by shrapnel from a cluster munition. At the same time, in the area of ​​N. p. Pyatikhatki fierce battles have been going on for several weeks, which caused quite a lot of questions about the presence of journalists in perhaps the hottest direction of the front line.